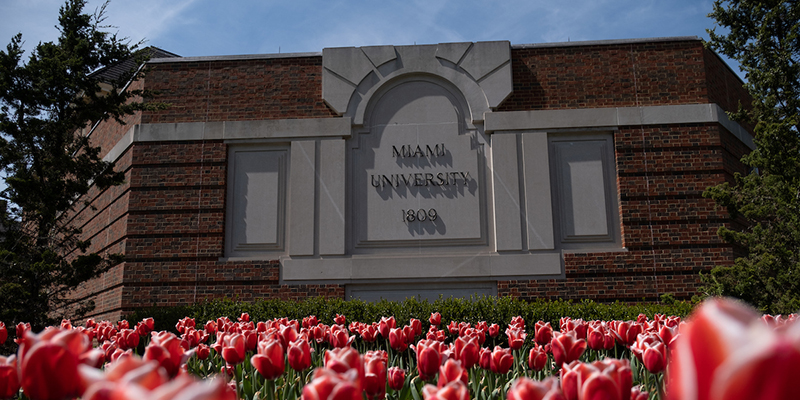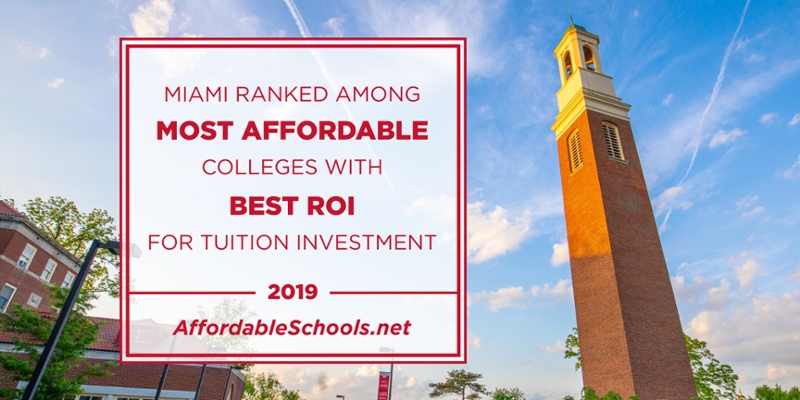 Miami ranked among most affordable colleges with best ROI for tuition investment. 2019 AffordableSchools.net
May 30, 2019
Miami among top 50 most affordable colleges with best ROI
Miami University has been identified as one of the most affordable colleges with the best return on tuition dollars in a recent ranking by AffordableSchools.net.

Using data collected by the College Navigator database at the National Center for Education Statistics, Payscale.com, and each school's website, Affordable Schools compiled a list of 50 postsecondary institutions from an initial pool of 100.

Return on investment rankings for each university and college are primarily composed of two factors: the average cost of undergraduate attendance weighed against the median earning power of a school's graduates over 20 years.

Miami is listed as No. 50 on the Affordable Schools ranking but is tied at No. 46 based on points earned in three specific categories:
Average cost of attendance – Miami's in-state tuition is $14,958.
Average salary – Miami's average salary after graduation is $66,000.
20-year return on investment (ROI) – Miami's ROI is $485,000.
With one of the top graduation rates among public universities, Miami consistently ranks among the nation's "Best Value" universities:
Forbes ranks Miami among the nation's top 50 public universities.
Kiplinger.com ranks Miami among the nation's top 50 public universities.
SmartAsset.com ranks Miami 2nd in Ohio.
The Princeton Review ranks Miami among the nation's top 200 universities and colleges.