Miami University celebrates a diversity of Hispanic cultures in its 19th annual UniDiversity Festival
Students and citizens of the Oxford community gathered to celebrate Hispanic Heritage Month with music, food, and art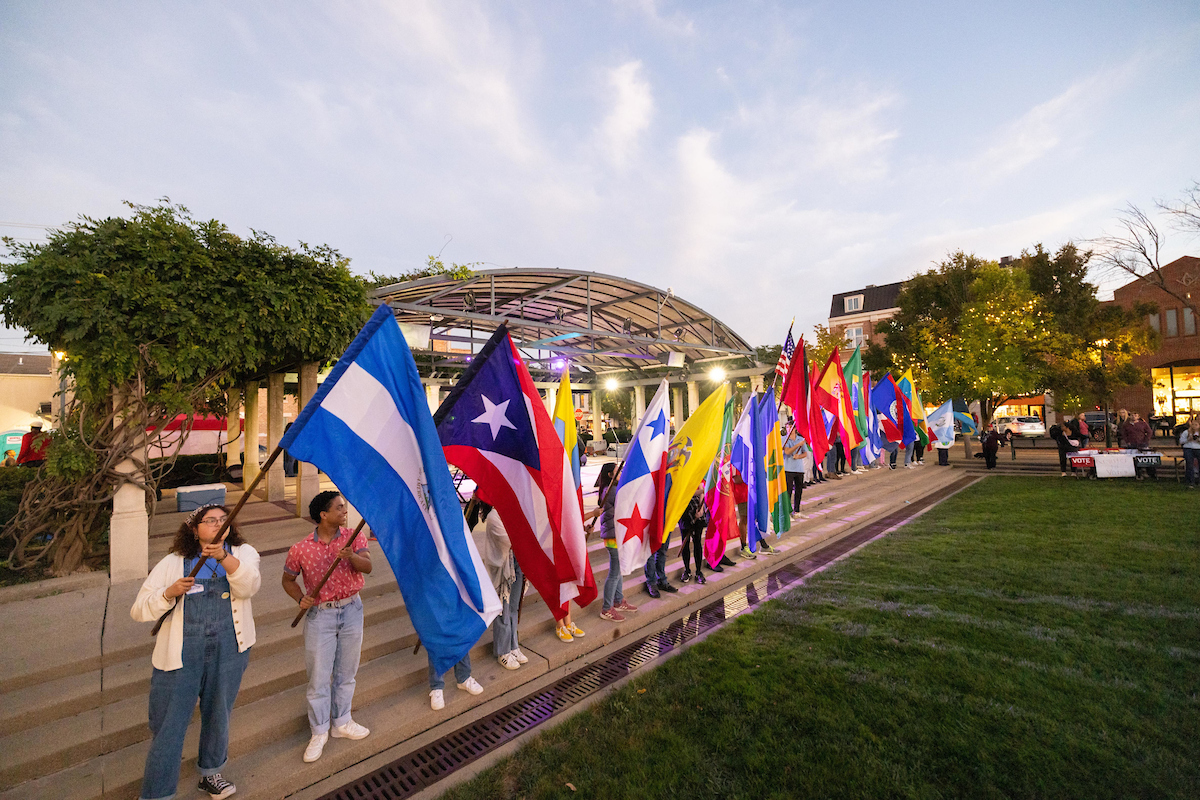 Students and community individuals hold the flags of Latin American and Caribbean countries at the 2022 UniDiversity Festival.
Miami University celebrates a diversity of Hispanic cultures in its 19th annual UniDiversity Festival
Students and community individuals hold the flags of Latin American and Caribbean countries at the 2022 UniDiversity Festival.
One of the greatest moments of the fall semester in the city of Oxford is the Latin American and Caribbean UniDiversity Festival, which features artistic activities, delicious street food, and wonderful company. This September marked the 19th annual event, organized by a number of offices and organizations from campus and the surrounding community.
The festival opened with a warm welcome from board members from the Latinx organization Unidos, a proclamation by Oxford mayor William Snavely, and openings remarks by Geology graduate student Nänci Reyes and Lindsay Douglass, an Anthropology and Spanish double major who is also the UniDiversity intercultural ambassador for the Center for American and World Cultures. 
"As a Miami student, I am pleased to have the opportunity to participate in this great cultural diversity affair alongside all of you," said Douglass.
Later, Miami University Provost Elizabeth Mullenix introduced festival guest speaker Lilleana Cavanaugh, executive director of the Ohio Commission of Hispanic Latino Affairs. Cavanaugh gave an address for Hispanic Latino American Heritage Month.
A diverse group of student volunteers co-hosted the festival information fair to help participants learn and celebrate Hispanic Heritage Month. They were able to meet with members of Alpha Psi Lambda (Miami's only Latinx national coed fraternity), Miami's Global Initiatives office, and other Miami programs and organizations tabling throughout Uptown Park. 
"I really enjoyed the different performances and the diversity of Hispanic cultures, including the dancers from Brazil and the guest speakers," said Marnie Nelson, Miami's assistant director of the Education Abroad office. 
A festive collaboration from across Miami's campus and beyond
Various organizations provided information on their services and opportunities to explore diversity outside the academic community. They offered advice on how to get involved with the Center for Student Diversity and Inclusion as well as provided information on study abroad programs and experiences in Latin American countries like Argentina and Chile.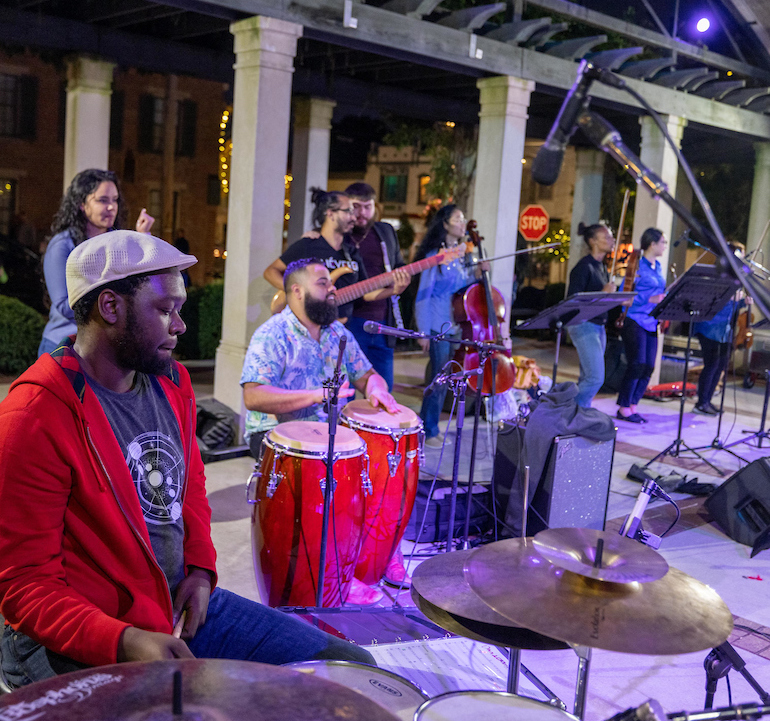 Musicians play traditional Latin and Caribbean music
at the 2022 UniDiversity Festival
"I felt seen by the community, and I loved being part of such a supportive group of people," said Monnica Gay, a Social Work and Urban and Regional Planning major and vice president of Unidos.
The UniDiversity Festival included dance presentations portraying the culture of Brazil and Panama. A wide range of Latin American and Caribbean live music, performed by Charanga, La Fórmula Music Productions (from Cincinnati), provided backup to the beautifully rhythmic and colorful demonstration of styles such as samba and capoeira from the Cincy Brazil Samba Dance group and traditional tamborito dance performed by the ¡Qué Lindo Es Panamá! dance troupe. 
"I enjoyed the Brazilian trio doing martial arts on stage," said Ecuadoran international student Juan Moya, a Mechanical Engineering major. He watched the capoeira performance, which is a traditional Brazilian martial art involving drumming, singing, fighting, and dancing. "I did not know this type of dancing was from Brazil!'' 
The festival also included different styles of Caribbean and Latin American cuisine, including Jamaican jerk chicken from the Cincinnati-based Just Jerks food truck. There were also other food trucks selling tacos, tamales, quesadillas, elotes (grilled corn on the cob), among other traditional food from different countries. 
"I would say that the festival allowed me to not only learn more about Latin culture but also to experience it," said Computer Science major Kabir Arora. "As a member of Alpha Psi Lambda, our goal is to spread awareness of our different cultures, and this festival has always been one of the most important events of the year." 
Without a doubt, the 19th annual Latin American and Caribbean UniDiversity Festival was another hit for many. Everything, from the dedication of volunteers, the support of organizations and programs on campus, to the luck of such beautiful weather, allowed participants to experience the festival and make long-lasting memories. 
UniDiversity sponsors
Jacqueline Rioja Velarde, associate director of the Center for American and World Cultures, served as the festival's planning committee chair. To learn more about this year's UniDiversity Festival, take a look at recent coverage from Global Initiatives.
The UniDiversity Festival was sponsored by Global Initiatives' Center for American and World Cultures; the Barahona Latino Resource Fund/Alpha Psi Lambda; Enjoy Oxford! - Oxford Visitors Bureau; the Center for Diversity, Equity and Inclusion, Miami University Regionals; Miami Performing Arts Series; Silly Safaris, Live Animal Shows; and organized in collaboration with Miami University: Alpha Psi Lambda, Co-ed Fraternity; Association of Latin American Students UNIDOS; Association of Latin American Students, ALAS -MU Regionals; Association of Latinx Faculty and Staff; Center for Student Diversity and Inclusion; Department of Spanish and Portuguese; Latin American, Latino/a and Caribbean Studies, GIC; Sigma Lambda Gamma National Sorority Inc.; and in partnership with the City of Oxford; Miami University President's Office for Diversity and Inclusion; NAACP Oxford Chapter; the Ohio Commission on Hispanic Latino Affairs; Oxford Lane Libraries; Miami University Alumni Association; and Oxford Multicultural Family Alliance.