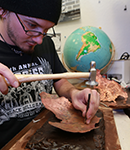 Ben Mark
Master's student, Metalsmithing
Representing the present moment shared by all, the globe used for the Great Seal was discovered a few months ago in the observatory of physics' Culler Hall. The glass globe featured lighting from inside and included a vintage wooden stand.
When Bob Keller (Miami '73), the project manager, realized it was a celestial globe—a map of the stars—he tapped Ben Mark to turn it into the earth by creating continents that would float a quarter inch above the surface.
Mark used a jeweler's saw to cut the continents from sheet bronze and then heated the metal to create mountains and other texture.
"I got a lot of insight into working on a larger scale, which was interesting," said Mark, of Danville, N.Y.
Nathan Foley, a master's student in sculpture, modified and refinished the stand for the globe.