Left to right, Jana Cable and Hannah Kempf, Goldwater Scholars, and Avnika Bali and Max Leveridge, Goldwater Scholar Honorable Mentions
May 04, 2017
Two Miami students named Goldwater Scholars; two honorable mentions
By Susan Meikle, university news and communications
Two Miami University students have each received a Goldwater Scholarship for 2017-2018.  They are among 240 students nationwide to receive the scholarship, the premier undergraduate award of its type in the fields of mathematics, natural science and engineering.
Miami's Goldwater Scholars are:
Jana Cable, a junior microbiology major from Bowling Green.
Hannah Kempf, a junior geology major and Spanish minor from Indianapolis, Indiana.
 Honorable Mentions:
Avnika Bali, a junior biochemistry and biological physics double major and mathematics and neuroscience double minor from Oxford.
Max Leveridge, a second-year environmental earth sciences major with environmental science and sustainability co-majors from Dublin.
The Goldwater Scholarship
The Goldwater Foundation Scholarship Program encourages outstanding students to pursue careers in the fields of mathematics, natural sciences and engineering. 
Nationwide, faculty nominated 1,286 students for the one- and two-year scholarships, worth up to $7,500 per year. 
Cable and Kempf are two of eight students at an Ohio public university to receive a Goldwater Scholarship.
Bali and Leveridge are two of six students at an Ohio public university to receive an Honorable Mention.
Paul Urayama, professor of physics and Miami's Goldwater faculty representative, said, "This is an amazing outcome for the students and for Miami University.  Each institution is allowed to submit up to four nominations for national consideration.  This is the second year in a row that all four of Miami's nominees are acknowledged." 
Urayama, a 1993 Goldwater Scholar from the University of California-Irvine, was recently profiled on the Goldwater Scholars website.  Read his profile online. 
Jana Cable – research in microbiology with mentor Natosha Finley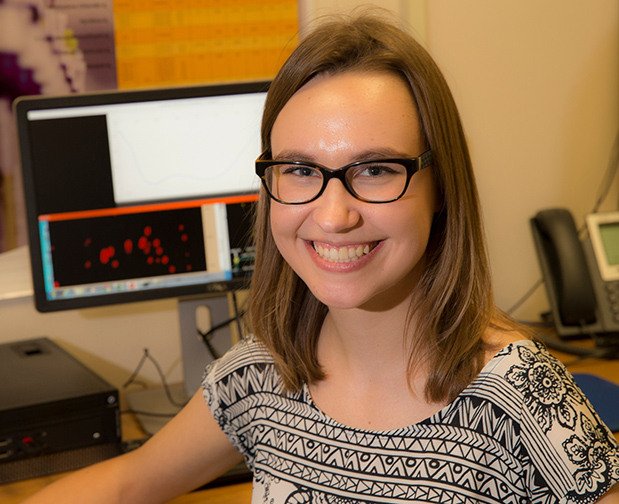 Jana Cable (photos by Scott Kissell)
Cable has been conducting research with faculty mentor Natosha Finley, associate professor of microbiology, since the beginning of her sophomore year. "Jana came into the lab as a highly motivated student with the intellect and drive necessary to take ownership of her research project," Finely said.
"Since joining the lab, (Cable) has investigated the molecular role of key regulatory proteins in heart failure models. These proteins are targets for the development of new treatments for heart disease," Finley said.
Cable is studying myosin binding protein-C, a protein involved in regulating muscle contraction in cardiac and skeletal tissues.
Several naturally occurring mutations in muscle regulatory proteins are linked to progressive forms of heart disease and skeletal muscle abnormalities, according to Finley. "By examining the structural and functional consequences of these protein variants, we hope to better understand the transition from normal to diseased states in heart and skeletal muscles."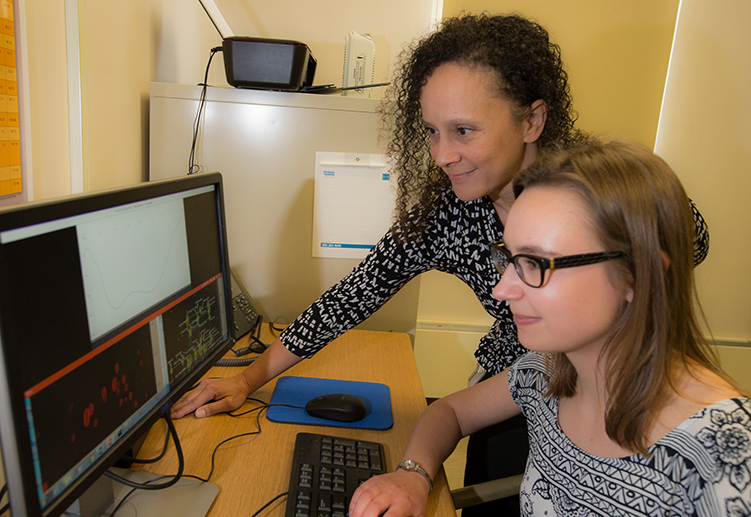 Jana Cable and Natosha Finley
Cable has helped design a protocol for one of the methods used to investigate the protein — differential scanning fluorometry (DSF). That protocol is now used in MBI 424/524 Structural Genomics: Advanced Experimental Techniques.
The interdisciplinary nature of her research project has provided Cable with experience in bioinformatics analysis and nuclear magnetic resonance (NMR) techniques to help determine how changes in the molecular level of the proteins affect their 3-D structure. 
She has presented her research in a poster presentation at a American Chemical Society regional meeting, and her work has contributed to a manuscript submitted for publication.
Cable is a member of the university honors program and is the incoming president of Miami's chapter of Habitat for Humanity.
She was awarded a highly competitive summer research internship at the Max Planck Research Institute of Colloids and Interfaces in Potsdam, Germany.

Last summer she was selected as a Summer Undergraduate Research Fellow at the Mayo Clinic Graduate School of Biomedical Sciences.
After graduation, she plans to pursue a doctorate in virology or biochemistry. 
Hannah Kempf – research in paleontology with mentor Carrie Tyler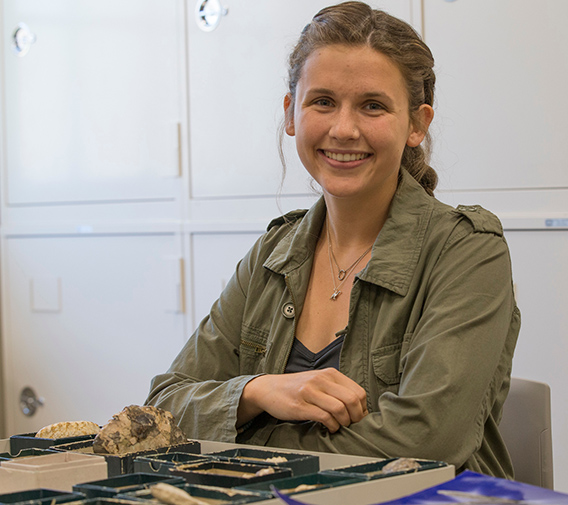 Hannah Kempf
Kempf has been conducting research with faculty mentor Carrie Tyler, assistant professor of geology and environmental earth science, on reconstructing fossil food webs in ancient marine ecosystems.
Tyler's research lab uses computer modeling and other tools to identify where fossil shells belong in the food web. Kempf is studying Ordovician food webs during a biotic invasion here in the Miami Valley 450 million years ago.
Kempf is "reconstructing food webs before and after the Richmondian Invasion to compare ecosystem structure, stability, resilience, and resistance. Her preliminary results indicate that the invasion resulted in the destabilization of this ancient marine ecosystem, potentially due to an increase in the importance and prevalence of generalist species. This has important consequences for marine ecosystems today, as conservation efforts currently focus on preservation of biodiversity, " Tyler said.
"Fossil food webs have never before been used to examine invasion dynamics," Tyler said. Kempf's involvement in this research "is particularly noteworthy, as Hannah was only a sophomore when the project began. She has demonstrated a passionate interest in paleontology and marine ecology, and I have no doubt that she has a bright and noteworthy academic career in paleontology ahead of her," Tyler said.
Kempf was an Undergraduate Summer Scholar with Tyler last summer, "definitely one of the greatest experiences I've had at Miami," she said. Tyler "has taught me so much about what it takes to be a scientist. My research experiences with Dr. Tyler will help me immensely later on in grad school," she said.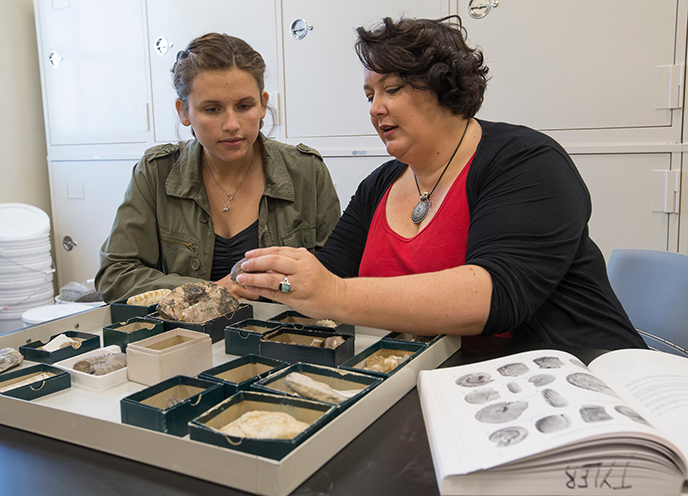 Hannah Kempf and Carrie Tyler
Kempf has presented her research in a poster presentation at the Geological Society of America national meeting and will give an oral presentation at the GSA meetings this fall. She is lead author on a paper in preparation and co-author on another.
She has received two external research awards: a Paleontological Society Student Research Grant and a Dry Dredgers Paleontological Research Award (which Tyler also received as a graduate student at University of California, San Diego).
Kempf is also a resident assistant at Porter Hall and a member of the student organization I Am That Girl.
A member of the university honors program, she started at Miami with an undeclared major, then discovered her love of geology through an honors cluster geology course. She is now enrolled in the geology department's combined B.S./M.S. program. After graduating in May 2018 with her bachelor's degree, she will earn her master's degree in May 2019.
After that, she intends to pursue a doctorate in paleontology.
Avnika Bali – research in biophysical chemistry with mentor Gary Lorigan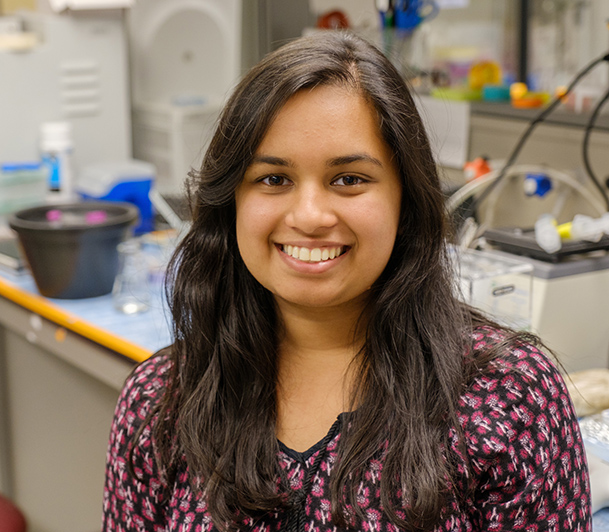 Avnika Bali 
Bali has been conducting research with Gary Lorigan, professor of chemistry and biochemistry, since the summer after she graduated from high school.
"It was immediately obvious to me that she was a very talented researcher and student," Lorigan said.
Lorigan and his research group have pioneered strategies to characterize membrane proteins by using magnetic resonance techniques, such as electron paramagnetic resonance (EPR) and nuclear magnetic resonance  (NMR) spectroscopies.  Membrane proteins are essential for many important functions of biological systems, and they comprise more than half of human drug targets. However, the proteins are not water-soluble and are more difficult to study than soluble proteins. 
Bali's project involves using EPR spectroscopy to characterize the structure of a new membrane-mimetic to verify its usefulness as a model for studying membrane proteins. 
"She works very hard in the lab and is independent," Lorigan said. "She has the ability to be an outstanding scientist."
Bali is a co-author on two journal publications and is a lead author on a paper in preparation for submission to a journal.
She has presented her research in poster presentations at two national meetings, the Biophysical Society meeting and the American Chemical Society meeting.
This summer she will attend the Research for Undergraduates in Chemical and Bioengineering program at the University of Wisconsin-Madison, where she will conduct research in the area of biophysics applications in neurobiology.
Last summer she was selected as a Miami Hughes intern in the biological sciences. 
Bali is a member of the university honors program and a three-year member of the Honors Student Advisory Board.
She plans to pursue a doctorate in biochemistry or biophysics.
Max Leveridge – research in seismicity with mentor Mike Brudzinski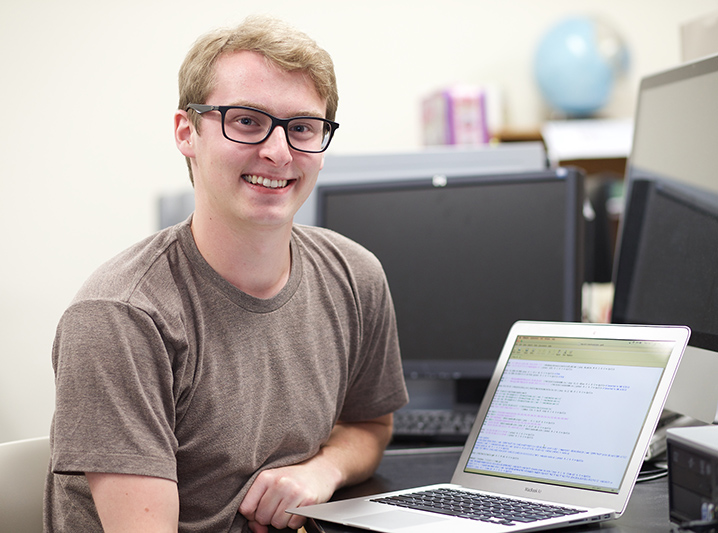 Max Leveridge
Leveridge has been conducting research with Michael Brudzinski, professor of geology and environmental earth sciences, since his first week at Miami.
Leveridge heard Brudzinski speak about his research during summer orientation and was immediately interested in joining his lab.
One of Brudzinski's research areas is human-induced earthquakes. Leveridge is working on one of Brudzinski's projects about the effects of deep wastewater injection — a by-product of hydraulic fracturing — on seismicity.
"The area around Marietta, Ohio, had no record of seismicity prior to 2010, but a series of small earthquakes since then was suggested to be related to wastewater disposal wells. The closest well has one of the largest injection rates in Ohio," Leveridge said.
They processed from digital seismic data recorded between 2012 and 2015, then used a template matching method developed by Brudzinski to enhance the data. Template matching found thousands of microearthquakes demonstrating swarm-like patterns similar to previous induced seismicity," Leveridge said.
He is lead author on a paper in preparation, has presented a poster at the national Seismological Society of America meeting and presented his research at the Ohio Statehouse through Miami's Government Relations Network program.
Brudzinski, a former Goldwater Scholarship recipient, stated that Leveridge's "research progress so early in his college career places him ahead of all the other undergraduate researchers I have worked with."
"He is highly ambitious, viewing research as a means of expanding knowledge in service to society," Urayama said.
This year Leveridge was also involved in research with Rachael Morgan-Kiss, associate professor of microbiology, on a project in polar microbiology.
He is founder and president of Miami's Environmental Appreciation Club, an Associated Student Government senator representing the College of Arts and Science, and a member of the Undergraduate Research Committee of University Senate.
Leveridge, finishing his second year at Miami, is enrolled in the Institute for the Environment and Sustainability's combined M.En. program. He will receive his bachelor's of arts degree in May 2018 and his master's of environmental science in May 2019.
After that, he plans to pursue a doctorate in applied animal ecology.