Spring is in the air and as the season signifies, it also means new beginnings. Our country is emerging from the pandemic with renewed hope and vigor. Vaccinations are accelerating, with most adults who want to receive a vaccine being able to do so. Our students are about to graduate or pursue summer internships and our faculty and staff will be returning to their research labs and offices. Graduate students will continue to engage with faculty through their course work and back in the labs researching with renewed concentration. There is even the possibility of in-person summer courses and workshops both here and abroad.
I hope we use this time to reflect on the past year while looking forward to a new future. Our reliance on technology this past year has emphasized the importance of the research we do and education we provide. I was reminded by a colleague that if the pandemic had affected us before the advent of the internet, the global economy and the educational process would have ground to a complete halt. The fact that we were still able to do what we love to do, which is educate the next generation without much interruption, speaks to the importance of technology in our life. We have also learnt that we are social beings and we miss human interactions and learning by doing. What this past year has taught me is that we should critically examine what worked for us as an educational institution and make changes to help us adapt and adopt strategies that worked well. We learnt that we could teach well remotely but the personal touch is usually lost. There is room for online education in some contexts but it is not the preferred mode of delivery especially at an institution that values the personal connections with the students. We also learnt that our external speakers could be anywhere around the world and we can therefore tap into global talent when considering speakers or mentors for courses or students. We also learnt that we can work remotely and though we missed our colleagues, it should be examined as a possibility moving forward. We will return to a "new normal" but we will not return to the way it was.
Graduation ceremonies went well and we were lucky that we had an in-person ceremony this year to send off our graduates to new beginnings. It is a period of happiness laced with some anxiety as our new graduates venture into new careers. My only word of advice to our graduates at this juncture would be to aspire to be the best, wherever your passion leads you, and leave a positive imprint on society through the skills you have picked up from Miami University. You are extremely privileged to have been able to pursue a world class education and are now able to use that privilege to make a positive difference.
With love and honor,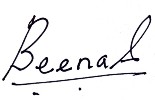 Beena Sukumaran, Ph.D.
Dean College of Engineering and Computing
Miami University