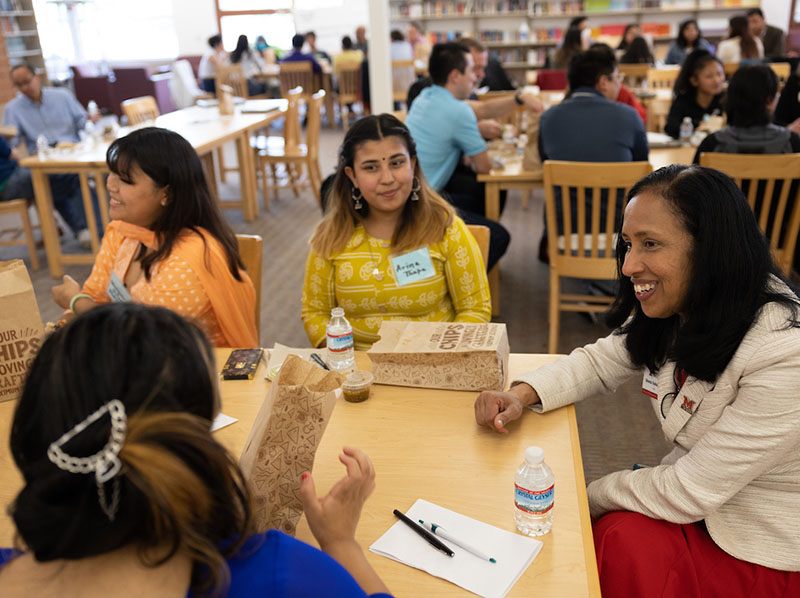 I recently attended an event hosted by one of our student organizations that reminded me of why we work so hard within the College of Engineering and Computing. It illustrated three important themes I have been thinking about lately: unity, purpose, and collaboration.
Students from CEC's Humanitarian STEM Service Corps worked with a local non-profit organization, Awakening Your Child Total Potential, to provide computer skill knowledge to Cincinnati's Aiken High School students, many of whom are refugees from Nepal. 
I was inspired by this act of kindness that unified people from diverse parts of southwest Ohio for the powerful purpose of helping others. Collaboration was the key as Miami, Aiken High School and Procter & Gamble came together to lend their expertise and support. Teaching computer skills served as the catalyst for a meaningful mentorship experience that will continue to grow. 
This was just one of the many highlights of this past academic year. It's time to celebrate as we are reminded that our core purpose is to provide high-level educational opportunities for our students — to fuel their imagination, foster their ingenuity, and have a positive impact on society.
Our Senior Design Expo is proof that despite two years of dealing with the COVID-19 pandemic, our students persevered. The results were phenomenal and I encourage you to take a look at their efforts. 
Students pursued their research and studies with a renewed sense of purpose, receiving numerous accolades along the way. Congratulations to our 2022 Goldwater Scholar, Evan Danielson. He is a Chemical Engineering and Music Performance double major. He is among 417 students nationwide to receive the scholarship—the premier undergraduate award for students intending a research career in mathematics, natural sciences, and engineering. 
Nick Kaplan won the National Science Foundation Graduate Research Fellowship, a very prestigious fellowship given to students pursuing graduate degrees.  We just received word that Elise Belanger, mechanical engineering and engineering physics, is one of two students from Miami to receive a scholarship from the Astronaut Scholarship Foundation. The Astronaut Scholarship is among the most significant merit-based monetary scholarships awarded to undergraduate STEM juniors and seniors who intend to pursue research or advance their field upon completion of their final degree.
Our faculty proved tenacious in pursuing more funding opportunities for research and development. By the end of April, our research awards for the college were around $4.9M, the highest ever in our history. The pandemic seemed to only fuel creativity and collaboration. It's this attitude we celebrate within CEC.
For example, Dr. Mark Scott involves students in his $1,018,611 grant collaboration with GE Aviation, PC Krause & Associations, and Power Converters Future to develop a new circuit topology that maximizes semiconductor materials to reduce weight and increase performance of power electronics.  CEC's Dr. Jessica Sparks, in collaboration with Dr. Dominik Konkolewicz from Miami's College of Arts and Science, received a $30,240 award from Wake Forest University Health Sciences. The team, which includes students, is developing an engineered spine that mimics human tissue and muscle to aid in teaching surgical residents surgical techniques. 
In addition to research and teaching, our faculty developed new degree programs that are making their way through the state for final approval. I can't wait to provide you with the details in a future communication. 
All of this is not being accomplished in a vacuum. We were thrilled to have our industry partners back on campus again interacting with our students for career fairs, industry panels, classroom visits, and much more. Our faculty work with them on research and delve into how best to prepare our students to enter the new landscape of industry 4.0, where technology and leadership skills are in demand. We also had a hybrid CEC Alumni and Friends conference on April 29, 2022. Several of our alumni and friends shared their expertise with dynamic presentations on topics ranging from the future of robots to smart manufacturing.
Over 10 years ago Louise Morman, business professionals and alumni in the engineering and computing industries discussed creating something unique that would address a leadership void. Their collaborative efforts created an immersive program for students to discover their individual strengths and develop communication skills that emphasize collaboration. The Lockheed Martin Leadership Institute is celebrating its tenth cohort this year. Congratulations!
Exposing students to what is possible is our purpose, and this year, we extended it to the younger generations. Our K-12 Outreach Program successfully created partnerships with ten different organizations. More than 208 seventh- through twelfth-grade students from 9+ school districts experienced CEC through hands-on activities and interactions with faculty, staff, and students. The program has 64 CEC students who volunteered 257 hours.  K-12 Outreach has secured $149,000 in grant funding this year and will be using part of that money to host four weeks of Robotics Camps at Cincinnati Recreation Centers this summer.
Persevering through pandemics and challenging times, keeping our purpose in mind, and finding ways to unite through collaboration, I commend our students, faculty, staff, alumni, and friends for these achievements. Congratulations to our graduating Class of 2022, who will do amazing things. 
 With Love and Honor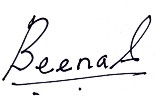 Beena Sukumaran, Ph.D.
Dean College of Engineering and Computing
Miami University