Unity, Purpose, and Collaboration
As we embark on a new academic year, I am excited to meet our incoming class of undergraduate and graduate students. I am also looking forward to seeing our faculty and staff and welcoming our new faculty and staff to the college. The theme for this coming year will be Unity, Purpose, and Collaboration.
Everything we have achieved and are yet to achieve is due to our enduring commitment to Miami's code of Love and Honor, which translates in our college to Socially Engaged Engineering and Computing (SEEC). The Prodesse Quam Conspici ethos and our SEEC focus encourage our students, faculty, staff, and alumni to do service inconspicuously and with humility by utilizing technology to make a positive change.
This unity and purpose have helped us achieve some remarkable success this past year. Our students won national awards such as Evan Danielson, the Goldwater Scholarship; Elise Belanger, the 2022 Astronaut Scholarship; and Nick Kaplan, the National Science Foundation (NSF) Graduate Research Fellowship. The faculty mentors of these students are the embodiment of our teacher-scholar model Our students were retained and graduated at high rates and our new graduates had full placement with median starting salaries above $70,000. Several of them decided to pursue graduate studies either at Miami or equally prestigious schools.
Our research awards were the highest we have ever received at about $5.8M. These were from prestigious national and state agencies and corporations, which was only possible due to strategic collaborations between the faculty both inside and outside the college. We also raised $5.3M from alumni and corporate donations to provide students, faculty, and staff with the necessary resources. This was the highest amount we had ever raised and it was only possible due to every member of our CEC community believing in the college and its mission to provide the best education to undergraduate and graduate students.
To build even a stronger sense of community, especially with our first-year students, we are embarking on a revision of the first-year curriculum with new courses such as CEC 111 and CEC 112 being piloted this academic year. These courses will utilize smaller cohorts who will work in teams on projects that have a societal impact while utilizing their engineering and computer science mindset. It will be hands-on learning, harnessing their imagination and ingenuity early in their career, while also nurturing belongingness in the college and profession. This re-imagination of the first-year curriculum would not have been possible without our commitment to excellence in teaching.
We will also be welcoming one of the largest cohorts of graduate students who will teach and conduct research alongside our faculty. Our students are also more diverse, so our commitment to teaching inclusively becomes paramount. On Aug. 15, we held a workshop on inclusive pedagogy offered by our colleague from the College of Education, Health and Society, Dr. Ann McKenzie. As we look forward to this academic year, I am humbled and privileged to lead this remarkable college where we are unified behind one purpose of offering an excellent education to all students and doing so through meaningful collaborations and by embracing the teacher-scholar model.
With Love and Honor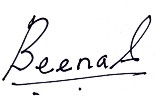 Beena Sukumaran, Ph.D.
Dean College of Engineering and Computing
Miami University