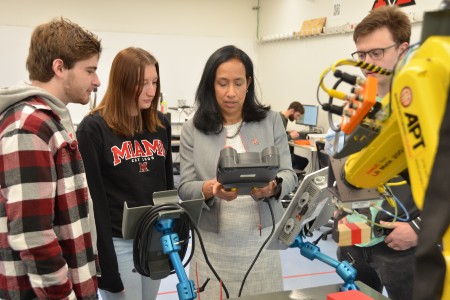 The national news and our local Ohio news have been filled with stories about supply chain shortfalls and the renewal of manufacturing inside the United States. Here in Ohio, Intel's decision to build at least two semiconductor fabrication plants in our state has been welcome news. Ohio has always been a hotbed of manufacturing and that legacy continues as we look to the future. In fact one of the oldest degree programs we have in the College of Engineering and Computing at Miami University is Manufacturing Engineering.
But this is not the degree of the 1960s, 70s, 80s, or 90s. Our Manufacturing Engineering degree program has already pivoted to Industry 4.0 with an increased emphasis on robotics, automation, industrial control systems, additive manufacturing and other salient curricular features. In my first 18 months as dean I have visited several manufacturing plants in our surrounding areas. The old image I had of manufacturing was completely changed as a result of these visits. The modern manufacturing plants epitomize Industry 4.0, with automation being employed where feasible, increasing use of big data analytics to improve manufacturing processes and augment efficiency and an increased use of robots of many shapes and sizes.
I believe manufacturing engineering has an image problem. The image incoming young people we are recruiting into the profession have is the same mental picture I envisioned of what a manufacturing floor looked like before my reeducation. Many also wrongly believe that U.S. manufacturing is on a decline. This is creating a mismatch in the graduates and the needs of the manufacturing industry. As a result, there are very few students that gravitate toward manufacturing engineering regionally and nationally. How do we change this narrative? Do we have to rebrand manufacturing engineering? I think we should so that it captures what manufacturing looks like at present and the broad set of skills you need to succeed in the profession.
The needs of the industry also call for upskilling programs, especially for industry professionals because the manufacturing industry is continuously evolving. In realizing the need for this in our region, we have rolled out graduate certificates in Advanced Manufacturing and Materials Evaluation, which is very suitable for upskilling of professionals in the manufacturing professions. The stackable credential program is also a part of Ohio's TechCred program and is very innovative in its approach, with the ability for industry partners to tailor it to their needs.
We have also rolled out a very innovative program for our undergraduates, Systems Automation Springboard to Internship (SASI), which provides process control and automation training for students in their second year. This has been setup as a true industry partnership with industry professionals teaching courses with our faculty, and the participating students have an assured internship when they complete the winter break program. Thinking outside the box is important as we re-envision how to meet the needs of the manufacturing industry and that is what we are doing here at Miami University's College of Engineering and Computing.
With love and honor,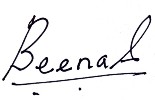 Beena Sukumaran, Ph.D.
Dean College of Engineering and Computing
Miami University