Retention and success of students can be improved if they are connected to faculty and staff and have a strong sense of belongingness. One thing that Miami University prides itself on is the access students have to undergraduate research. In the College of Engineering and Computing 40% of our students engage in undergraduate research.
One example of this is the Louis Stokes Alliance for Minority Participation (LSAMP) First-Year Research Experience (FYRE) class, which encourages and prepares students for undergraduate research. Students engage in this program by taking two courses that introduce them to the research process. In these courses, students participate in a hands-on research project with guidance from the course instructor. Typically, the students are provided with a general research project by an industrial partner, and are then free to explore that project using whatever disciplinary lens best fits their interests. It is the expectation that at the end of the two-semester sequence, students are trained to participate in other independent research projects with faculty at Miami.
The Miami University Honors College also encourages all Honors students to engage in independent research. The university also provides support through the Office of Undergraduate Research and hosts an undergraduate research forum.
Within the College of Engineering and Computing, our teacher-scholar faculty work with undergraduates directly on their research. Just this year we have received two large awards from the Ohio Federal Research Network and one from the U.S. Department of Health and Human Services, Administration for Community Living. Dr. Mark Scott will be working on lowering the weight and improving the performance of an aircraft's electrical generation systems. Dr. Miao Wang will be developing electronically dimmable protective eyewear. Dr. Vaskar Raychoudhury will be studying methods to find accessible routes for wheelchair users. All three faculty will be researching side by side with their undergraduates.
As a result of some of these experiences, our students have been able to receive prestigious national awards such as the Goldwater Scholarship, Astronaut Scholarship and the National Science Foundation's Graduate Research Fellowship. They have also been able to participate in both national competitions and international conferences through the Grand Challenges Scholars Program (GCSP). Some have resulted in startups with guidance from the John Altman Center for Entrepreneurship or through their own efforts. In the College of Engineering and Computing, we also host a Design Innovation Challenge through the Miami University Center for Assistive Technology, which utilizes multidisciplinary teams of students utilizing design and innovation with a focus on assistive technologies. Last year's winners of the design competition are using the $5,000 prize to refine their idea of "Smart Containers" for visually impaired to market. They are currently working with a serial entrepreneur alumnus, Shalendra Porwal, to bring their product to market.
Nurturing student creativity through open-ended design and participation in research is critical to the retention and success in our engineering and computing disciplines. The added benefits include the ability to function on multidisciplinary teams and the ability to communicate their ideas well to a wide audience, which are some of the most valuable skills our students need for future success.
With love and honor,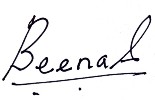 Beena Sukumaran, Ph.D.
Dean College of Engineering and Computing
Miami University