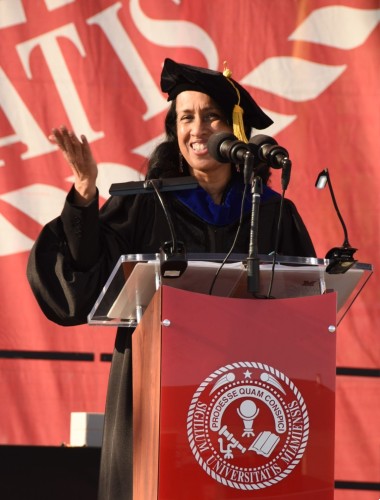 Members of the Class of 2022 – you, and your family and friends, are justifiably proud of your many accomplishments that enabled you to complete your programs of studies and receive university diplomas. You should be particularly proud of graduating from Miami University that now you can call your Alma Mater.

Miami's education, an excellent combination of liberal and professional education, is based on a notion that teaching and learning involve not just the transfer of specialized knowledge but also a commitment to developing the whole person. The very reason Miami's education is perceived as having a great value is precisely because of this kind of a commitment.

You should be proud not only because you are graduating from Miami University, but also because you are getting your diplomas from its College of Engineering and Computing where you have spent long hours. You have demonstrated grace under pressure when balancing the demands on your time and the additional burden very few students have faced before such as a pandemic that impacted you personally and professionally for about 2 years. I didn't even get to see your beautiful faces for almost 2 years.

Several of you have doubted if you should be an engineer or computer scientist. Those doubts are very common. I still wake up in a cold sweat wondering if I truly deserve the PhD degree or the position I hold as the first woman dean of this amazing college. Several of us have struggled with the "impostor syndrome" just as I have and it persists even after 30+ years in the profession. Therefore, please know that it is common to doubt ourselves but what you should be proud of is that you have persevered through some of the most challenging times any of us have lived through. That tells you loud and clear that you belong in the profession and don't let that voice in your head or anyone else tell you otherwise.

Our College's faculty, staff, and administration have helped you to become excellent professionals capable of meeting today's and tomorrow's critical challenges using your imagination and ingenuity. We know you will have a tremendous positive impact!

When I look at you, my heart is filled with hope for a future that is bright. You have exhibited a commitment to our ethos of Socially Engaged Engineering and Computing, where we strive to use technology for good. You have done meaningful projects and research both within and outside the classroom under the expert guidance of our excellent faculty and staff. You have already shown an ability and commitment to address some of the enormous challenges we face as a society by advancing renewable energy, engineering better medicines, advancing health informatics to tackle healthcare challenges, developing medical devices, securing our networks, and developing assistive devices for persons with disabilities. This is just a partial list of the things you have worked on either as a senior capstone project or as a research project. You have also demonstrated a commitment to travel the world, learn from cultures that are different from yours and use your technical skills to assist communities in need. Some of you had the opportunity to further develop your leadership skills. Some of you have even won national and international awards for the work you have done. All of you have also learned from each other, embracing different races, cultures, traditions, sexual orientation, gender identities and many other visible and invisible differences. You will learn later from our student speaker about how she faced challenges and came out ahead. Every one of you have made a positive impact on the college and the university through your efforts both within and outside the classroom.

I am therefore hopeful that you will take some of this knowledge and this deeply held belief to use technology for good to make this country, and indeed the world, not only more technologically advanced and connected, but also a more sustainable, safer, and healthier place. As Nelson Mandela said, "Education is the most powerful weapon which you can use to change the world." Therefore, use the degree you have earned today to forge ahead and change the world!! You will hear from our keynote speaker about how he followed his passion and is changing the world.

Graduates: I truly hope that as you move through your careers, Miami's education will serve you well. Does it mean you know everything you need to know to succeed? Does it mean you have fully developed your interpersonal, communication, and leadership skills you will need to succeed? Of course not. This day goes by two rather different names: Graduation and Commencement.
Graduation implies the end of your time here at Miami but commencement implies just the opposite, a beginning, the beginning of the rest of your life.

In closing, I would like to leave each of you with the hope that as you make your own choices over time; you will be able to balance your drive for achievements with a commitment to love and to play, to family and friends, to your community, to the nation and to the global community. Forge your own path but always drive for positive change.

Members of the Class 2022: May all of you fare well on the journey ahead.

Members of the audience; please join me in congratulating our graduates on this day that means so much to them and to their families.