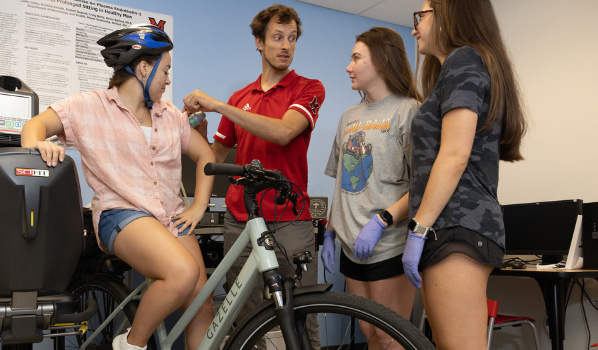 Exercise is Medicine On Campus

Registered with the American College of Sports Medicine (ACSM), 
Exercise is Medicine® on Campus (EIM-OC) calls upon universities and colleges to promote physical activity as a vital sign of health. EIM-OC encourages faculty, staff, and students to work together toward improving the health and well-being of the campus community by:
Making movement a part of the daily campus culture
Assessing physical activity at every student health visit
Providing students with the tools necessary to strengthen healthy physical activity habits that can last a lifetime
Connecting university health care providers with university health fitness specialists to provide a referral system for exercise prescription
The Centers for Disease Control and Prevention (CDC) recommends a minimum of 150 minutes per week of moderate physical activity for adults. EIM strives to provide opportunities, knowledge, and tools to help Miami students achieve healthier habits and become a more physically active community.
Miami University has been a registered Exercise is Medicine® On Campus school since the Spring of 2020 and has earned silver level recognition.
The Value of Exercise is Medicine On Campus
The prevalence of physical inactivity on college campuses is high nationwide. Physical inactivity is related to a variety of chronic diseases such as Obesity, Type II Diabetes, and Heart Disease. By engaging in regular exercise, we can change the culture on campus. We can embrace exercise as a daily part of our lives so that lifelong, healthful habits are established and public health goals are met.
Get Involved
Would you like to contribute to the EIM-OC efforts? Would you like to make a difference on and off campus by helping educate the Miami-Oxford community on the benefits of physical activity? If you or your organization would like more information on how to get involved, please fill out the interest form.
Contact Us
EIMOC@MiamiOH.edu
Instagram: @eimocmiami
Meet the Team
Leadership
Faculty Advisors
Dr. Paul Reidy PhD, MSc - Assistant Professor of Kinesiology/Nutrition. Faculty advisor for MU Bike Club and Exercise is Medicine On-Campus Committee. 
Health Fitness Representative
To be determined
Health Care Representative
To be determined
Health and Fitness Representative
Rebecca Baudry Young - Director of Health and Student Wellness
Student Core
Co-Presidents:

 

Devin Wallace and Alaina Barrett
Secretary:

 

Lauren Hickman
Treasurer:

 

Ava Santoscoy
Marketing and Promotions:

 

Gina Egidi and Olivia Ehas
Event Coordinators: Madison Little and Nicole Jordan