Partnerships between supply chain and operations management program and industry leaders creating more learning opportunities
Company partnerships with the Center for Supply Chain Excellence are creating greater opportunities for supply chain operations and management students at the Farmer School.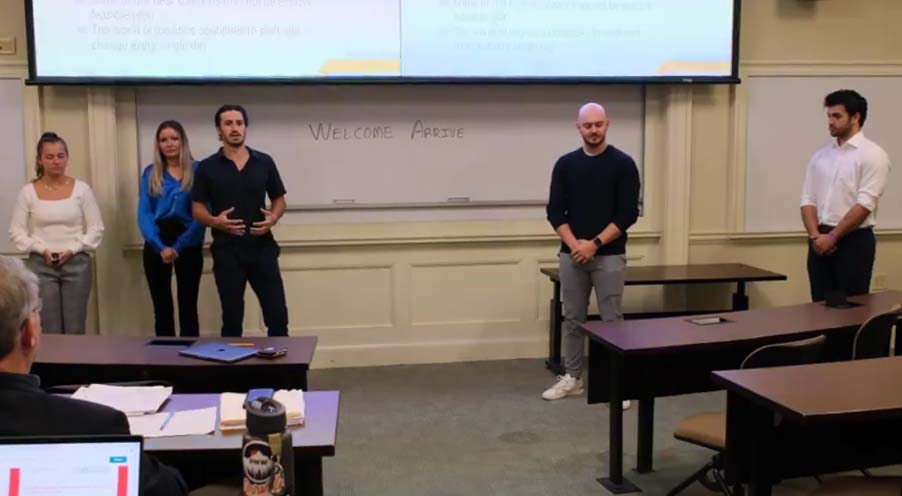 Partnerships between supply chain and operations management program and industry leaders creating more learning opportunities
We recently talked with several graduating seniors in the supply chain and operations management program prior to graduation. Farmer School of Business supply chain and operations management major Nick Altenbach is a recent 2022 graduate. In his last semester, not only did he have a job after graduation, he was already working there in his last semester.
"I've accepted a position with Gojo Industries in Akron, and I'm going to be a demand planning analyst. I've actually already started with them," Altenbach said. "As a second-semester senior, I had four classes I needed, and all four classes are Tuesdays and Thursdays. So I'm working part-time for them remotely on Mondays, Wednesdays and Fridays. It's a lot of work -- its eight-hour days for them and then eight- or nine-hour days for myself on my school days. But it's all coming together pretty nicely.".
The idea of supply chain management has taken on new public importance since the pandemic began in early 2020. Another new 2022 graduate, Alexa Bolena, said: "My parents said, 'You got quite lucky picking this major, because it's incredibly relevant now.'  I think the way that the department is formed, it was ready to jump onto that situation, with recruiters, what we were learning in classes, through my internship. Even in my upcoming full-time job, I feel ready to tackle the post-pandemic supply chain for sure."
"We do case studies in class, and every day we get to class, something new in supply chain is happening. So it's exciting to see that and how pertinent it is, and then going into the business world, how much we're needed," Altenbach said.
One of the many priorities for the Farmer School of Business is to give students numerous opportunities for experiential learning, and nowhere is that on display more than the Center for Supply Chain Excellence (CSCE). Founded in 2020, the CSCE is a vital hub within the FSB ecosystem, working with the Supply Chain and Operations Management program to foster student engagement, corporate partnerships, and cutting-edge research.
Director of the Center for Supply Chain Excellence, Monique Murfield, explained: "Our program is very hands-on and integrates interactions between professionals and our students in many different ways. The client-project in the senior capstone class MGT 498 is the culmination of that hands-on experience, and one that many companies want to be a part of."  
In MGT 498, "we partner teams with corporate America, and they basically have a problem -- it could be any type of problem related to supply chain and operations management. The idea is if there's some real-life supply chain issue that they've been working on or they plan to work on, and they want to get an outside perspective from the students," Assistant Lecturer Tom Farnbacher explained. "The students have several touchpoints so that they make sure that they're fulfilling whatever the client wants. They're acting as consultants, and as consultants, they're providing this feedback to the clients."
This spring, 16 teams of MGT 498 students worked with six companies (i.e., Honda, Arrive Logistics, DHL Supply Chain, NNR Global Logistics USA, Taylor Communications, and Cintas) on a variety of projects:
"It was kind of an IT visibility related project, where we have an agent in Brazil and we don't have a great way to get their data into our system, and therefore can't really display it really well to the customers," Mac Sullivan, head of technology and digital promotion at NNR Logistics, explained.  "With the 'Amazon effect,' customers want to know where their shipments are. So we wanted to look outside the box and see if some of these bright students had some solutions to give."
"The students were charged with creating the distribution plan to ship 500 million at-home COVID-19 testing kits across the U.S," Arrive Logistics campus recruiter Andrea Nicholson said.
"They were working on identifying possible improvements in sustainability for our autonomous robotic picking solution within our distribution centers," DHL Supply Chain industrial engineer Tyler Roby said.
"The case study project was created to allow students to gain a first-hand perspective in sourcing new suppliers and to begin thinking from a holistic and strategic perspective," Honda of America associate development manager Derek Davis said.
The projects gave the students the chance to practice many of the things they learned in classes, while encouraging them to look deeper into new areas of supply chain and operations management. "I got the chance to learn about a brand new market, the half-shaft market, allowing me to venture into new topics and suppliers from new regions for the development of my own business acumen. Honda was an incredible client," Bolena said. "They always replied to our emails and even gave us some great ideas. Not only did we get to learn about Honda in a brand-new way, but we also got to communicate with a real client and provide impactful feedback about their supplier options."
Another 2022 graduate, Emma Roane, found it also helped that many of the people working with the students were Miami graduates. "When we were working on those client projects, they said, 'I've been where you've been, and now I'm on the client side, so I know what you need. I know some of those challenges that you've had,'" she said. "Being able to relate with us in that way has been very helpful and a unique experience that I don't think I could have really had anywhere else."
For the Center's corporate partners, the CSCE is a "one-stop shop" for access to fresh talent, faculty research, and knowledge-sharing industry forums. The class capstone project gives corporate partners up-close examples of the kind of students that our supply chain and operations management program produces.
"The students in the supply chain management program continue to impress us with their professionalism, research, and presentation skills," Davis said. "Each of the students came up with very creative sourcing decisions that looked outside of the box based on parameters such as innovation, risk, transportation, compliance, and value for the customer.
"During each of our check-in calls, I was impressed by the teams' organizational skills and the professional demeanor of each team member on the call. Our experience felt like a true consulting experience," Nicholson said. "The teams' ideas were well-thought out and supported by the right data and research. I loved that their ideas were backed by data-driven decisions and they went through the right process to get there."
"They did a really good job, they were very articulate, they presented very well. And they got some good ideas out of it," Williams said, "I was happy with the results."
"I was extremely impressed by the students' professionalism during the project. They communicated in a timely and professional manner and asked a lot of great questions that led to valuable discussion," Roby said. "Their solutions were well thought out, and they presented them with clarity and precision."
Department Chair and Bill Moechel Business Professor Xiaowen Huang said: "We are very proud of our students. They sail through a rigorous supply chain and operations management curriculum covering various topical areas and analytic tools in planning, sourcing, making, and delivering. They are also immersed in real-life applications through client-based projects, internships, study-away programs, etc. We also want to thank our corporate partners and alumni for connecting with and mentoring our students. These interactions enrich our students' learning experience inside and outside the classroom."
DHuang concluded, "We are looking forward to continuing engaging with our corporate partners and alumni and working together to prepare tomorrow's business leaders."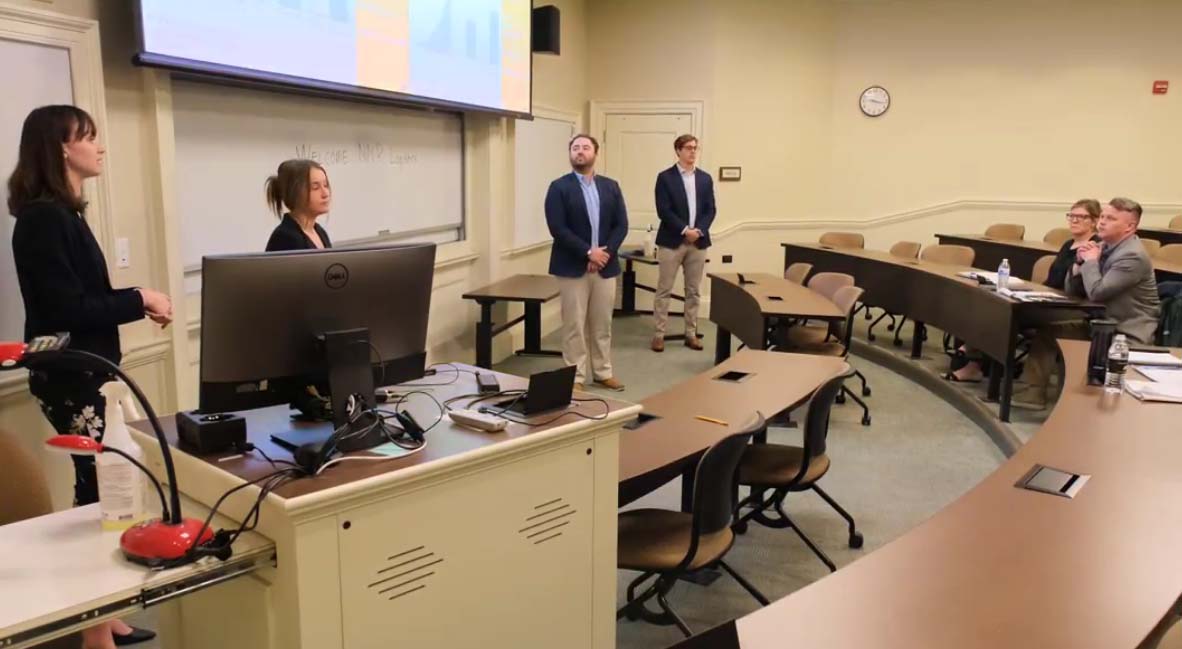 MGT 498 students make their final presentation to NNR Global Logistics USA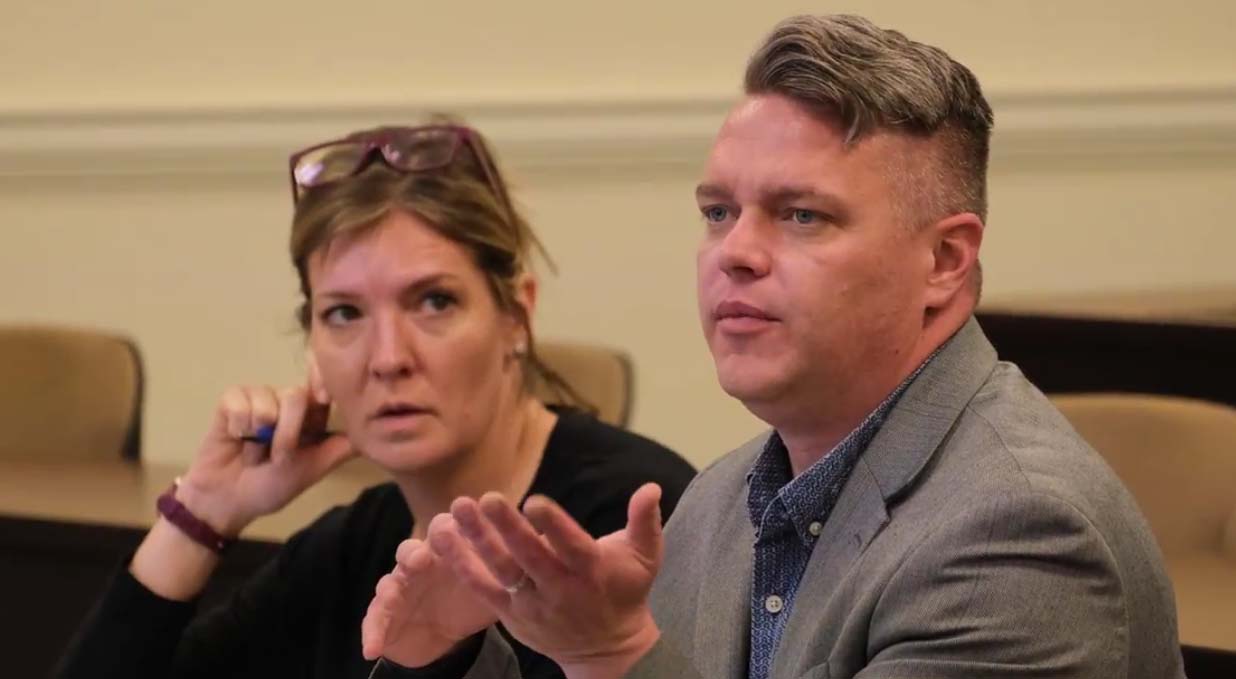 A client representative for NNR Global Logistics USA asks questions about one of the points made in the presentation.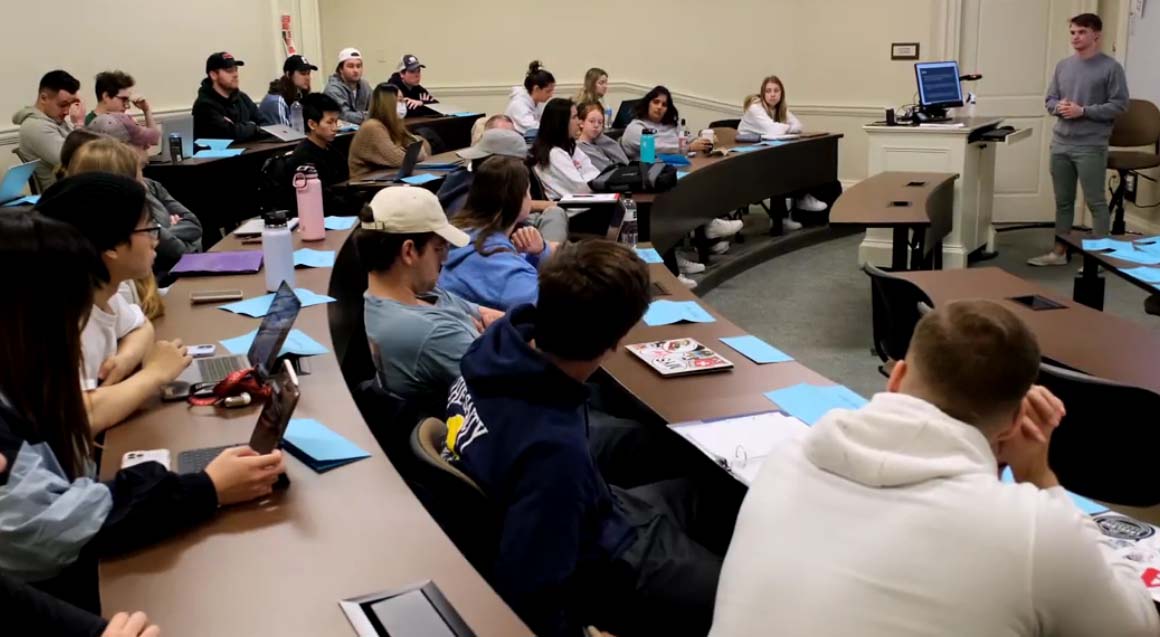 A supply chain and operations management class listens as a student makes a report on current events.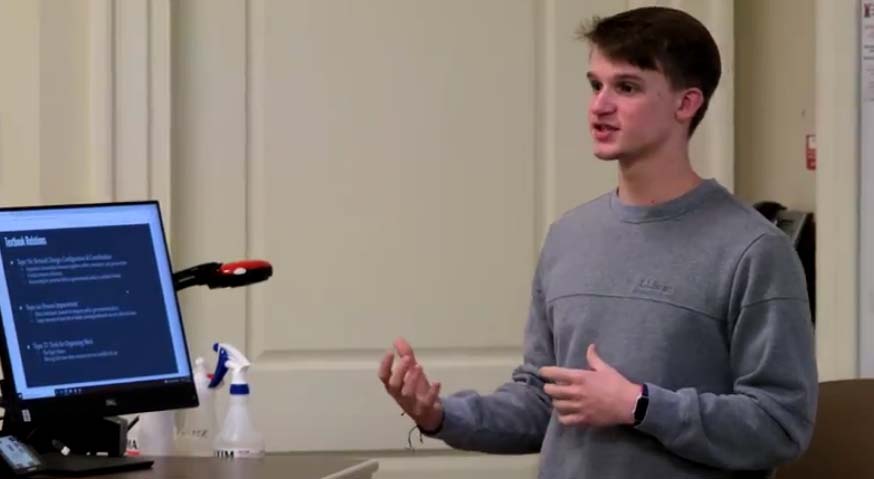 Student makes a current event report in his supply chain class.