FSB commencement speakers reflect on last 4 years, journey ahead
The Farmer School of Business class of 2023 has reached the end of one journey to begin yet another.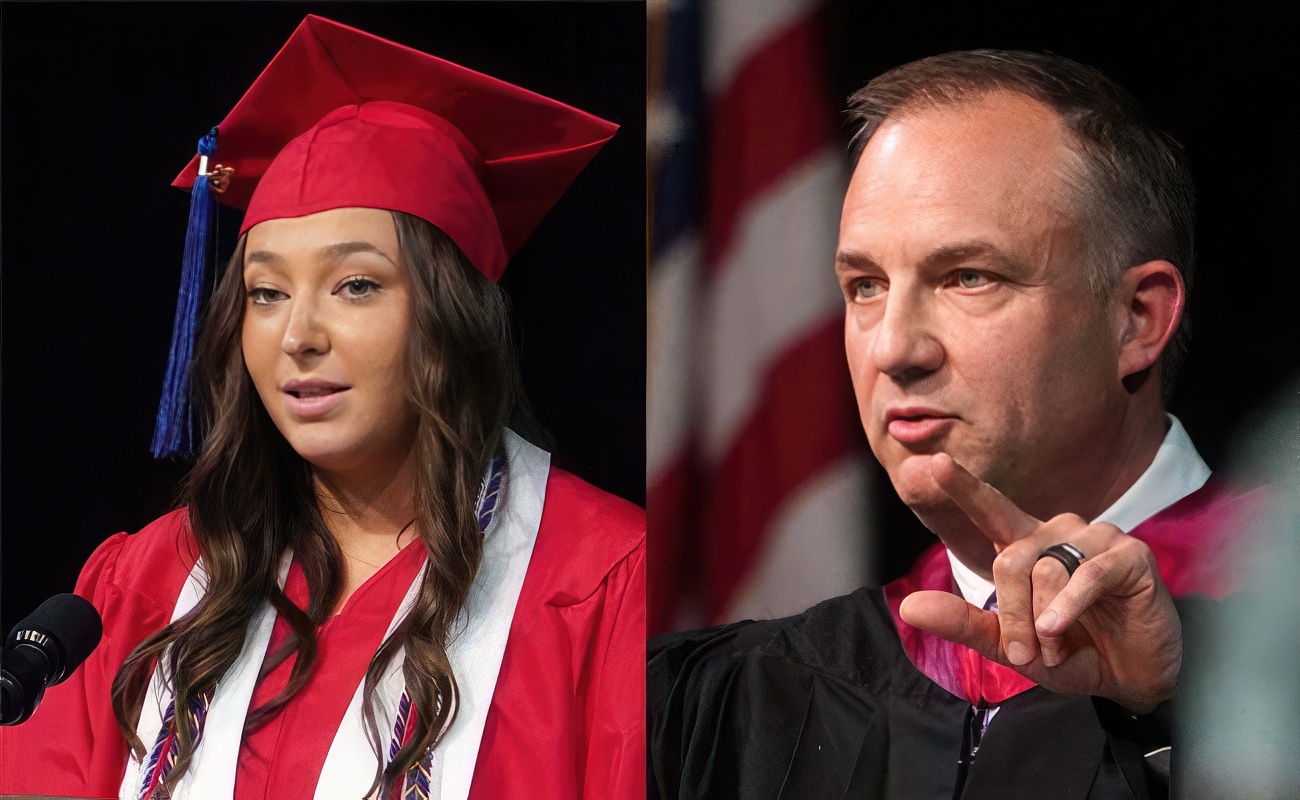 More than 1,200 Farmer School of Business students became Farmer School of Business alumni this past weekend at Millett Hall. A pair of FSB graduates, one older, the other brand new, took to the stage to send off the graduates with their thoughts.
Diana Chudnovsky, a graduating supply chain and entrepreneurship major, noted that while she was from Pittsburgh, she was also a first-generation American, which meant some childhood moments were different from her peers.
"Growing up in a bilingual household, I spent much of my early childhood watching movies in my family's native language, and while many of them had little to do with what the other kids were watching at the time, I distinctly remember watching their version of the Wizard of Oz for hours and hours on end," Chudnovsky said. "At an age when I wanted so desperately to connect with others, to feel like I belonged, I was enamored by the fact that, while the languages were completely different and some details were not exactly the same, everyone I spoke to, no matter the culture or the age, could recall Dorothy and each of her dear friends by heart."
She said that when she was asked to be the student speaker, she initially had trouble settling on a concept or memory to connect with the students in front of her, before settling on her "Wizard of Oxford theory."
"The road to graduation, much like the one leading to the Emerald City, is long and winding, with the final destination promising as much beauty as it does uncertainty. However, this road is not meant to be traveled alone. Along the way, we meet individuals that not only keep us company, but teach us to become the individuals we have always strived to be" Chudnovsky said. "Much like the lion, we learned courage from our loved ones when we embarked on this journey some four odd years ago, despite the fact that they themselves had never experienced anything like it before. Like the scarecrow, straw by straw we collect knowledge from our professors and our mentors, enabling us to understand the problem at hand, to strategize, and ultimately prove ourselves as critical contributors to every room. Like the tin man, we keep compassion at the heart of all that we do, with friends by our side who encourage us every day to persevere in the face of inevitable change." 
"The movie itself may be older, but the lessons are as old as time. Moment by moment, our home becomes the place where our people are, and where our greatest memories live on," she said.
Chudnovsky reminisced about her years at Miami, from her late nights in the FSB lower level, to her visits to professors and mentors to ask questions, and watching the sun rise over Cook Field.
"When we finally look around after the moment has passed, we often find ourselves standing in the same place, with the same people that have been there all along, and we hold on with all our might to the memories that will last a lifetime," she said. "It is my sincere hope that once this moment has taken its leave, and we find ourselves in a new reality beyond the walls of the Farmer School of Business and the cornfields of Oxford, that this legacy continues on through us."
Part of that legacy was the other commencement speaker, Neil Hunn. Hunn, a 1994 FSB accountancy and finance graduate, is president and chief executive officer of Roper Technologies. He told the soon-to-be-graduates that he left Miami fully intending to be an accountant, and 29 years later, "I've never done a day of accounting in my life."
Hunn said that to find happiness, the students should strive to do a job that they love, simple advice that he admitted isn't always simple to achieve. "How many of you know what you love career wise?  And importantly, will love 10, 20, 30 years from now?" he asked.
Hunn gave the students five pieces of advice for finding their love:
Work hard: "Put your head down and work, and I mean really hard. Work smart, be organized, be a student of your personal productivity. You'll love seeing the connection between hard work and results."
Be curious: "Be excited to be curious.  Have the confidence to be curious.  Let your curiosity drive you.  Ask why, then ask why again. If you do that five times, you'll likely get to the core understanding of what you're curious about.  At that point, there is core and fundamental learning. Make mistakes, proudly. If you are not curious and not making mistakes, you are not on a steep enough learning curve."
Be humble: "C.S. Lewis said it best. 'Humility is not thinking less of yourself, but rather thinking of yourself less.' Be the one who grabs the presentations and carries them into the client meeting, be the one who does the small things, all with a super positive attitude.  If you are humble, you'll be a great teammate. To that end, do whatever it takes to make your teammates better."
Be vulnerable: "Be the one who asks for help.  Be the one who admits a mistake.  Be the one who admits when you are wrong, and be the one to apologize when you mistreat a colleague or friend. If you are able to be vulnerable, it will amplify your ability to learn. You'll find yourself in the position of listening with the intent to learn vs. having the intent to be heard."
Family first: "As time passes you'll have a partner, most will have children. Your role as a mother or father is the only role that will be uniquely yours for your entire life. This is way more important than any job or career could ever be. But I'm here to tell you, family first does not need to be a trade-off with a successful career."
"The key question I asked myself about each next role was if I had any idea what to do on the first day in the new seat. If the answer was yes, then it was not a steep enough learning curve. I've literally pushed myself to be wildly uncomfortable every time. But guess what? I've loved it every time," Hunn said. "What I hope and pray for each of you is that you'll realize that love is not a thing, or a job, or a destination. It's the actual journey."
Jenny Darroch, dean of the Farmer School of Business, presided over the event and mentioned that journey in her own words of wisdom to the graduates.
"As you prepare to embark on the next phase of your journey, I encourage you to remember the values and lessons you have learned during your time here," Farmer School dean Jenny Darroch said. "You have learned the importance of hard work, dedication, and perseverance. You have gained valuable knowledge and skills that will serve you well in your future endeavors. But most importantly, I hope you leave Oxford with a deep sense of purpose and a commitment to making a positive impact on the world."