New leader takes helm of Center for Social Entrepreneurship
Michael Conger named director of center, following Brett Smith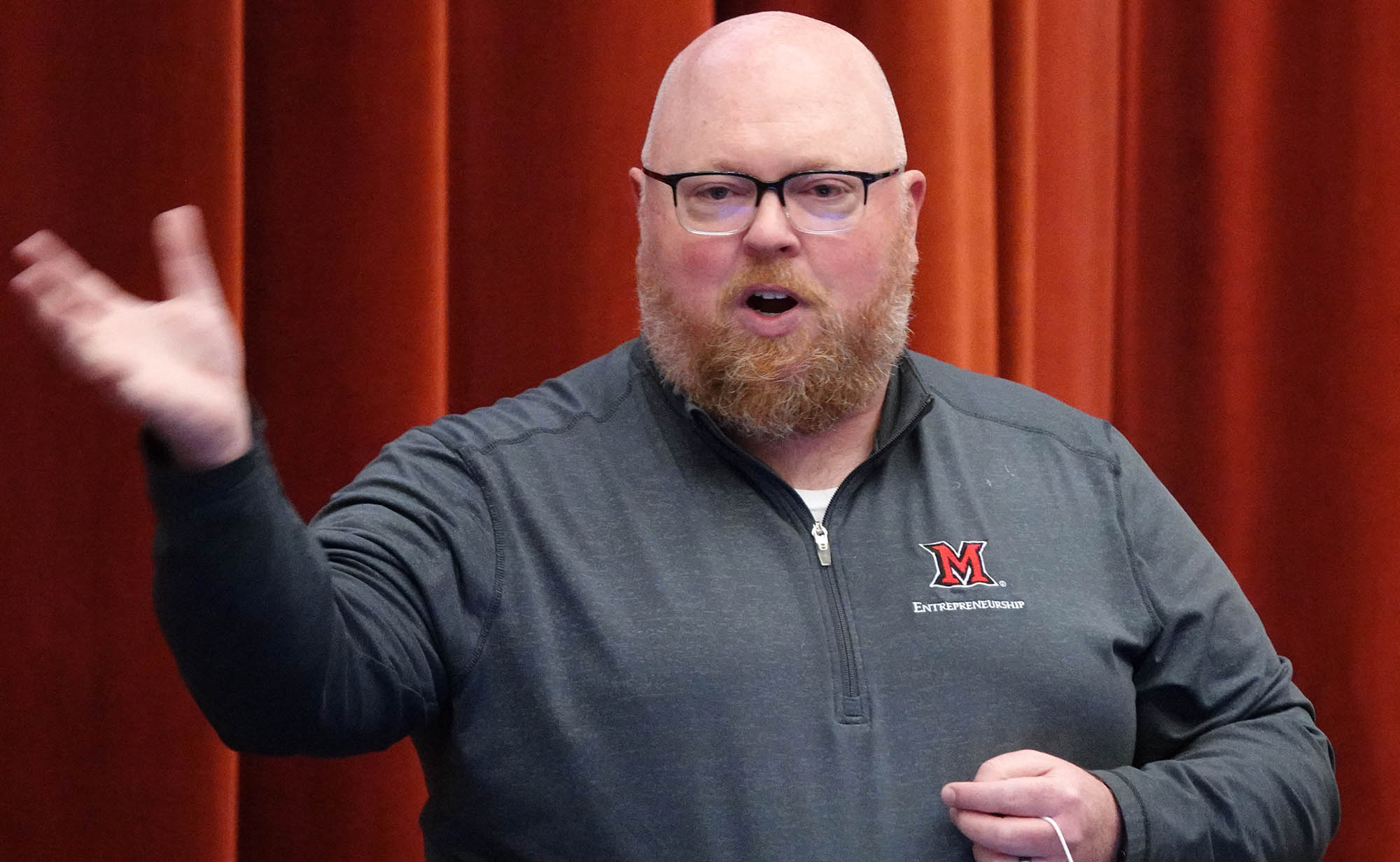 A familiar face will take the helm of the John W. Altman Institute for Entrepreneurship's Center for Social Entrepreneurship this fall at the Farmer School of Business.
Associate professor of entrepreneurship Michael Conger was selected to lead the center over the summer, following Brett Smith, who led the center from its inception in 2006.
"In the past five years alone, CSE has produced an incredible amount of world class research and one-of-a-kind programs for students," Conger said. "It's really exciting to think of what we can do going forward having doubled the size of our research-active faculty focused on social entrepreneurship with the addition of professors Anna-Katharina Lenz and Kylie Heales in the last year."
Defining social entrepreneurship as "innovative solutions to persistent social problems - particularly to those that are marginalized or poor - that create social value through sustainable, systemic change," the center creates hands-on, experiential learning opportunities for undergraduates and strives to give students the tools they need to leave their mark on the world.
Since 2006, the center has:
Been named "Best Program in Social Entrepreneurship" by the Global Consortium of Entrepreneurship Centers (GCEC).
Has won the "Innovation in Social Entrepreneurship" award by Ashoka twice.
Named the inaugural "3E Learning Award in Social Entrepreneurship" winner for pedagogical innovation at the Skoll Foundation World Forum.
Helped co-found Flywheel Social Enterprise Hub, which has become a catalyzing force for social entrepreneurship in Cincinnati.
Created Social Innovation Weekend, where students develop innovative solutions to societal issues like  drug addiction and recovery, food insecurity, homelessness and affordable housing, mental health and resilience, and climate change; and
Launched one of the nation's first undergraduate student-managed impact funds, the Social Impact Fund, where students manage $250,000 to invest in enterprises that tackle social problems.
"We're hard at work on new learning experiences, co-curricular programs, and service learning projects with an increased focus on community engagement in Oxford and beyond and interdisciplinary collaboration with the growing list of academic programs (20+ and counting) across campus with whom we partner," Conger said.
Conger has been teaching at the Farmer School since 2014.
"With flagship programs like Social Innovation Weekend and the Social Impact Fund, not only has the Center for Social Entrepreneurship been at the forefront of creating academically rigorous, practically relevant scholarship in social entrepreneurship for almost two decades, but the Center has also led the way by creating hands-on, experiential learning opportunities that unleash entrepreneurial mindsets, ignite imaginations about what is possible, and motivate students to innovate, create value, and elevate their impact on society," Institute for Entrepreneurship director Tim Holcomb said. "I couldn't be more excited to see Michael assume leadership responsibilities for the Center and look forward to future success under his direction."