Farmer School entrepreneurship program ranked 7th in the world
Princeton Review and Entrepreneur Magazine have given the John W. Altman Institute for Entrepreneurship its highest ranking ever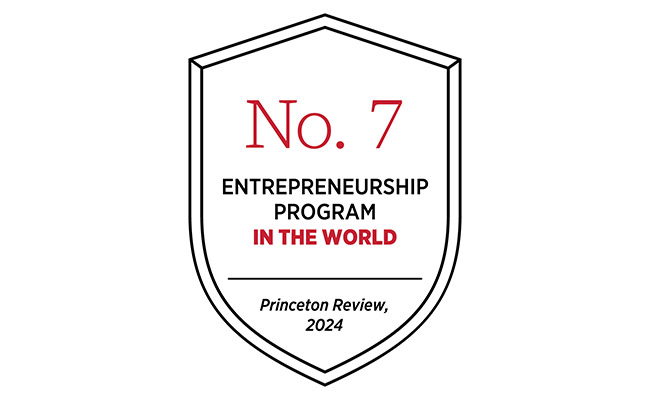 In the latest rankings by the Princeton Review and Entrepreneur Magazine, the John W. Altman Institute for Entrepreneurship at the Farmer School of Business has been ranked as the No. 7 undergraduate entrepreneurship program in the world.
This is the 16th consecutive year that The Princeton Review and Entrepreneur Magazine have ranked Miami's program among the Top 10 Public Schools and the highest overall global ranking that the program has ever achieved.
Jenny Darroch, Farmer School of Business dean and Mitchell P. Rales Chair in Business Leadership, commented, "We are proud of this achievement and the recognition it gives the faculty, staff, students, alumni, and supporters of this exceptional program.  The methodology for these rankings is quite extensive, and we believe that translates into a more accurate assessment of the educational experience and outcomes our students enjoy."
The Princeton Review chose the schools for its 2024 undergraduate and graduate entrepreneurship rankings based on surveys of schools conducted from June through August 2023. Nearly 300 schools reported data about their entrepreneurship offerings. The information considered included:
Academics and Requirements
Students and Faculty
Alumni Entrepreneurship Ventures
Outside the Classroom
Competitions Hosted by School/Program
Scholarships and Aid
Tim Holcomb, professor and chair, department of entrepreneurship and director of the John W. Altman Institute for Entrepreneurship, said, "Being ranked among the top undergraduate programs in the world for 16 consecutive years is a testament to an outstanding group of entrepreneurship faculty and staff, a group that not only believes in the transformative power of learning by doing but shares a common goal to prepare tomorrow's entrepreneurial leaders to be job ready, day one."
"We are honored to be recognized by The Princeton Review and Entrepreneur Magazine once again," Miami University President Greg Crawford said. "The John W. Altman Institute for Entrepreneurship continues to achieve new milestones and position us and our students as global start-up leaders. The program's sustained success affirms the entrepreneurship team's dedication and commitment to excellence and advancing Miami's mission through the spirit of entrepreneurship and creative solutions."