Chinese Bridge Summer Camp
2018 Chinese Bridge Summer Camp for American High School Students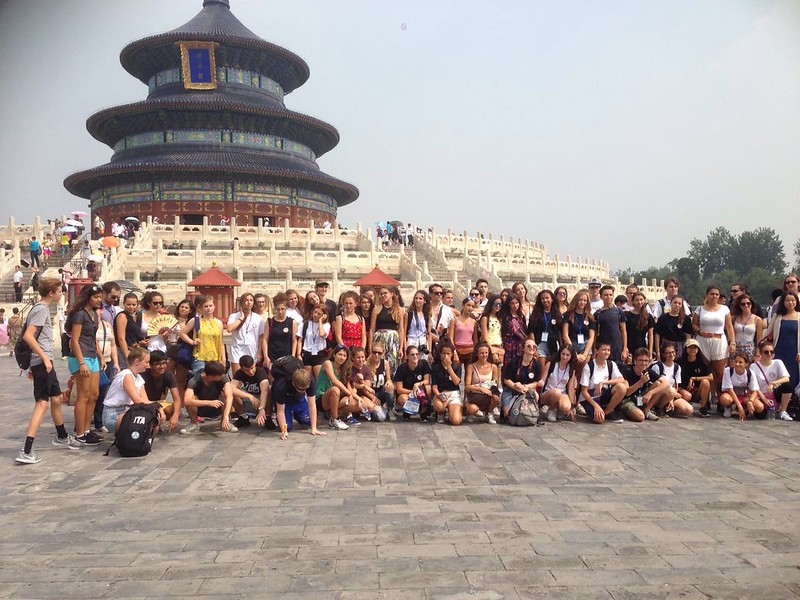 The Chinese Bridge Summer Camp is sponsored by Hanban, the Confucius Institute Headquarters, in cooperation with various Confucius Institutes throughout the United States. This camp allows for American high school students to experience Chinese language and culture in China for 2 weeks during the summer.
This program aims to promote exchange between the youth of China and the United States. Since launch in 2007, more than 6,000 American high school students have been invited to participate in this summer camp in China. Confucius Institute at Miami University (CIMU) would like to invite the students from our local Chinese learning program to join the 2018 Chinese Bridge Summer Camp program.
Program information
Dates
July 17 - August 1, 2018
Locations
Beijing (4 days) and Dalian (11 days)
All students will travel together. The travel schedule will be announced at a later date.
Activities
During the program, students will:
Study Chinese language and culture (paper-cutting, calligraphy, brush painting, tea ceremony, martial arts, etc.)
Participate in various sports and cultural activities (friendly basketball matches, international student get-togethers, host family experiences, etc.)
Visit points of interest in China's long history
Visit sites of natural beauty
Application
Students currently enrolled in credited public/private high schools who meet the following qualities:
Must be an American citizen that has interest in Chinese language and culture.
Must be 15 years of age or older; Grades 9 to 12 (entering 9th grade and graduated seniors).
Has studied Chinese for more than 3 months or 40 hours.
Has completed the HSK test (Chinese Proficiency Test). HSK test scores will determine Chinese language class placement level, but will not affect trip eligibility (*upon test completion, results valid for two years).
Is healthy enough for international travel.
We are only permitted to send 20 students from our Confucius Institute, so student applications will be screened and a finalized group will be determined by qualification and program fit.
Program Cost
Program Coverage
Confucius Institute Headquarters will assume all costs for: accommodations, local transportation, group activities, and sightseeing for students during their stay in China.
Housing: Students will stay in college dorms in our partner school, Liaoning Normal University. 
Student Costs
International Airfare – the average airfare cost in the previous years was around $2,200.
Program Fee – $200 program fee pay to Confucius Institute at Miami University.
GeoBlue International Health Insurance Fee  – required by the study abroad workshop policy at Miami University.
Passport (a valid passport expires 6 months after return to America from China) – about $135. 
Visa – about $140.
HSK Test Fee – Level 1 is $20 and there is a $10 increase for each level up to level 6.
Application and selection procedure
Qualified applicants need to submit their application via an online website (the link will be provided later) before February 15, 2018. Each applicant needs to email a personal application letter and a recommendation letter from his/her Chinese teacher as attachments to CIMU.
Orientation
Program Information Session
Two program information sessions will be provided to help students, parents, and teachers to learn more about the summer camp. During the sessions, basic information about the camp will be introduced and photos and videos made by the previous campers will be displayed. A Q&A session will follow the session.
The information sessions will be held in the cities of Dayton and Cincinnati:
Dayton Regional STEM School information session:
Time: Tuesday January 30th 2018, 6:30pm-7:30pm
Location: Room number TBD (1724 Woodman Dr, Kettering, OH 45420)
Sycamore High School information session:
Time: Wednesday January 31st 2018, 6:30pm-7:30pm
Location: Room 247 Sycamore High School (7400 Cornell Road, Montgomery, OH 45242)
Pre-Travel Orientation
This pre-travel orientation is for all students and parents/guardians who applied for the camp. This is the only orientation before participants' travel to Beijing. All detailed information about the camp will be provided at this orientation. Chinese visas and international air tickets will be ready by this date.
Time: TBD
Location: TBD
Contact
Name: Jiawen Cai
Phone:513-529-8667
Fax:513-529-8666
E-mail: caij6@miamioh.edu
Address:Confucius Institute at Miami University, 126 McGuffey Hall, 210 E Spring St. Oxford, OH, 45056