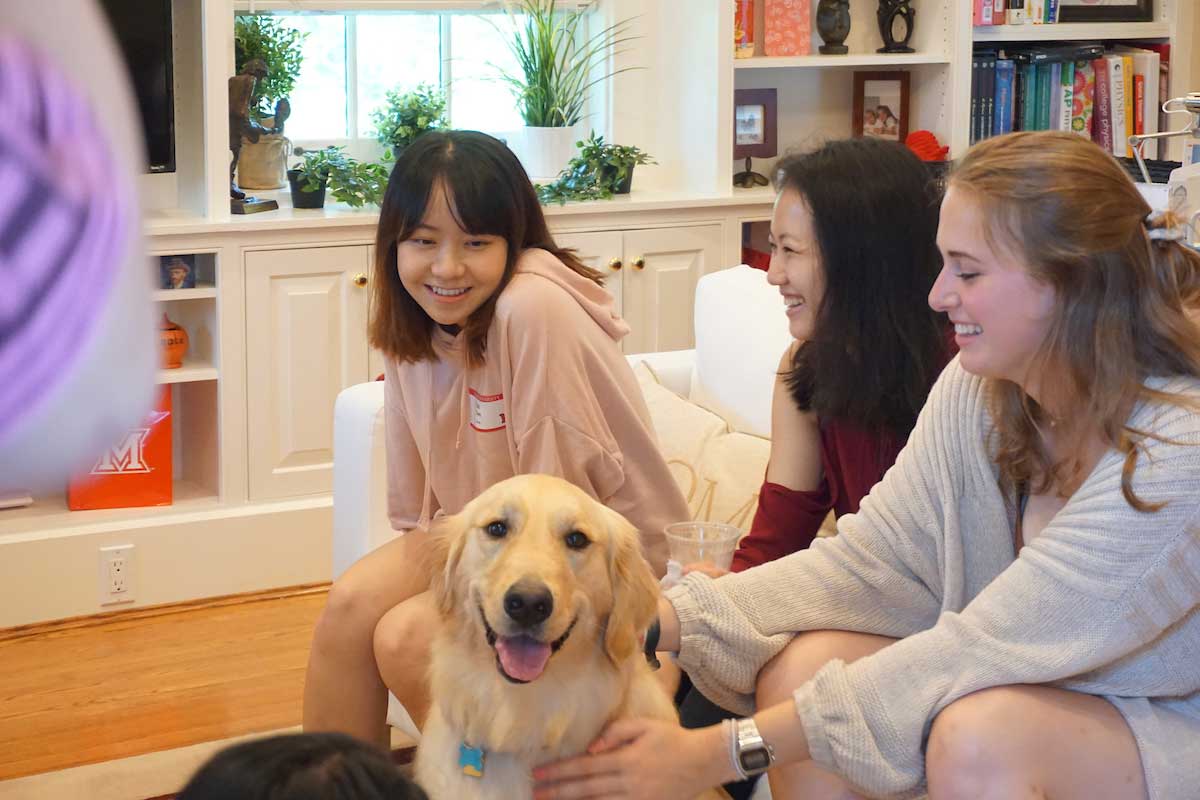 Medical Withdrawal
Schedule an appointment

 

with an ISSS Advisor.
Schedule an appointment with your medical provider. Due to government regulations,

 

your medical provider must be a licensed medical doctor, psychiatrist, doctor of osteopathy, licensed psychologist, or clinical psychologist based in the United States.

Most students obtain documentation from

 

Miami University Student Counseling Service or

 

Student Health Services. If you are pursuing care from a medical provider not affiliated with Miami University, your medical provider must provide valid contact information. ISSS reserves the right to contact your medical provider if there are questions and verify your request.
Your medical provider must complete the

 

Miami University Provider Report Form.
As a reminder, you are pursuing this benefit based on experiencing a serious medical condition. As a result, you are encouraged to discuss and pursue ongoing treatment with your medical provider. Your medical provider may also require that you meet several times before completion of the forms.

 

Please allow time for this process.

Submit online

 

Student Withdrawal and Cancellation Form. Please select

 

medical

 

for your reason.
Your request will be reviewed. Although support from a medical provider is required, final authorization for a medical withdrawal must come from ISSS. You will be notified of the decision by email. If approved, please note the approval is for the requested term only. In addition, a medical registration hold will be placed by the Office of the Dean of Students preventing registration for the upcoming term.
Your medical withdrawal may have implications for your student record, grades, coursework, and registration holds. The Office of the Dean of Students provides more information on these implications as well as possible financial options.
Returning to Studies After Medical Withdrawal
If you are approved for a medical leave of absence or withdrawal, you will be required to complete several steps to return to your studies. All steps should be completed ideally at least one month before the start of the term in order to successfully return to studies. Review additional guidance on Returning from Medical Withdrawal from the Office of the Dean of Students.
Resolve Medical Hold

Submit the Return from Medical Withdrawal form to the Office of the Dean of Students as soon as your medical provider agrees that you are ready to return. Once the correctly completed form has been received, Office of the Dean of Students will remove your medical hold and send confirmation by email.

Submit Online Re-Enrollment Form


After you receive confirmation that your medical hold has been removed, submit an online re-enrollment form to the University. Please note that if you apply for re-enrollment before your medical hold is removed, it will not be processed.

Resolve Advising Registration Hold

Contact your divisional advising office for assistance.

Enroll full-time for upcoming semester.

If you are already registered for the upcoming term, you must still complete steps 1-3 to avoid class cancellation.
If you are seeking withdrawal based on medical reasons for a past academic term (not current term), this is considered a late medical withdrawal request. Take care to review university deadlines regarding late medical withdrawal. For those deadlines as well as other requirements, students seeking late medical withdrawal should review guidelines from the Dean of Students office. Also consult with ISSS because late medical withdrawal can impact your legal status.
Frequently Asked Questions
If you are currently living in the residence halls on campus, you are expected to move out within 48 hours of your withdrawal being processed.
It depends. Some of Miami's services are funded through fees or are only available to full-time students. If you are not enrolled full-time or being charged the relevant fee, this may cause you to lose access. To confirm the policy, please check with the relevant offices.
It is best to pursue medical leave of absence or withdrawal during the term you are experiencing the medical condition.
No, unless the student has completed and been assigned a passing grade in a sprint course (any course less than a full term in length), prior to the date of his/her last class attendance for that term. If a student has completed and received a passing grade in a sprint course in the term from which he/she is requesting medical withdrawal, he/she must indicate that on the request form as well as a rationale for retaining it; otherwise, it will also be removed from the record. A sprint course is any course less than one full term length, including any summer term course not lasting the entire summer. The decision regarding the sprint course will be indicated in the final medical withdrawal decision. Note that retaining a sprint course for the requested term will make the student ineligible to receive a Medical Tuition Credit for the requested term.
The student's transcript from a term for which a medical withdrawal has been approved will indicate only "officially withdrawn [date]" without specifying the nature of the reason for that withdrawal in order to protect privacy.
Any direct refund of tuition or fees due the student will be determined from the last date of class attendance regardless of the date of the onset of the condition prompting the request for medical reduced course load or withdrawal.
The Dean of Students address financial considerations such as refund options, refund period, tuition credit, tuition insurance, and the impact of medical withdrawal on scholarships or financial aid. Review Frequently Asked Questions on Medical Withdrawal by scrolling to the bottom of their webpage.
If you are a continuing student who has maintained your legal status, no, it does not. Generally enrollment is not required during break periods such as summer or winter term. If you are a new student or returning student, please consult with ISSS.
International Students and Scholars
Social Media
Sign-Up for Email Updates
Use the link below to sign up to receive emails from ISSS. Please note that if you are currently enrolled in Miami University courses as an international student or scholar, you will automatically be added to this list.