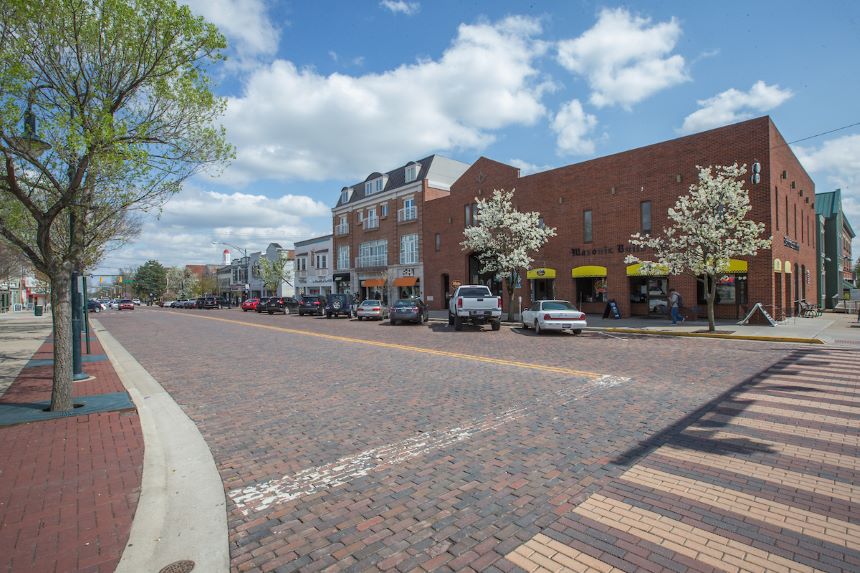 Parking
Parking in Oxford can be challenging. Review the information below on Oxford parking-related ordinances to reduce frustration and potential violations.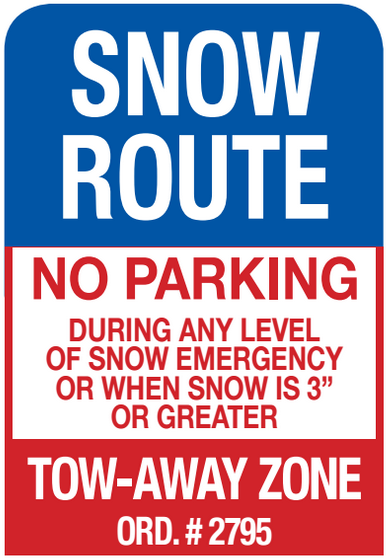 No vehicles may be parked on any snow route during any level of snow emergency and/or when snow and/or ice accumulation is three inches or greater. This allows for adequate and speedy plowing of the main roads in Oxford.
Snow routes in Oxford are designated by a blue, white, and red sign.
Once the street crews have plowed a snow route and the accumulation is less than three inches, you may return your vehicle to the street.
Please be aware that during a major snow event, it does not take long for three inches to accumulate on a previously plowed snow route. As soon as the three-inch threshold is met, vehicles are subject to towing and impoundment.
When in doubt, err on the side of caution—park somewhere else so that street crews can clear the major thoroughfares.
When Oxford's designated snow routes must be cleared, students who live in Oxford may park in the West Millett or Ditmer lots' 24-hour section without a university permit. Vehicles must be removed from the campus parking lots within 24 hours after the snow emergency has been lifted.
On public sidewalks or street-lawn areas.
In front or within three feet of a driveway.
In yellow zones or where signs prohibit.
Within ten feet of a fire hydrant.
In a handicapped space without a handicapped permit.
In yards.
Facing the wrong direction.
More than twelve inches from the curb.
In an alley, except when loading or unloading passengers.
In fire lanes.
On private property without owner's consent or in violation of posted conditions.
On snow emergency routes with three inches of snow or greater accumulation.
Parallel to another vehicle parked on the street (double parked).
Business District Parking
You may not park overnight on High Street. Parking is prohibited on High Street, Park Place, and in the Uptown Municipal Lot between 4 and 5:30 a.m. every day.
Municipal Parking Garage (corner of South Main and West Walnut Street) offers hourly public parking. Please be aware that the municipal garage is under constant video surveillance.
The Uptown Lot (North Main Street and East Church Street) offers off-street public parking with meter hours of operation from 9 a.m. to 6 p.m. Monday through Saturday.
Parking meters are located throughout the business district and along the western edge of Miami University's campus. Meter hours of operation are from 9 a.m. to 6 p.m. Monday through Saturday. There are different types of meters throughout town that allow varying hours of parking at that meter. 
Parking Ticket Fines and Payment
Multi-meter and expired meter fines escalate. For a full list of parking violations and fines, visit City of Oxford's Parking Citations.
Please note that unpaid citations will be transferred to a collection company after the fee has escalated and the registered owner has been given the opportunity the pay the debt. This adds 27% to the amount due.
Individuals who owe parking fines to the City of Oxford can be immobilized or "booted" until payment is made. After booting, the Oxford Police Department (OPD) reserves the right to impound the vehicle if the fines and fees are not paid in the first 24 hours. Impounding the vehicle can be quite costly.
Owners of vehicles that are both booted and towed are responsible for full payment of all fees incurred through booting and towing, as well as full payment of all outstanding parking citations.
Vehicles parked in violation of the 72-hour ordinance are also subject to either "booting" or towing. 
Residential Permitted Parking Streets
Some streets are designated Residential Permit Parking. Permits are required to park on these streets during the hours indicated. If you live on a street that has been designated as residential permitted parking, you will need to obtain a special permit to park on that street.
Two permits are available to all residences with physical addresses on the streets of the Residential Permit Parking. Permits may be obtained at the Oxford Police Department, Monday through Friday, 8 a.m. to 5 p.m. or online.
The residential permitted parking pass is in addition to any other passes issued by Miami University, apartment complexes, or other entities within the city.
Signs clearly denote the boundaries of the residential parking zones as well as the restricted hours of parking. Violators will be cited.