2018 Myaamiaki Conference
naanatawiteeheenki myaamia nipwaayoni
A Conference on Current Myaamia Scholarship
The eighth biennial Myaamiaki Conference at Miami University presented research and other topics related to the Miami Tribe of Oklahoma. The list of speakers, brief biographies, their topic presentations, and abstracts is provided below.
Please contact us with any questions, and we hope will be able to join us.
Can't make it? Please join us on Facebook for our live feed of the conference.
Date: Friday, March 30, 2018
Time: 9:00 a.m.-4:00 p.m.
Location: Marcum Center (951 East Withrow Street, Oxford, Ohio 45056)
The conference is free to the public. We ask that all participants (including presenters) individually register for the conference.
9:15 a.m. | Introduction and Opening Song
George Ironstrack and Jarrid Baldwin
Biographies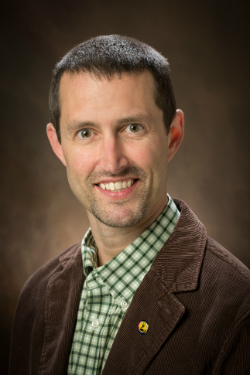 George Ironstrack has participated in Myaamia language renewal projects as both a student and a teacher since the mid-1990s. George is a citizen of the Miami Tribe of Oklahoma and has assisted in the organization and administration of the Tribe's Eewansaapita Summer Educational Experience since its inception in 2005. Learn more about George.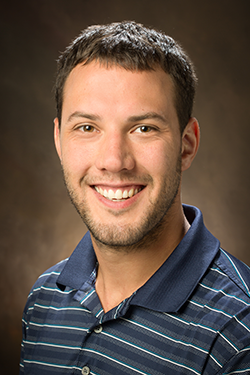 Jarrid Baldwin is employed by the Miami Tribe of Oklahoma's Cultural Resource Office as the Community Language Program Coordinator. His work consists of creating and maintaining language programs within the Miami community with a focus on community outreach and supporting language in the home. He graduated with a B.S. in Anthropology from Miami University in 2013.
9:30 a.m. | Welcome
Daryl Baldwin, Director, Myaamia Center at Miami University
Biography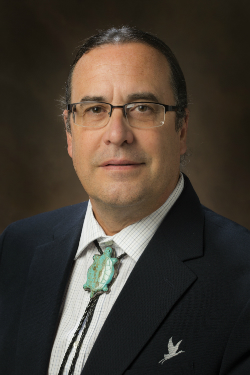 Daryl Baldwin is a citizen of the Miami Tribe of Oklahoma and currently serves as the Director of the Myaamia Center at Miami University in Oxford, Ohio. He has worked with the Myaamia people developing language and cultural materials since 1995. Learn more about Daryl.
9:45 a.m. | Before the myaamiaki: Using Beads Made from Meteorites to Learn about the Mound Builders
Dr. Timothy McCoy, Curator-in-Charge of the National Meteorite Collection, Smithsonian Institution, Washington, DC
Biography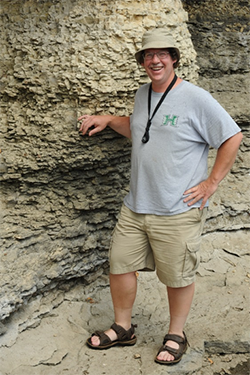 Tim McCoy (kiišikwa) was raised in Illinois. Fascinated at a young age by rocks and stars, he earned a PhD in geology at the University of Hawaii studying meteorites. For the past 21 years, he has worked as the Curator-in-Charge of the National Meteorite Collection at the Smithsonian Institution. In addition to studying meteorites, he worked on robotic spacecraft missions to asteroids, Mercury and Mars. In collaboration with the Myaamia Center and Miami Tribe of Oklahoma, he was the lead on the educational curriculum ašiihkiwi neehi kiišikwi: myaamionki (Earth and Sky: The Place of the myaamiaki). He lives in suburban Washington, DC with his wife Darlene and sons Joshua (wiinikolia) and Zachary (mahkoonsa)
Abstract
Our place (myaamionki) is dotted with earthen mounds. These were constructed from approximately 1000 BCE to 1400 CE by people including the Adena, Hopewell, and Ft. Ancient cultures. Our knowledge of these people is incomplete, including what language or languages they spoke or what they called themselves. They did, however, leave a rich archaeological record in their earthen mounds. These include both burial mounds and well-known effigy mounds, such as Serpent Mound in southern Ohio. Excavation of these mounds in the 19th and first half of the 20th centuries yielded a rich record of ceremonial objects, many constructed from materials found across North America. Among the most common exotic objects are shells from the Gulf of Mexico, the mineral mica from the Appalachian Mountains, the pipestone catlinite from Minnesota, the natural glass obsidian from what is today Yellowstone, and copper and silver from upper Michigan into Canada. Together, these items testify to vast trade networks with raw materials moving across much of Eastern North America for a period of two thousand years.
Even among these objects, the most extraordinary raw material used by the mound builders was iron meteorites -- pieces of the cores of ancient asteroids liberated by violent collisions. While iron metal is common today, it was unknown 2,000 years ago in North America. Excavations of Hopewell mounds in Chillicothe, Ohio and Havana, Illinois yielded beads made from iron meteorites. With colleagues at the Smithsonian, Univ. of Maryland, and UCLA, we studied the beads from Havana, Illinois to understand how they were made and to identify the meteorite used in their manufacture. The structure and composition of the beads match the Anoka, Minnesota iron meteorite, which fell as multiple pieces across the Mississippi River near Minneapolis-St. Paul, an area occupied 2000 years ago by the Trempeleau Hopewell. Using a piece of the Anoka, Minnesota iron, we produced a replica of the Havana, Illinois bead using only wood-fueled fire and stones, with repeated cycles of heating and flattening, followed by rolling into the bead shape. A piece of the Anoka, Minnesota iron was likely found by the Trempeleau Hopewell and traded to the Havana Hopewell, which are connected via the Mississippi and Illinois rivers. The beads were manufactured by the Havana Hopewell, who had an extensive history of copper working. The complex system of trade, coupled with the manufacture of this exotic meteorite bead, supports the idea that sophisticated societies have occupied our lands for thousands of years.
10:15 a.m. |  The Western Rim of Fort Ancient Settlement and the Pre-Contact Origins of the Myaamia People
Dr. Stephen Warren, University of Iowa
Biography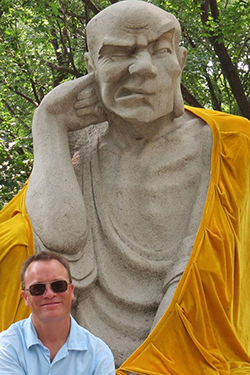 Stephen Warren went to high school in Indianapolis, Indiana and attended Indiana University, where he received his Ph.D. in history in 2000. He has written or edited three books, including The Shawnees and Their Neighbors, 1795-1870 (The University of Illinois Press, 2005); The Worlds the Shawnees Made: Migration and Violence in Early America (The University of North Carolina Press, January 2014), and The Eastern Shawnee Tribe of Oklahoma: Resilience through Adversity (University of Oklahoma Press, 2017). This last project derived from a federally-funded grant sponsored by the Eastern Shawnee Tribe (2013-2016). He has worked on numerous collaborative projects between the Ohio Historical Connection and the ten federally-recognized tribes that were subject to ethnic cleansing and forced removed from Ohio and Indiana. He lives in Iowa City, Iowa, with his partner, Professor Kristy Nabhan-Warren, and their three children: Cormac (14), Declan (11), and Josie (8). He is currently associate professor of History and American studies at the University of Iowa.
Abstract
The Myaamia people face many hurdles when it comes to the protection of their ancestors and associated funerary remains in central and northern Indiana. Through examination of recent issues at Strawtown "Koteewi" Park in Noblesville, Indiana, I will examine how state and local governments have abused and ignored the Native American Graves Protection and Repatriation Act. Weaknesses in the NAGPRA law stem in part from the use of data from the Indian Claims Commission (1946-1978). ICC researchers focused on the treaty-making era (1789-1871), and showed little concern for the more than ten thousand years of human occupation of the lower Great Lakes region. This toxic combination of dated research, ignorance of tribal sovereignty, and the general lack of recent archaeological research on late pre-contact era sites in the region has enabled institutions with human remains and associated funerary objects to label their holdings as "culturally identifiable," thereby enabling them to maintain control of their collections. This paper explores the current state of archaeological research along the western rim of the Fort Ancient world, in central and northern Indiana. My research outlines how the Myaamia people might overcome these institutional and research-related roadblocks in order to defend their ancestors from exploitation and abuse.
10:45 a.m. | Break
11:00 a.m. | Symbolic Language in the Early Historic Miami-Illinois Dictionaries
Michael McCafferty, Indiana University
Biography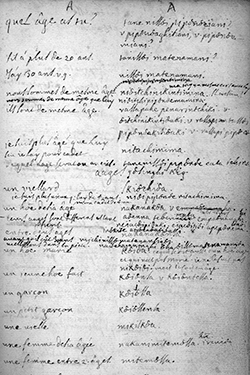 Michael McCafferty is an ethno-linguist and holds a M.A. in linguistics from Indiana University, where he has taught beginning and advanced Náhuatl, a native language of Mexico, and English as a second, including, about three times a year, a course on the prehistoric cultures of the Midwest for advanced students of English about to enter graduate school. He also works as the French-to-English translator for the Miami-Illinois Digital Archive. McCafferty started studying Miami-Illinois in 1975. He is the author of Native American Place-Names of Indiana as well as articles on Miami-Illinois place names and New World French history.
Abstract
The three French Jesuit dictionaries of the Miami-Illinois language that the staff of the Myaamia Center has been working on comprise an infinitely rich language resource. While translating the French in these dictionaries to English for the Center, I have always had my ear bent to the symbolic or figurative language that appears in them. As I move through the dictionaries, I think about these expressions and the people who used them and how they thought about themselves and the world. I will talk about some of these expressions in my presentation.
11:30 a.m. | Understanding Indiana Reserves
Dr. Cameron Shriver, Myaamia Center; Doug Peconge, Community Programing Manager and the Assistant Tribal Historic Preservation Officer, Miami Tribe of Oklahoma
Biographies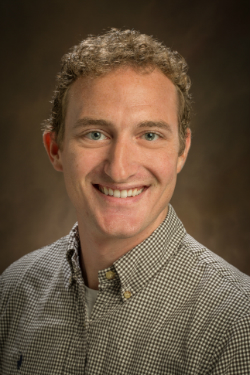 Cam Shriver is a postdoctoral fellow at the Myaamia Center, where he is building a GIS database of Myaamia reserves and land transactions in nineteenth-century Indiana, as requested by tribal government. Dr. Shriver completed his PhD in history at Ohio State University in 2016. He has taught American history and, most recently, "Introduction to the Miami Tribe" at Miami University.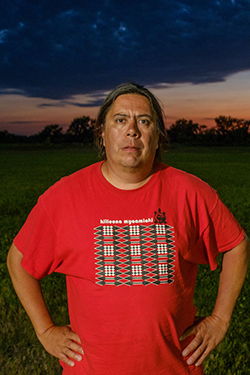 Doug Peconge (alaamahkihkamwa) is an enrolled citizen of the Miami Tribe of Oklahoma. He has a Bachelor's degree in engineering and Information Technology. He spent over 15 years in the information technology field before working for the Miami tribe of Oklahoma. Doug is the Community Programing Manager and the Assistant Tribal Historic Preservation Officer for the Tribe. As Assistant THPO he has utilized Geographical Information System (GIS) to map sites of cultural importance.
Abstract
Over the course of five treaties between the Miami Nation and the United States, 1818-1840, Myaamia individuals reserved over one hundred parcels of land in Indiana. These individual reserves formed the basis for Myaamia land ownership through the nineteenth century. This presentation will illustrate these reserves, briefly describe the process of both acquiring and relinquishing them, and give examples of how reserves became fractured over time. We will also propose how future Geographic Information Systems (GIS) work might benefit our historical understanding and allow us to ask new questions.
12:00 p.m. | Visit Presenter Tables
12:30-1:45 p.m. | Lunch (on your own)
2:00 p.m. | Decolonizing Linguistic Science Through Native American Participation
Dr. Wesley Leonard, University of California, Riverside
Biography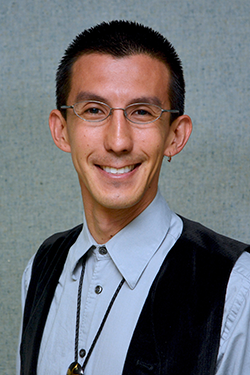 Wesley Leonard is an assistant professor of Ethnic Studies at the University of California, Riverside, and was previously a faculty member and chair of Native American Studies at Southern Oregon University. A citizen of the Miami Tribe of Oklahoma, his research focuses on developing and promoting myaamia and other Native American language reclamation in ways that support tribal sovereignty and survivance. Specific topics of his research include language acquisition, creating curriculum for Native languages in universities, decolonizing language pedagogies, and decolonizing linguistic science.
Abstract
There is a long history of research on Native American languages in the field of Linguistics, with a recent trend being increased consideration of language maintenance and reclamation needs within the communities these languages come from. However, much of the current research in Linguistics still focuses on Native languages as objects of study that are defined, understood, analyzed, and promoted through Western science's categories and objectives. This in turn recasts these Native languages as non-Native objects, and can actually work against the Native community language goals that such linguistic research is claimed to support. For example, linguistic analysis often isolates, fragments, and dissects language in ways that can be alienating to Native American community members for whom language is not an object that exists separately from culture or peoplehood. A decontextualized focus on grammar can entirely miss important social issues, particularly regarding the trauma that Native people have experienced and are addressing when they learn and speak languages that colonization attempted to erase.
In this talk, I ask what outcomes emerge when one instead engages in linguistic science with Native American community needs and ways of knowing as the starting point -- thus the basis from which to create, implement, and disseminate language work. Referencing insights from a January 2018 workshop on decolonizing the field of Linguistics by broadening Native American participation, and focusing in particular on myaamia contributions to this movement, I illustrate how Native people have been changing linguistic science and address the broader implications of these efforts.
2:30 p.m. | wiikiaaminki neepwaanki: Learning in the Home
Kristina Fox, Myaamia Center; Jessie Seddelmeyer, Miami University Tribal alumna
Biographies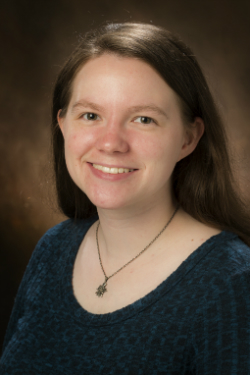 Kristina Fox is an assistant in the Education and Outreach Office for the Myaamia Center. In 2013, she graduated from Miami University with a bachelor's degree in science education for secondary schools. Before joining the Myaamia Center, she was a science teacher at an early college high school in Fort Wayne, IN and a program coordinator for the Eewansaapita Summer Youth Program during the summer.
Her work has shifted to developing educational materials for the Myaamia community relating to language and culture. She is currently bringing Myaamia learning into her home with her daughter, Seenseewia (Adeline), and help from her husband, Jonathan.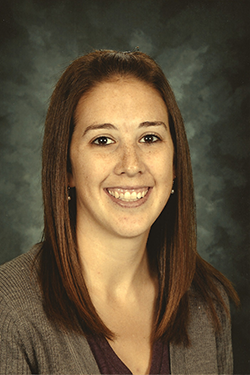 Jessie Seddelmeyer is a Montessori teacher at Southwest Montessori Academy in Fort Wayne, Indiana. During the summer months, she serves the Miami Tribe of Oklahoma as the Director of the Saakaciweeta Summer Youth Experience, which is a language and cultural education program for tribal youth age 6-9. Jessie received a BS in Early Childhood Education from Miami University in 2011. She is currently enrolled in a graduate program in Montessori Education through Xavier University. Jessie and her husband, Ryan, live in Decatur, IN where they are raising their first child, kookaansa (Riley), in the Myaamia language.
Abstract
As the Myaamia language and cultural revitalization effort continues to change and grow, Myaamia people are finding interesting new ways to bring the learning and deepening of connections into their homes. Jessie Seddelmeyer and Kristina Fox will share their experiences as both teachers of Myaamia language and culture as well as parents of Myaamia youth. They will also discuss programs and initiatives that are currently being developed to further learning for all ages and experience levels.
3:00 p.m. | Myaamia Student Experience at Miami University, A Student Panel
Haley Strass, Iowa State University; Kara Strass, Miami University; Miami University Students
Biographies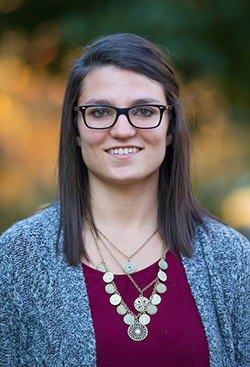 Haley Strass, a myaamia tribal member, is originally from Huntington, Indiana. As a child, she was a participant in the Eewansaapita summer camps and eventually transitioned into the role of counselor and later researcher. Haley attended Miami University for her undergraduate career, studying Psychology and Spanish (class of 2013) as well as participating in the Myaamia heritage class. She is currently a fifth year doctoral student at Iowa State University studying Counseling Psychology and will attend her doctoral internship in the 2018-2019 school year. Her research interests include the relationship between the myaamia knowledge system and living well for myaamia people, identity formation in American Indian youth, and mental health stigma. She hopes to someday give back to the myaamia community (and more broadly American Indian communities) with research on community wellness and clinical practice.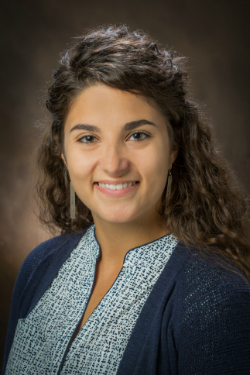 Kara Strass joined the Myaamia Center as a graduate assistant in 2016. She is working towards her master's degree at Miami in Student Affairs in Higher Education (SAHE), and will graduate in 2018.
Originally from Huntington, Indiana, Kara attended the University of Notre Dame and graduated in 2011. It is her experience working with Native American students at Notre Dame that made her think about Student Affairs as a field of study, and Kara is excited to be working with her own Myaamia community. Kara's graduate studies focus on Student Development Theory, and specifically how these theories can be applied to make Myaamia students successful in their college endeavors. Her work at the Myaamia Center includes working with Myaamia students in a variety of ways, outreach to the broader Miami University community, as well as planning for programs including Breath of Life and the Myaamiaki Conference.
Abstract
Myaamia students decide to attend Miami University as part of the Myaamia Heritage Award Program for a variety of reasons. They bring with them different experiences, backgrounds, and come from across the country. Despite their differences, these students share in a common program that aims to teach them about Myaamia history, language and culture. Through assessment of the program, we have found that these students not only gain new knowledge, but also grow in their understanding of their Myaamia identity.
Similar to all of the students who attend Miami University, Kara and Haley each took a unique path in getting to Miami. Together, they will talk about the history and content of the Miami Heritage Award Program, their own experiences, and then will moderate a panel of current Myaamia students who are attending Miami University. The Myaamia students will get to tell you what led them to Miami, and what their experience in the program has been like.
3:45 p.m. | Closing Comments
Daryl Baldwin, Director, Myaamia Center
4:00 p.m. | Visit Presenter Tables