Graduation candidates file into Yager Stadium for the 2014 spring commencement (photo by Scott Kissell).
May 11, 2015
Miami to award 4,101 degrees: Bonnie St. John keynote speaker
Bonnie St. John, best-selling author, Paralympic skiing medalist and former White House official, will speak at Miami University's spring commencement ceremony at 1:30 p.m. Saturday, May 16, at Yager Stadium. Miami will award 4,101 degrees.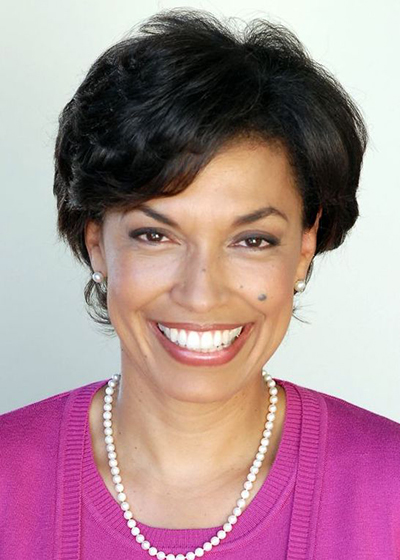 Bonnie St. John
St. John lost her right leg when she was 5 and overcame that challenge to become the first African American to win an Olympic or Paralympic medal in ski racing. Appointed by President Clinton, she served as a director for Human Capital Policy on the White House National Economic Council.
In 2007 she was honored at the White House by President George W. Bush, who praised St. John for her spirit and accomplishments, and in 2010, she represented the USA as a member of President Obama's official delegation to the Paralympic Winter Games. She graduated magna cum laude from Harvard University, was a Rhodes Scholar and is a best-selling author of six books. 
Her most recent No. 1 best-seller, How Great Women Lead, was co-authored with her teenage daughter, Darcy. 
NBC Nightly News called St. John "one of the five most inspiring women in America."
She will receive an honorary doctorate degree from Miami during commencement ceremonies. Jim Oris, associate provost for research and scholarship and dean of the Graduate School, will receive the university's prestigious Benjamin Harrison Medallion.
Miami President David Hodge will preside over the ceremony. Degrees to be awarded include 52 certificates, 103 associates, 3,487 bachelor's, 443 master's and 16 doctorates.
During the ceremony, doctoral candidates will be individually recognized and hooded; master's degree candidates will be individually recognized; bachelor's and associate degree candidates will be recognized by division; and ROTC candidates will be commissioned.
Commencement will be held rain or shine. However, if severe weather is predicted, the ceremony may be shortened and/or canceled. Information on the status of the ceremony will be broadcast on 88.5 FM and 91.7 FM and online at www.MiamiOH.edu.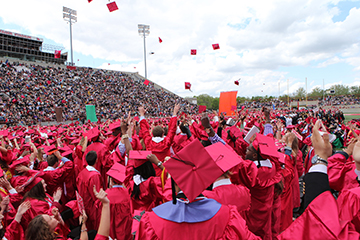 Spring commencement 2014 (photo by Scott Kissell)
All bags will be checked upon entering the stadium for the ceremony. Guests are asked to arrive early and leave all nonessential items in locked vehicles. More information can be found online at http://miamioh.edu/commencement/.
Share the experience. Use the hashtag #MiamiOHgrad when talking about graduation and related festivities on social media. Miami will stream the commencement ceremony live on the Web. Anyone with an Internet connection, smart phone or tablet device will be able to watch the commencement ceremony in real time on the day of the event. 
Information and a link to view the Web stream will be at http://miamioh.edu/commencement/.
Divisional ceremonies and speakers
Saturday, May 16
7 p.m., Goggin Ice Center, College of Engineering and Computing, James Free, director of the National Aeronautics and Space Administration's John H. Glenn Research Center in Cleveland.
7:30 p.m., Millett Hall, College of Arts and Science, Adam Bain (Miami '95), president of global revenue and partnerships at Twitter.
Sunday, May 17