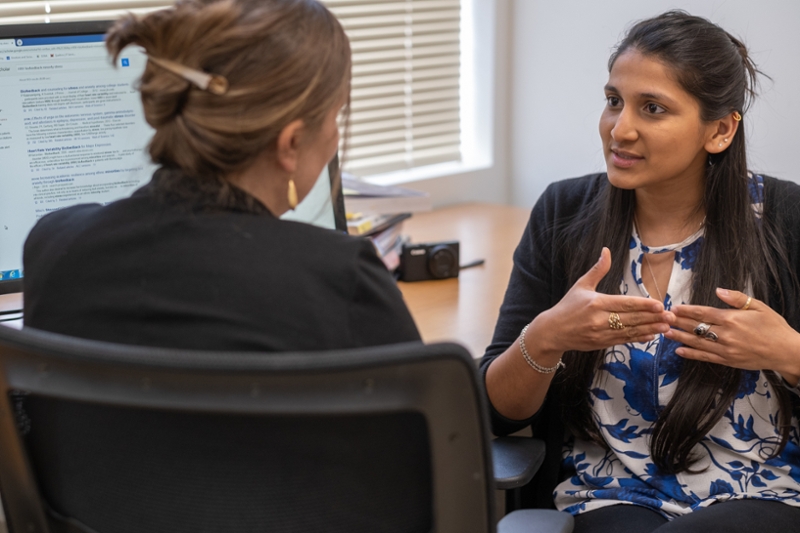 Jun 06, 2019
Diversifying Psychology: Miami initiative draws national candidates to Oxford
Inaugural program targets diversity gap within the psychology field
By Shavon Anderson, university news and communications
When it comes to diverse representation in the field of psychology, who has a seat at the table?
 
Akanksha Das, a doctoral student with Miami University's ACE (Anxiety, Cognition, and Emotion) Lab sees how diversity impacts research and the research environment.
"We joke and say that research is 'me-search,' and in some ways it is," Das said. "Whatever our area, we pull from our own understanding of the world and the lives around us, even the research we read."
 
The broader systemic issue, Das said, is a cycle that occurs when researchers have a narrow focus, only reading work done by people who share similar assumptions and experiences. In an effort to incorporate different voices in the field, the psychology department launched its inaugural Diversifying Psychology Weekend in May.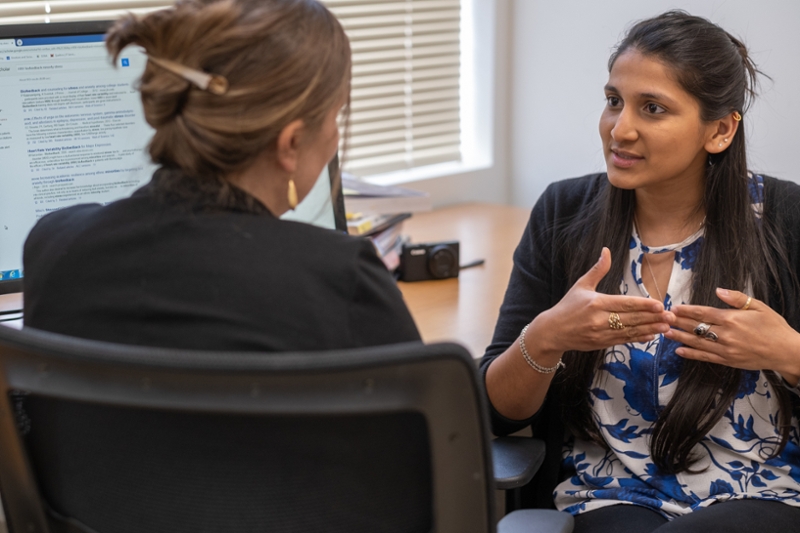 Led by a committee of Miami faculty and graduate students, the weekend drew in candidates from across the country who plan to apply to graduate schools within the next two years.
 
Akanksha Das (pictured right) is a National Science Foundation Graduate Research Fellowship awardee.
"We have lots of research that shows diverse work teams perform better and that they provide perspectives that not only improve products, but processes at work," said Joshua Magee, assistant professor of psychology. 
Magee chairs the evaluation and selection committee. Out of 35 applications, his team chose 14 candidates based on research interests, engagement in activities and current academic achievements. Recruiting efforts also focused on students with diverse gender and ethnic backgrounds, as well as other intersecting identities. 
The selected group self-reported the following identities:
Three Asian or Asian American.
Five Black or African American.
Six Hispanic or Latinx.
13 women and one non-binary/third gender.
Three lesbian, gay, bisexual and/or transgender.
Applicants also self-reported other identities like disability, first generation and immigrant statuses.
 
Over the course of three days, applicants had direct networking access to Miami students and faculty through presentation sessions, campus tours and scheduled meals. Breakout sessions included topics on applying to and navigating graduate school and a question and answer seminar where candidates could talk with current graduate students.
Creating opportunities for the future
The Diversifying Psychology Weekend proved positive, according to feedback collected through an anonymous candidate survey.
In rating their overall experience, 90% of candidates noted an "excellent" experience and 100% of respondents said the visit affected how prepared they feel about applying to graduate school. Additionally, 50% of the candidates said Miami's psychology graduate program had not been on their list of options, but they now plan to apply.
 
Das, who benefited from diversity programs while applying for her own doctoral program before choosing Miami, sees the Diversifying Psychology Weekend as becoming a useful tool to grow the number of initiatives across the country. Miami's program includes full funding for travel, lodging and meals for candidates – pulled from the Miami University Graduate School, College of Arts and Science, department of psychology and the Center for Student Diversity and Inclusion – which only a handful of national programs do.
As a whole, Das said the field of psychology overlooks a critical resource for diverse populations.
"These candidates are already phenomenal and have everything they need to get into graduate school," Das said. "What's often missing is the necessary mentorship on how to articulate their achievements in their cover letters and applications and best leverage what they already have to successfully apply to and thrive in graduate school."
The goal isn't only to draw diversity to Miami's program, but to prepare prospective students to successfully apply and enter the field of psychology even if they select a program elsewhere.
Magee noted that diversity programs show a broader impact across the field.
"Stakeholders recognize the value in these programs and see that they are working," Magee said. "Nationwide, people are beginning to ask how they can implement a program like this. There's a lot of excitement."

Miami's committees are working to elevate the program next year.