By Ross Tague, CAS Intern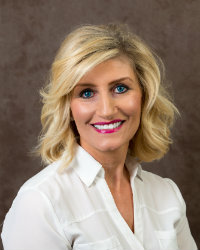 During her 10 years of service, Janie Schuppie has greeted many people with a smile as they've come through the front doors of the Miami University Psychology Clinic.
Situated on the ground floor of the Psychology Building on Miami's campus, the Clinic offers mental health services to community members, as well as Miami University students and staff. The Clinic offers psychological assessment and psychotherapy for adults and children across a wide range of issues.
Schuppie holds the title of Program Associate at the Clinic, a role vital to its operation. It's a position that goes far beyond welcoming clients from behind a desk. It's an incredibly important job that includes a high level of responsibility.
In addition to necessary office tasks such as handling appointments and orders, Schuppie takes on projects that include recruiting graduate applicants for the Clinic and supporting the entirety of the clinical faculty, as well as graduate students. The role requires the ability to think fast with good judgment due to the sensitive nature of the Clinic. Some clients require immediate action in certain emergency situations, and it is Schuppie that is responsible for going through the right channels to find someone to assist the client.
As a self-proclaimed people person, Schuppie describes her favorite part of her role as getting to know everyone that passes through the Clinic.
"I love talking to the clients that come, because I know they're here for a reason," Schuppie said. "It's my favorite just to talk to them and see how their day's going. They'll talk to me before the session in what I call the pre-session, or after. That's my favorite."
Schuppie interacts with more than just clients, however. She's gotten to know the graduate students who train at the Clinic for five years prior to getting their PhDs.
In addition to serving Miami students, faculty, and community members, the Clinic serves a dual purpose to train students in clinical psychology under the supervision of licensed clinical faculty. Students train to provide services of psychotherapy as well as psychological assessment.
Schuppie expressed her fondness for the students. "I especially like at the end of the five years how they've grown. I get so attached to them and then they leave, so one of the hardest parts of the job is getting attached to students and then seeing them leave."
Her warmth towards the people of the Clinic hasn't gone unnoticed by the rest of the clinical faculty. Dr. Julie Rubin, director of the Clinic, recognizes Schuppie as playing a central role.
"People get therapy just by being in the waiting room with her," Rubin said. "It's a very warm and engaging place to be, it's a comfortable place to be, and Janie really sets the tone."
Schuppie's position requires her to create a friendly environment, something she hopes clients recognize. "I hope they feel welcome," she said. "I hope they know that we're a very welcoming, loving clinic down here. We are. We try to make people feel like they're wanted here and that we care about them."
The Clinic's philosophy reiterates Schuppie's claims. The Clinic never turns anyone away, regardless of circumstance.
Rubin is confident in the Clinic's work. "We have a good working environment that supports the students who work here," Rubin said. "We feel like we do good work for the people who come in for services."
Such a successful Clinic would not be possible without a great first impression, something Schuppie undoubtedly provides.
If anything, Schuppie is perfect for her role at the Clinic. "I love my job," she said. "How many people can say they love their job? I definitely can."