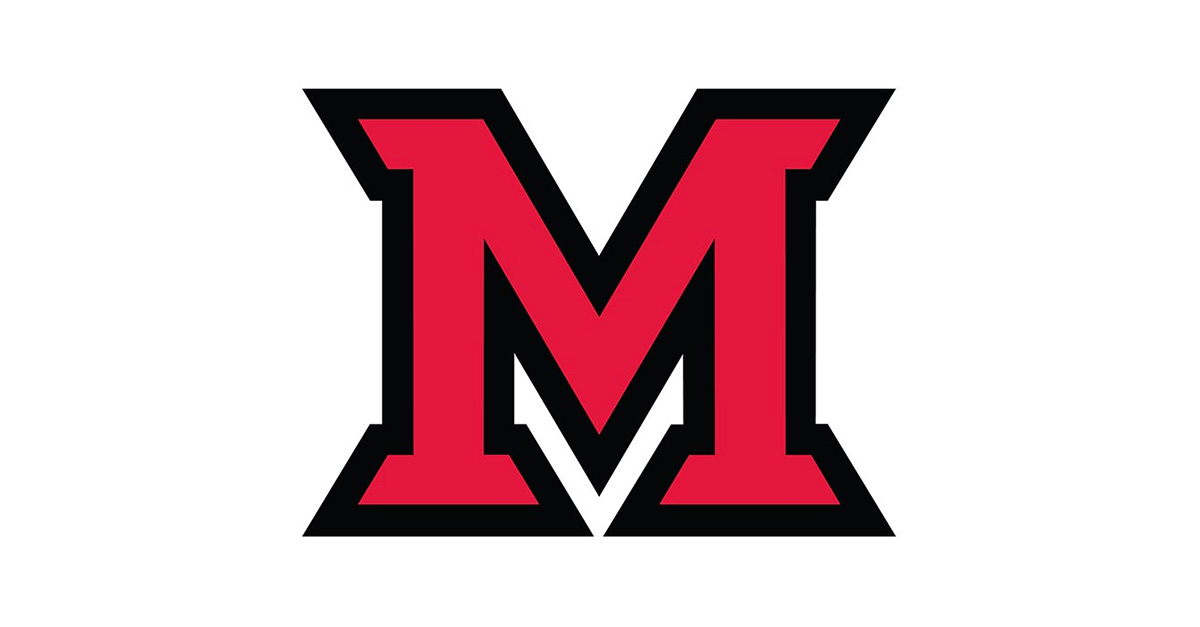 May 31, 2019
Freedom Summer of '64 Award presented to historic Mt. Zion United Methodist Church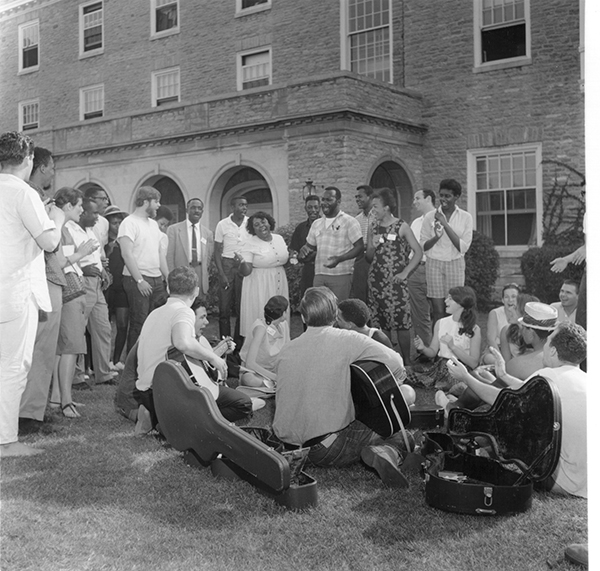 Freedom Summer workers and volunteers gather to sing outside of Clawson Hall (photo by George R. Hoxie; courtesy of Smith Library of Regional History).
Written by Claire Wagner, university news and communications
Fifty-five years after three Freedom Summer volunteers left Oxford, Ohio, to investigate an arson at the historic Mt. Zion United Methodist Church in Philadelphia, Mississippi, and then disappeared, Miami University in Oxford will present the church with the Freedom Summer of '64 Award.

Mt. Zion annually marks the June 21 anniversary of the disappearance and murder of James Chaney, Andrew Goodman and Michael Schwerner, whose bodies were found six weeks later, victims of the Ku Klux Klan.

Chaney, Goodman, Schwerner and nearly 800 volunteers trained in 1964 at the Western College for Women campus, which now is part of Miami University. The volunteers then left to register black voters in the south.

Ronald Scott, vice president for diversity and inclusion at Miami, and other university representatives will attend the annual memorial at Mt. Zion on June 16 – the anniversary of the fire – to present the award.

Last year, Miami honored civil rights icon Rep. John Lewis of Georgia with the award.

Miami permanently honors the legacy of these and all Freedom Summer volunteers with an outdoor classroom, dedicated artwork and historic marker on its Western campus. For the 50th anniversary, Miami hosted a conference, an art exhibit and historic tours.

"It's about not forgetting," Scott said. "We honor the Mt. Zion United Methodist Church for keeping alive the memory of those who sacrificed to ensure the right to vote, for others' freedom, and for civil rights for all."

The church's memorial is a pre-conference activity for the 2019 National Civil Rights Conference, which continues the following two days in Birmingham, Alabama. Randi Thomas, Miami's government relations director, and some students from Miami's Government Relations Program will also attend the memorial and conference.
Remembering, honoring victims of racial violence
Other Miamians will present at the conference about Miami University this month having participated in another significant memorial.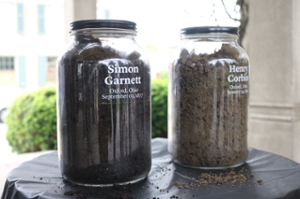 A graduate class led a
Remembrance and Soil Collection Ceremony
in Miami's hometown of Oxford. In doing so, students joined with community groups from throughout the south – and several in the north – in collecting soil from every racial lynching site as an act of remembrance and to honor the victims of this era of racial terror.
Soil from the late 1800s lynching sites of Henry Corbin and Simon Garrett was sent to the Equal Justice Initiative (EJI) to be added to its national memorial in Montgomery, Alabama. These lynchings were the two found to have occurred in Butler County (OH), part of the 15 total lynchings in Ohio in that period.
The EJI's Community Remembrance Project brings historic awareness to communities and confronts the legacy of slavery, lynching and segregation, while also reconciling this brutal part of U.S. history.
The course leaders, Anthony James and Valerie Robinson, and several graduate students who participated in the course will be presenting three papers on Truth and Reconciliation at the National Civil Rights Conference.