To learn about how design affects people, you have to go where they intersect. Once every semester, students and faculty meet at a different destination for an immersive, long weekend of studying design in context. Destination Weekends are three-day trips where xdMFA students meet at a compelling location for research and design in the places where design becomes a reality.
During their coursework in xdMFA, students are required to travel four times for Destination Weekends as part of the ART 650: Experience Design Studio course. Travel expenses and lodging are each student's responsibility. Students may choose any accommodation they wish as long as they can attend required class meetings in each location.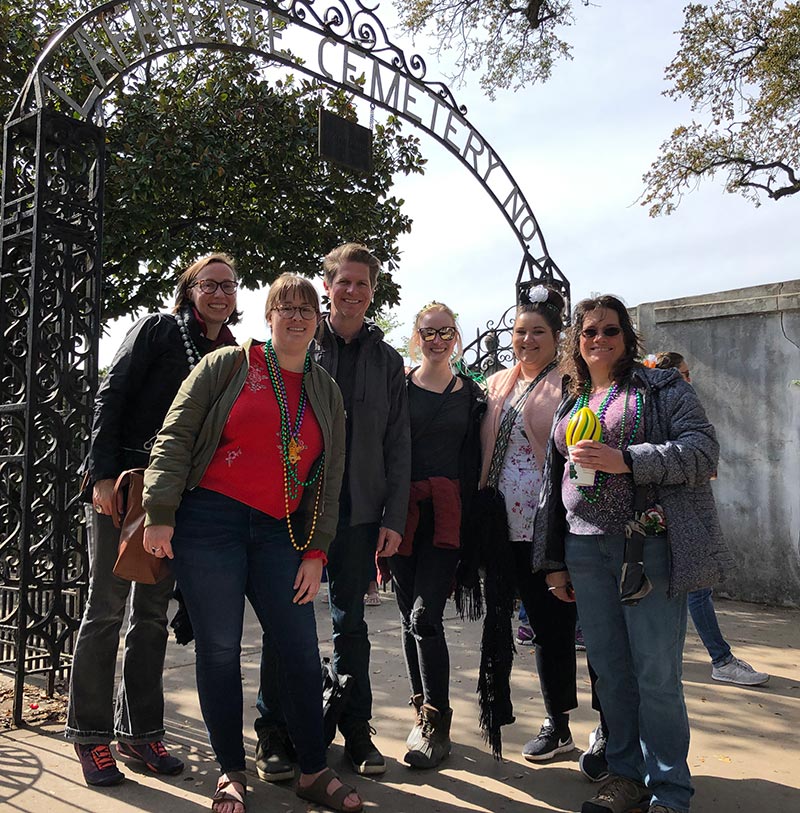 Lafayette Cemetery No. 1 in New Orleans.
Destination Weekend Locations
xdMFA travels to four different locations in the United States and Canada. At each destination, students explore a topic that shapes design for experiences.

Santa Fe, New Mexico: Fall 2021, Fall 2023, Fall 2025
Culture: What is the role of culture in experience design?
Santa Fe calls itself "The City Different." Its southwestern culture is expressed through its art galleries, architecture, ancient historical monuments, and natural landscapes. Santa Fe continues to make itself new while keeping its roots in Native American, Spanish, Mexican, and American western cultural heritage. While in Santa Fe, the xdMFA cohort will visit sites where ancient Puebloan communities flourished and will tour art galleries that embody the area's visual expression. Our group will visit Meow Wolf to experience ways contemporary artists apply emerging technologies to create unforgettable experiences. While together, we'll eat local cuisine, document examples of Santa Fe's cultural uniqueness, and conduct design research for the semester's project.

New Orleans, Louisiana: Spring 2022, Spring 2024, Spring 2026
Resilience: How can we design resilient organizations and communities?
New Orleans has a history of facing difficult times and bouncing back, and these bouncebacks have shaped the city and its people. Some design decisions in New Orleans are responsible for creating divisions between neighborhoods. Other aspects, such as the city's festivals, promote the unity that causes people to band together during times of economic and environmental adversity. xdMFA will spend time in New Orleans to explore how tourism has impacted the city. We will travel to areas outside the city to learn how swamps, rivers, and the physical environment affect the region's operations. During our time in the Crescent City, we will listen to residents and participate in some of its traditions. Students will depart New Orleans with a clearer perspective on resilience and be equipped with lessons to inform their experience design coursework. 

Montreal, Quebec, Canada: Fall 2022, Fall 2023, Fall 2025
Language: How can design help people overcome language differences?
Montreal and the Canadian province of Quebec embrace their French Canadian culture. Everywhere you turn in Montreal, French is the dominant language. Signage, kiosks, and services are in French first, and sometimes only in French. Monolinguals in the xdMFA cohort will learn much by spending a few days in Montreal. We will meet with designers working in Montreal to learn how designing for language differences affects their process. After a few days in the city, students will have new insights into designing with a global mindset.

Zion National Park, Utah: Spring 2023, Spring 2025, Spring 2027
Environment: How can design maintain environmental and cultural resources and still allow access for all?
Sometimes, less design is better. Few places are a better example of this idea than Zion National Park in southwest Utah. Zion Canyon's red cliffs and hanging gardens enchant millions of visitors annually. However, with such success comes the need for a balancing act of design. The National Park Service is charged with preserving Zion while still giving as many people access as possible. The xdMFA cohort will speak with rangers and Zion employees to learn about how design makes the park accessible for people with different abilities. We will learn about the park's shuttle service and the design of trails, visitor centers, and other amenities that work in harmony with the natural landscape. We will also participate in several programs the National Park Service offers to learn about their service design approach in a natural setting. Students will discover ways designing should sometimes be invisible to preserve the experience during our three days at Zion.