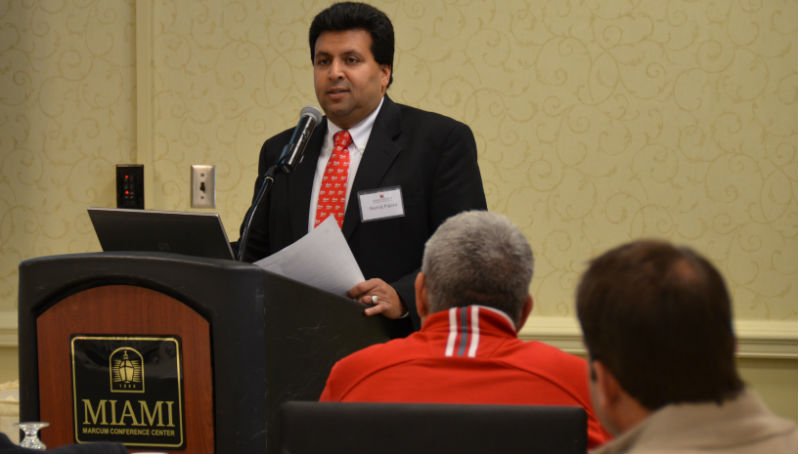 CEC External Advisory Council
The College of Engineering and Computing External Advisory Council is comprised of men and women from business, industry, government, health care professions, and other higher education institutions.  The Advisory Council assists the College in maintaining and improving the quality of our programs and curricula by insuring that they are relevant and meeting the needs of society.
Annual Meetings of the full Council are held in the fall. 
This year's agenda includes President Crawford in a kick-off talk about Miami's future and briefings by CEC faculty on the division's 4 proposals being put forward for the university's Boldly Creative Strategic Academic Enrichment Initiative. This competitive new initiative (established in Spring, 2018) provides funding for promising academic programs and research projects that meet defined criteria.                       
Dean's presentations 
The Dean's presentations are now password protected, As a member of the CEC External Advisory Council you may gain access.  Please contact  cec@miamioh.edu for the link.
2019 Spring Alumni and Friends Conference
Save-the-Date: May 3, 2019
Watch for updates as planning unfolds for the 2019 Conference, scheduled for Friday, May 3, 2019. This year's conference will be held in the Marcum Conference Center and caps off Engineering and Computing Week at Miami.
Questions about the event? email or call Clark Kelly    kellyca@MiamiOH.edu, (513) 529-0702.
2019 Schedule of Events
Wednesday, May 1 - Engineering and Computing Week Banquet, hosted by Tau Beta Pi.
Thursday, May 2 - Senior Design Expo. 5-7 p.m. in Benton and Garland Halls. Senior design teams will display results from their year-long projects. Awards at 7 p.m.
Thursday, May 2 - Networking Event. 5-7 p.m. Benton 102 Lobby in conjunction with the Senior Design Expo so that alumni can see the amazing work being accomplished by our current students
Friday, May 3 - 2019 Spring Alumni & Friends Conference - Details coming February 2019