Miami University receives nearly $1M in state funding for scholarships in STEM field
Miami CEC faculty, along with faculty members across disciplines, authored the Choose Ohio First grant proposal.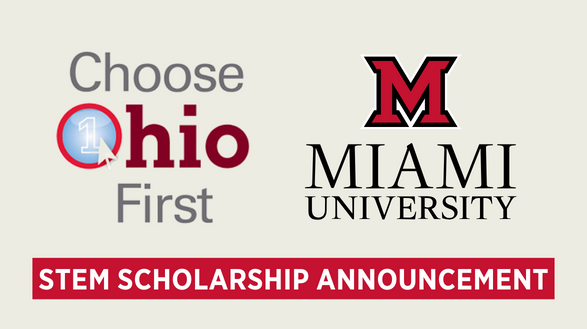 Miami University receives nearly $1M in state funding for scholarships in STEM field
The State of Ohio has awarded Miami University $999,999.98 for the FY24 Choose Ohio First (COF) funding round to support scholarships in the STEM field. The award comes following a grant proposal written by principal investigator (PI) Jessica Sparks (College of Engineering and Computing) along with Co-PIs James Walden and Kumar Singh (College of Engineering and Computing), Jennifer Blue (College of Arts and Science), and Jeffrey Wanko (College of Education, Health, and Society).
For the group of faculty and associate deans who created the funding proposal, working across divisional categories was pivotal. "This proposal demonstrates how much impact we can have when we collaborate across units and disciplines. The breadth of our team made the proposal stronger and will enable us to offer these scholarships to a wider range of students." said Jessica Sparks, associate dean and professor. "I am thrilled about the potential of Choose Ohio First scholarships to broaden access to STEM education, especially for students who may not have considered STEM professions. This COF award highlights multiple pathways to careers involving digital and quantitative skills, and it showcases the wide range of professions where students can leverage those skills to make a difference in the world."
Choose Ohio First is an important part of Ohio's strategy to develop STEM talent in the state. "The strength of Ohio's economy depends on having a skilled workforce in the STEM fields," said Chancellor Randy Gardner. "Miami University has done a great job of preparing its STEM scholars, and I am pleased to have Miami University among the latest Choose Ohio First Awardees."
More information, including scholarship eligibility for individual Choose Ohio First scholarships at CEC, can be found at the links below.
Choose Ohio First - Engineering
Choose Ohio First - Biotechnology, Bioscience, and Assistive Technology
Choose Ohio First - Justice, Equity, Diversity and Inclusion