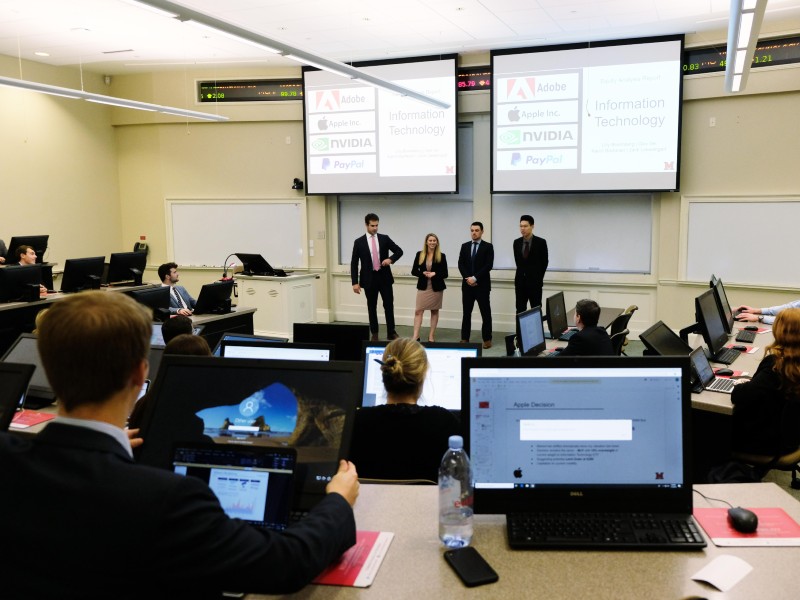 Stock Pitch Competition
Program Information:
Registration – March 22nd
To participate in the competition, interested teams must register before midnight on March 22nd. Please include all requested information for all team members when registering. The registration form can be found here.
First Round – April 3th
The first round will consist of students selecting and analyzing a long or short investment idea in the form of a written proposal. All presentations are to be submitted in PowerPoint format with no more than 20 slides. Ideas will be judged on the quality of the investment pick and the rationale. On April 5th, the top teams will be announced and advance to the final in-person competition.
Educational Program & Competition – April 12th & 13th
Top teams from Miami and other universities are invited to Oxford, Ohio for the competition finals. Friday's program includes lunch, speakers, and dinner. The finals will be held in person on Saturday at the Farmer School of Business and judged by Cleveland Research Company. Finalists will make a ten minute in person presentation of their analysis followed by a ten minute question and answer session with the Cleveland Research Company judges. Presentations will be judged on the quality of the investment pick and rationale, the quality of the presentation, and the ability to field questions.
Recommended Presentation Components (more detail below)
State a clear investment thesis and identify the key catalysts for the business/stock
Analyze the business model and key drivers
Evaluate the industry and competition
Evaluate the potential risks to the investment thesis/idea
Utilize fundamental analysis and provide a price target
Sponsor
Contact
Dr. Tom Boulton boultotj@MiamiOH.edu
Detailed Time Line
April 3, 2024 – 5:00 PM

Email a summary of your conclusions and supporting analysis (PowerPoint). Submissions should be emailed to Tom Boulton (boultotj@miamioh.edu) no later than 5:00 PM. Late submissions will be disqualified.
April 5, 2024 – 5:00 PM

The finalists will be announced. Finalists advance to the in person finals to be held on April 13th.
April 11, 2024 – 10:00 AM

Finalist presentations must be emailed to Cleveland Research Company. You will present this same set of slides for your in-person presentation on April 13th. Email your presentation to Vince Ciepiel (vciepiel@cleveland-research.com).
April 12, 2024 – 11:30 AM - 8:00 PM

Lunch, speakers, and dinner in Oxford, Ohio hosted by Cleveland Research Company.
April 13, 2024 – 9:00 AM - 12:00 PM

The finals will be held in the Farmer School of Business. Finalists will make a ten minute in person presentation of their analysis followed by a ten minute question and answer session with the Cleveland Research Company judges. The winners will be announced at the luncheon following the competition.
Recommended Preparation
It is hard to find a "mispriced" stock – as there is a lot of money chasing that! This is a difficult project, and we evaluate the presentations with that in mind. Included below are the questions that we often ask. Successful teams historically have answered these questions well.
Stock chart over last 10, 5, 2 years vs. the market – Why has the stock over or underperformed?
P/E or EV/EBITDA multiple over the last 10, 5, 2 years

What as the multiple done (expanded, contracted, stayed the same) over the last couple of years? What company or industry specific factors could be causing those changes? How do the changes compare to peers?

Has the company grown earnings over the last 10, 5, 2 years? By how much? What do consensus estimates suggest how much EBITDA and EPS should grow this year? Over the next few years?
Has this company beat or missed earnings the last few years/quarters? Did the stock react negatively or positively to those releases? What do you think drove the reaction?
On the last earnings call transcript, on what did analyst questions focus? Analyst questions often represent what investors are watching or are skeptical of. What questions addressed the core trajectory of fundamentals in the business (i.e. are things getting better or worse in the industry in general and the company specifically)? Did management response seem to adequately address this?
In the 10-K management discussion and analysis:

What industry does the company compete in? Who are its peers? What does management believe the company's competitive advantages or differentiating factors are? Do these seem reasonable?

What are the factors driving your revenue assumptions? Are your revenue growth assumptions more or less bullish than consensus and why?
How does the company's growth compare to what's expected in the industry? Are they gaining or losing market share?
Do you expect margins to expand or contract this year and next? What is driving that assumption (Price growth? Input cost changes? Other factors?)
Bringing together your revenue and margin assumptions, what EPS and EBITDA can the company generate this year? Next year? How does that compare to current consensus estimates? (i.e. if you are pitching a long, you should be ahead of consensus; if short, probably below)
What are two or three company specific or industry catalysts that could cause the market to better understand and price this stock? When will these occur? How will this manifest themselves in numbers?
Why isn't the market correctly valuing these catalysts? What does the market not understand?
What are people in the industry saying about these catalysts and this company?
What do you expect the company to say on the next earnings call? How will the stock likely react to this?
We see X% upside/downside to company XYZ over the next x months
Three catalysts which will drive that & what the market doesn't understand
Company description
Industry overview
Catalyst 1
Catalyst 2
Catalyst 3
Earnings assumptions vs. consensus – why different?
Valuation (comps – EV/EBITDA, P/E vs. peers, DCF)
Risks/mitigating factors
Final recommendation
Investor Relation Website – Earnings Press Releases, Call Transcripts/Webcasts, Company Investor Presentations
gov – Company Filings (10-Ks and 10-Qs)
Bloomberg – Company and Industry News, Equity Research Reports, Peer Group, Financials
Stocks are to come from the universe of companies with market capitalizations above $500 million and share prices above $2 as of the close of regular trading today. Selections must be a stock (common or preferred), including ADRs and GDRs. ETFs, ETNs, Closed-End Funds, and other exchange-traded securities, including derivatives (options/futures) and currencies, are not eligible for the competition. We are interested in participants' ability to select and evaluate companies, not their ability to evaluate sectors, trends, or managers. Additionally, equities must have a three month average daily volume of at least 100,000 shares (as of the close today) and must trade on the NASDAQ, NYSE, or NYSE AMEX (no OTCBB or PinkSheets). The opportunity will be evaluated as a long or short position with a three to twelve month investment horizon.
Farmer School of Business Department of Finance
2053 Farmer School of Business
800 East High Street
Oxford, OH 45056