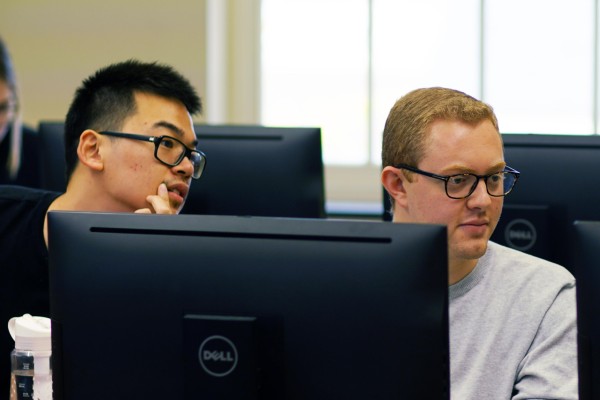 Combined Degree Program
Program Purpose
If you are a high-achieving undergraduate student, you can combine your bachelor's degree (in any field) with the MSBA and still graduate in four years.  If you are highly motivated and want to learn to apply the tools of analytics and data science, this path will equip you with the data skills you need to succeed in virtually any field of study. 
Undergraduate Preparation and Admission
To be eligible to apply for the combined program, you must have earned a minimum of 64 credit hours with a GPA of 3.25 or higher. You will need to complete all Miami Plan and major-specific coursework by the end of your third year to be eligible to enroll in the MSBA curriculum in your fourth year. This takes careful planning, so please contact the FSB Director of Graduate Programs as soon as possible if you are considering the combined degree program.
The fourth year of study for students in the combined program will be the full (30 semester hours) MSBA curriculum; the Department of Information Systems and Analytics will treat applicants to the combined program as "early admit" candidates. Candidates must be able to be full-time, resident students during the fourth year.
Application Process
Miami students wishing to complete both a bachelor's and master's degree in 4 years must also complete the Graduate School online application, and pay the $50 application fee, be sure to check "combined program."  Applicants will need to upload a DAR, resume, and personal statement.  The priority application deadline is March 1.
Student Classification and Graduation
Students in the combined program will remain as undergraduates until they apply for graduation or submit a request to the Graduate School to have their classification changed from undergraduate to graduate. Students must have completed a minimum of 124 hours to be classified as a graduate student (note: this change in classification will affect eligibility for financial aid).
Students may receive their bachelor's degree prior to completing their master's degree. Upon receiving the bachelor's degree, students will automatically be classified as graduate students.
Students in the combined program can count up to six hours of graduate coursework toward their bachelor's degree with permission of the appropriate advisor(s) and dean(s) or their designee(s). Those hours can also count toward the completion of their master's degree.
Please note: Students must earn at least 120 hours of undergraduate coursework and at least 30 hours of graduate coursework.
FSB - Department of Information Systems and Analytics
3095 Farmer School of Business
800 East High Street
Oxford, OH 45056