FSB entrepreneurship professor wins Dolibois Faculty Award for Innovation in Global Programming
Jim Friedman wins award for work on two projects with international components.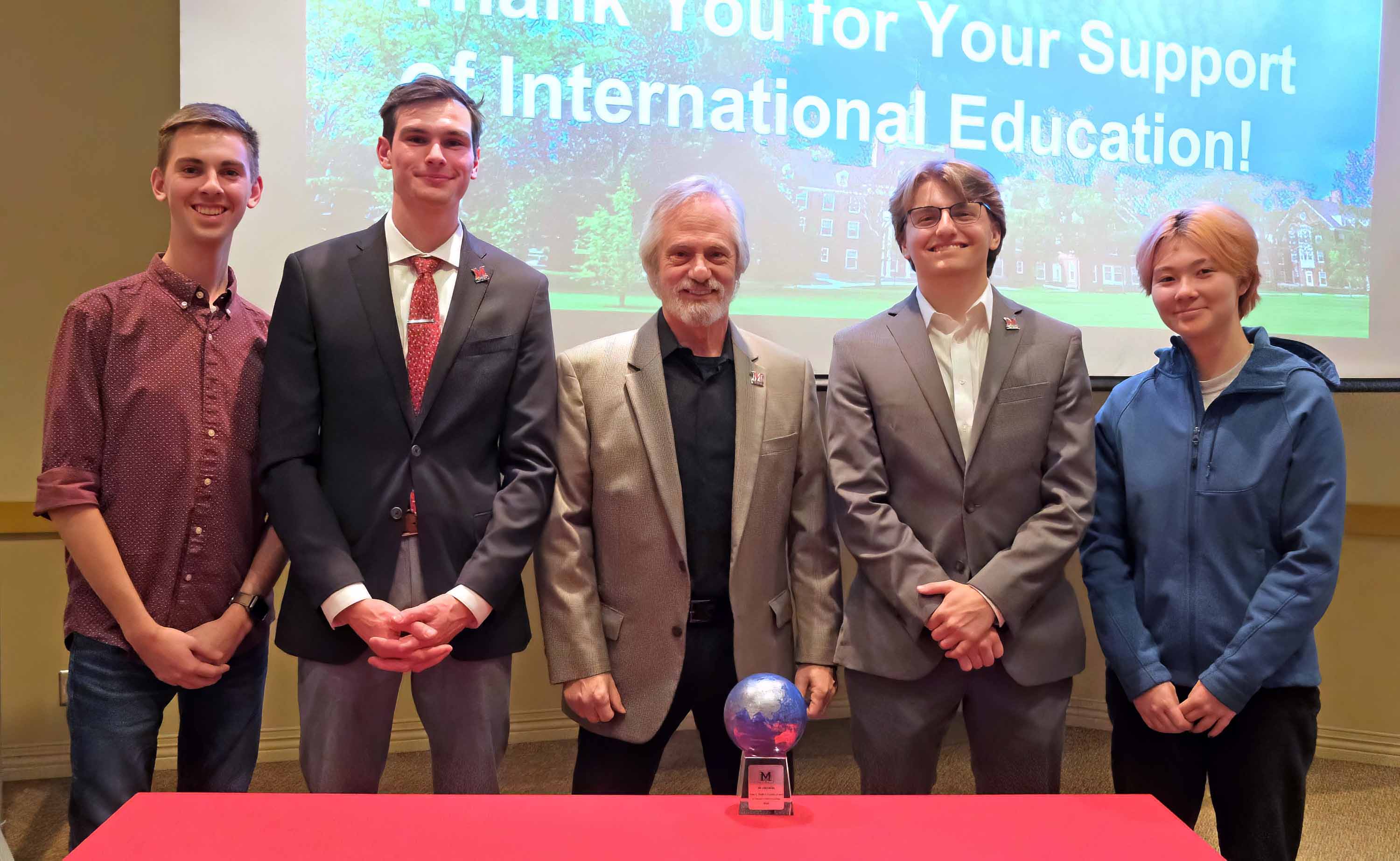 Jim Friedman and some of his students at the Global Initiatives award ceremony.
FSB entrepreneurship professor wins Dolibois Faculty Award for Innovation in Global Programming
Jim Friedman and some of his students at the Global Initiatives award ceremony.
A Farmer School entrepreneurship professor is the latest FSB faculty member to win the John E. Dolibois Faculty Award for Innovation in Global Programming.
Jim Friedman, the White Family Associate Clinical Professor of Entrepreneurship, has been part of the faculty at the John W. Altman Institute for Entrepreneurship since 2008. Friedman earned this year's award for his work in two areas: the Prodesse Scholars Interdisciplinary Creativity & Innovation Experience and World Creativity & Innovation Week/Day.
"I think it's one of the greatest opportunities I have had to create international education for students ever," Friedman said. "I think it's spectacular, and I think we have a long way to go and a long way to grow."
"In my opinion, Jim Friedman is one of the top undergraduate creativity and innovation professors in the nation. His effectiveness in the classroom has been recognized consistently by students," John W. Altman Institute for Entrepreneurship director Tim Holcomb said. "He earned the Richard K. Smucker Teaching Excellence Award for Outstanding Clinical Faculty in 2013, has been nominated for the Associated Student Government (ASG) Professor of the Year award for five consecutive years, and was named to the Center for the Enhancement of Learning, Teaching, and University Assessment's list of the "Top 100 Faculty Commendation for Influence on Students" during that same five-year period."
"I can't recall the last time Jim Friedman gave me an answer to a question I had. Instead, he flips the script and asks me question after question to help me find the answers inside of myself and think through my problem critically," sophomore finance and entrepreneurship major Mason Seitz said. "Of all the teachers I've had, I would say that Dr. Friedman is the instructor who has best equipped me to solve problems I've never encountered before, discover who I am as a student and as a leader, and confidently move towards the future. He's a great instructor not because of the answers he gives, but because of the answers he helps you find."
 "I think he's really strong at getting people to get out there and find really abstract ideas and then come back down to Earth a bit and make those a reality," junior architecture major Lee Asada said. "He genuinely encourages all of us to shoot for the moon and then keep shooting for the moon."
"I would describe him as someone who sees the potential in every person, sometimes more than what the person sees in themselves at the beginning. There's optimism that he has in each person, and he wants each person to be so much more, find what truly drives each student. He pushes and puts everybody in a learning journey, makes it very hard, and throws obstacles in your direction that you have to overcome," junior information systems and entrepreneurship major Levi Grimm said. "As a student, it can be frustrating to have a professor do that to you constantly. But I think with Friedman, you always have to understand why he's doing what he's doing and why he's putting you through the process and think through the entire journey."
The award is given for study-abroad and away programs that exemplify most or all of these criteria:
Creative, innovative, and impactful program design, combining rigorous academic study with effective use of program location, resources, and/or technology
Learning objectives focused on increasing intercultural competency
Effective integration of the program in curriculum of the department and/or division
Considerations for program accessibility and diversity of participants
The Prodesse Scholars Experience is a three-day immersive weekend workshop includes hands-on work to practice the mindsets, toolsets, and skillsets that will improve student's lives and careers. Students develop ideas, build teams, discover insights, and create innovative solutions, while connecting with creativity experts and students from around the world.
Started by Marci Segal in 2001, World Creativity and Innovation Week began as a single day before expanding to a week. Friedman began celebrating WCIW as an ESP 351 class project in 2014, and the first Creativity City was launched on the Farmer School's front lawn in 2017. In 2019, the John W. Altman Institute for Entrepreneurship became the steward and international headquarters for WCIW.
"Organized and run each year by more than 50 entrepreneurship co-majors and minors under Jim's watchful eye, WCIW is the largest university-led celebration of creativity and innovation in the world," Holcomb said. "Annually tens of thousands of entrepreneurs in more than 500 celebrations across 127 countries celebrate WCIW, varying in design from workshops and festivals to TEDx presentations, innovation pitch competitions, and more."
"He's passionate about seeing people going outside the box and being successful with that. He knows if he pushes people, he's seen the incredible things some of his students have done and he knows how much more his students can do," Lee said. "I think it also encourages him in a sense to creatively and consistently grow that part of him. It's a whole cycle in the sense that students show him new things he would've never expected and in return he gives them the wealth of knowledge that he has."
"He has a deep belief in whatever area he's teaching about. I think whatever he teaches in the classroom and has the students do, it's because there's always a deeper meaning to it that he wants to help us discover ourselves," Levi said. "He pushes you way more than you think that your boundaries are, and World Creativity Innovation Week pushes you even further than what happens in the classroom."
"I firmly believe that Dr. Friedman's passion for World Creativity & Innovation Week/Day comes from a devout belief in the concepts he teaches of creativity and innovation. He believes with all his heart that they make the world a better place and that everyone in the world has the capacity to use creativity to improve their community," Seitz said.
Friedman is the third Farmer School faculty member to receive the award since it was first given in 2015. Past award winners are:
2021 - Dr. David Shrider, Associate Professor of Finance, Director of Global Business Initiatives (awarded posthumously)
2020 - No award due to COVID-19
2019 - Dr. Martha E. Castañeda, Professor of Foreign Language Education, Department of Teacher Education*
2018 - Dr. Sooun Lee, Professor of Information Systems and Analytics
2017 - Dr. James Shiveley, Condit Professor, Department of Teacher Education*
2016 - Dr. Jeong-Hoi Koo, Associate Professor, Department of Mechanical and Manufacturing Engineering
2015 - Ms. Nohelia Rojas-Miesse, Senior Lecturer, Department of Spanish and Portuguese
Management lecturer Rocco Manzo was one of the four other finalists for the award this year for his study abroad program in Italy this summer.