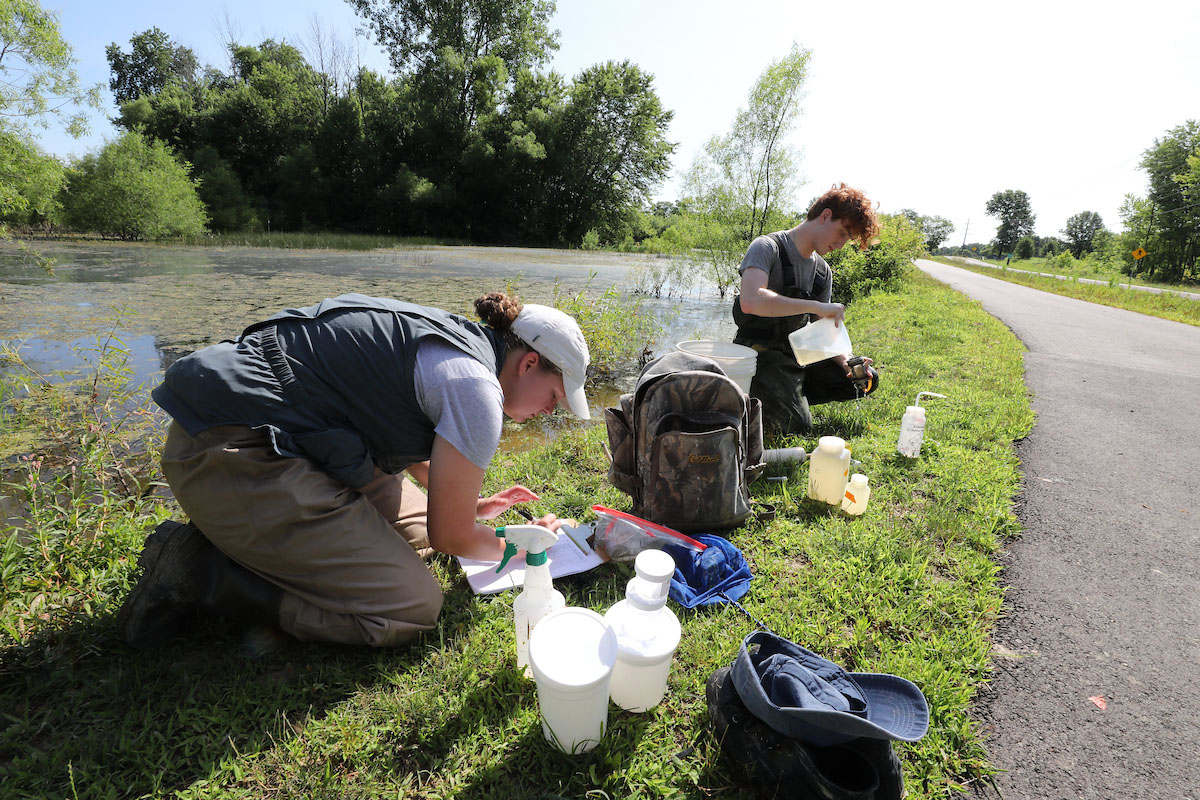 About the Graduate School
The Graduate School at Miami University can be described as a community of scholars at the heart of campus. It's a place for those who want to be immersed in an environment where they can experience the process of research and pursue intellectual inquiries.
Graduate Student Stats
70%
of Eligible Degree-Seeking Graduate Students Receive Funding in the form of a Graduate Assistantship and/or Tuition Waiver
16.9%
of Graduate Students are Diverse Domestic Graduate Students
13%
of Graduate Students are International Students
96.5%
96.5% of Doctoral Graduates and 99.1% of Master's Graduates are Successfully Employed, Enrolled in Higher Education, or in a Volunteer/Service Program
Graduate Student Spotlights
The Graduate School wants to celebrate and feature our graduate students' achievements. Nominations include students who have published an article or chapter, featured artwork at an event, engaged in an impactful community service project, received an external award or grant, or were recognized for workplace excellence.
Please nominate the student for a Graduate Student Spotlight, self-nominations are welcome. We will follow up with the nominee if we choose them to be featured in our Graduate Student Spotlight on social media to get more information and their permission to be featured.
Shiwanka Wanasinghe

Research Interests: Dynamic Polymer Networks

Accomplishment: Shiwanka has had 2 publications accepted already in the fall semester, in addition to her 7 other publications. Beyond that Shiwanka is a team player, supporting other students in the group and guiding them on their projects.

Favorite thing about being a graduate student at Miami: "I am grateful for the excellent mentorship that I have been receiving throughout my Ph.D., interesting research projects, and cooperative lab environment."

Emma Boddy (she/her)

Research Interests: Writing program development and administration, composition pedagogies, writing across and within disciplines, and writer identity.

Accomplishment: Emma has been accepted to present at the Special Interest Group on Design Communication (SIGDOC) as well as present at the International Writing Center Association Conference in Vancouver, BC.

Favorite thing about being a graduate student at Miami: "My favorite thing about being a graduate student at Miami is the incredible opportunities for mentorship. I've been able to learn from and work with faculty from across the English program and have grown so much as a scholar and researcher because of it. And the fall scenery in Oxford isn't bad either!"

Saugat Tripathi

Research Interests: Deep reinforcement learning approach for better future cellular communication and the use of deep learning approaches for studying engineering applications.

Accomplishment: Saugat received the gold award at this year's Society of Tribologists and Lubrication Engineers (STLE) Annual Meeting and Exhibition for this poster presentation about using machine learning algorithms to understand corrosion behavior.

Favorite thing about being a graduate student at Miami: "Graduate school is a difficult journey and mentally exhausting but having the proper guidance and continued support from advisor Dr. Ran Zhang, professor Dr. Zhijian (Justin) Ye and Dr. Miao Wang, and the Department of Electrical and Computer Engineering, provided some ease and helped pave my path toward a better career and future. Along with this, I suggest every student give better priority to both their physical and mental wellness."

Abby Hay

Research Interests: Forest ecology, restoration ecology, plant community ecology

Accomplishment and Quote: Abby received a research grant from Ohio Invasive Plants Council on January 19, 2022, titled: "Individual and interactive effects on white-tailed deer and invasive shrubs on native tree seedlings in early-successional forests".

"The Ohio Invasive Plant Council grant is given to projects focused on understanding invasive plant species and/or their management. My Master's thesis, which the grant is funding, looks at the effects of woody invasive plant species and white-tailed deer on native tree seedlings."
Find Resources For You
The Graduate School
The Graduate School is committed to advocating and supporting graduate programs dedicated to the pursuit of new knowledge and best teaching practices that promote diverse, globally aware graduate students and faculty.