....and in memoriam for other slain Russian journalists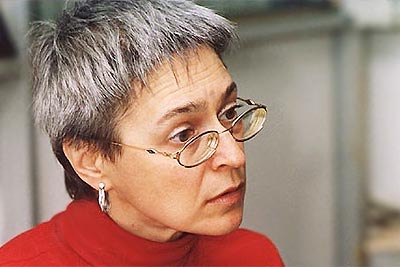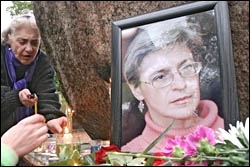 Anna Politkovskaya, a renowned Russian journalist who reported extensively on the turmoil in the region of Chechnya, was found murdered Saturday, October 7, 2006. Politkovskaya was a strident critic of Russian policy in Chechnya and wrote on a number of atrocities and human rights abuses that occurred during the two recent Russian-Chechen wars.
Born in New York in 1958 to two Soviet diplomats, Politkovskaya grew up in Moscow and earned a journalism degree from Moscow State University in 1980, after which she worked for over ten years at the newspaper Izvestia. Most recently she was a columnist and contributor to the Russia newspaper Novaya Gazeta. She traveled throughout the Chechen region to report on events there. She wrote numerous articles and three books: A Dirty War: A Russian reporter in Chechnya (2003), A Small Corner of Hell: Dispatches from Chechnya (2003), and Putin's Russia (2004). She had acted as a hostage negotiator when terrorists seized a Moscow theatre during the play Nord Ost and attempted to again negotiate at the Beslan school hostage crisis. She reported that she was poisoned on the plane ride and unable to help.
Ms. Politkovskaya went to great lengths to report on human rights abuses, even when faced with numerous death threats. In response to them she said ""I am absolutely sure that risk is [a] usual part of my job; job of [a] Russian journalist, and I cannot stop because it's my duty."
She was found shot dead in the elevator of her apartment building. Her editor told reporters that she had been on the verge of filing a story on human rights abuses of Chechen police forces who received their orders from the Kremlin backed Chechen government. Police believe that the primary motive for her killing is likely her reporting work. An investigation into her death is still underway.
She was a remarkable woman who fought against injustice, no matter the risk to herself. Thousands mourned her at her funeral. Nicola Duckworth, of the rights group Amnesty International said "Russia has lost a brave and dedicated human rights defender." She leaves behind two children. Below you may find links to a number of Politkovskaya's articles, as well as some interviews with her conducted by the BBC.
Articles
"Her Own Death Foretold," Washington Post
"Children of Chechen 'Spetzoperations'" and "Nation Non Grata interview with Anna Politkovskaya."
Excerpt from A Small Corner of Hell: Dispatches from Chechnya