Minor
Program Requirements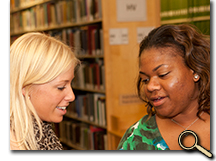 The American Studies minor requires 18 semester hours as follows. Credits from internships conducted during the summer and the academic year and transfer credits will be recognized in appropriate categories.
Core Courses (9 hours)
Students are required to take the following core courses in American Studies. Core courses introduce students to the study of culture from an interdisciplinary perspective and provide opportunities for critical analysis and individual research from a cultural perspective.
AMS 205 - Introduction to American Cultures (3 hours)
or
AMS 207 - America: Global and Intercultural Perspectives (3 hours)
AMS 206 - Approaches to American Culture (3 hours)
AMS Culture Focus (6 credit hours)
With the approval from the program director, students take 9 additional semester hours from AMS courses cross-listed with other departments or courses examining U.S. society and culture offered by other departments. Culture focus hours must include 2 or more disciplines.