Catherine Mazanek (Class of 2017)
honors senior American Studies major with a Sustainability co-major
from Indianapolis, IN
College of Arts and Science Ambassador
Altman Undergraduate Fellow (2014-15) examining the phenomenon of "Frankenfoods"
CAS Dean's Scholar (2016-17) developing a model of sustainable agriculture for Miami's Institute for Food
studied abroad in Alicante, Spain (Fall 2015)
"Sometimes it can be easy to get deterred from pursuing a major in the humanities when people are asking you, 'What are you going to do with that?' But you should go for it — these classes will help you theorize and think through problems. They actually make it much easier to answer that question, since they will help you articulate and conceptualize big ideas."
Why Miami?
"It was the end of March of my senior year in high school, and the college application deadline was coming up. I got a call from a Miami professor that they were starting a new scholarship, and my name was on the list! She said, 'We think you have a lot of potential, so please come down for lunch and take a look at Miami.' I realized that if Miami was going to pay this much attention to me, before I'd even made my college decision, then their talk about undergraduate focus must be real. So I came and spent the day with her, met students and faculty and even the dean, and I knew Miami was going to be the place for me.
"I came in as an Architecture and Art History major. I also had an Honors course in American Studies, which I loved because it gave me the level of analysis that I wanted. I like looking at why people do the things that they do, and American Studies is very interdisciplinary, allowing me to examine and interpret theories and paradigms without having to do a lot of memorization. This prompted me to switch my major to American Studies after the first semester of my first year, and during my junior year I added my Sustainability co-major.
"Whether it's faculty, staff, students from my first year hall, or people I worked with as an orientation leader, the relationships that I've built at Miami are all deep and meaningful. It's really special, especially because I've gotten to know a lot of faculty members in a different light."
Best Miami Experiences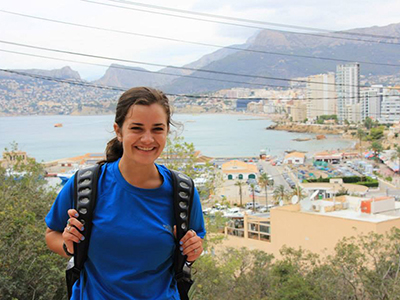 Catherine Manzanek hikes in the foothills near Alicante, Spain.
"There are numerous experiences at Miami that have given me wonderful, long-lasting impressions: my Honors experience, my work as an Altman Undergraduate Fellow, my work with Miami's Institute for Food, and studying abroad in Alicante, Spain for a semester.
"Along the way I've been fortunate to have support from Peggy Shaffer, a professor in both the Departments of History and Global & Intercultural Studies. She encouraged me to apply to be an Altman Undergraduate Fellow and became my lead professor in that program, along with Thomas Crist in biology. Later on, she became my advisor for the CAS Dean's Scholarship, which I conducted with her at the Institute for Food.
"Staff members Mika Karikari (Career Services) and Buffy Stoll (Student Affairs) were also great mentors during my time as an orientation leader. Orientation is where I first made most of my connections with faculty and found a group of friends. It taught me the importance of vulnerability and teamwork and how to balance my professional side with my ability to be both a friend and a mentor.
"I believe the interdisciplinary nature of American studies helps me to see connections between things that seem really disparate. These connections can lead to new conclusions that others can't see, which I think is applicable in any job I pursue, whether in academia or a more corporate setting. It's also helped me gain a lot of cultural competency, as I've learned about the historical evolution of different identities and symbols. My Sustainability co-major complements the major by pushing me to look at environmental issues in this country and to know how to talk about them.
"Both of my majors guided my research for the Undergraduate Altman Fellowship, in which I examined how we frame environmental issues by using the term 'Frankenfoods' to add urgency to the anti-GMO [genetically modified organism] argument. I traced the evolution of 'Frankenfoods' through American pop culture to understand what they mean in our culture today, and I see them as a very culturally charged environmental issue that can be challenging, but fascinating, to talk about as much of our agriculture becomes more and more industrialized."
Miami and the Liberal Arts
"Through my liberal arts classes, including American studies and history, I've been able to find solutions and alternative ways of looking at things. That's imperative in any kind of worldview, I think, and it really helps us to become better informed citizens, better learners, and better workers.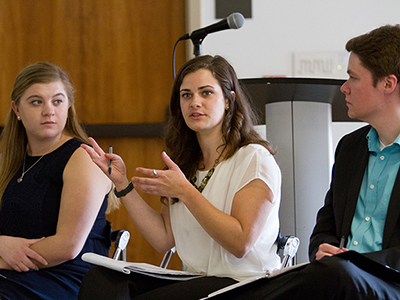 Catherine Mazanek makes a point during the Altman Program Symposium.
"I like looking at a lot of issues all over the board, and that's what really drew me to American studies. I get really nerdy and excited talking about both art and reproduced images as well as the environment. I love talking about Thoreau's Walden, which is my go-to example to show how the humanities connect us with nature. American studies really allowed me to still be able to do that. And with my Sustainability co-major, I've been able to get a little more focused within those related areas.
My Altman fellowship exposed me to new ideas and different teaching styles, all coming together every day and demonstrating what higher education can be. I published a paper as a sophomore, which I never would have expected, so that seminar gave me the confidence to think that I could compete at a high level in academia. It's encouraged me to go on and get a Masters, maybe even a PhD.
Impact of 'Frankenfoods' and the Merits of Sustainable Agriculture
"I began working with Dr. Shaffer when she was my American Studies advisor during my first year. I didn't know what to take for the spring, so she looked at the classes I was interested in and said, 'You would be a really great fit for an Altman fellowship.' The Altman topic that year was on the Anthropocene, which really fit with my interests in environmental and cultural issues. I didn't know what impact the program would have, of course, but we got to meet incredible thinkers from all over the United States who were involved with these topics.
"As Undergraduate Altman Fellows, we conducted our own individualized research as well as a group project. I did a traditional humanities paper on Frankenfoods, which gave me an idea of the possibilities for my research in the future. By April my paper was completed and presented first at the Altman Symposium and then at the Undergraduate Research Forum. Because I was looking at food issues and how they relate to the environment, there was a natural link to Miami's Institute for Food (IFF), whose goals include developing a model of sustainable agriculture.
"Because she had been such a great adviser, I decided to stick with Dr. Shaffer and see where I could go from there. I did a study abroad experience in Alicante, Spain in Fall 2015 and, upon returning to Miami in the spring, jumped right back into research by getting involved with Miami's Institute for Food as a member of the inaugural class. We met really interesting people in Cincinnati and Colorado who were dealing with food issues, and that inspired me to keep going with my project for my final year at Miami.
Catherine Manzanek harvests carrots at Miami's Institute for Food.
"To supplement my research, last fall I began working at the IFF one day a week, harvesting vegetables out there in the field and doing all sorts of dirty work. It's also where I focused my 2016-2017 CAS Dean's Scholarship, which I called, 'Sustainable Agriculture in Higher Education: Placing Miami University's Institute for Food in Context'. As an independent research project it allowed me to take an IFF class, add my Sustainability co-major, and continue my engagement with research from outside the classroom.
"There are two key aspects to the IFF: learning the cultural impact of food through classes and working on the farm itself. It's really important to take the classes to learn and discuss theory, but actually getting out there and making a difference in the field is a way to show people that there is an alternative, one that can hopefully inspire a new generation of farmers or at least responsible eaters!
"Part of the IFF's mission is to demonstrate that it's up to us to start enacting ecological changes that are going to be so important for our generation. It's a model for alternative food production methods, which are being conducted in a lot of different places. Our mission of sustainable agriculture is especially important for us here in Oxford, which is in a region of the United States that's dominated by industrial agriculture.
"Working on the IFF farm to make that direct change has been really helpful and inspiring. As part of the founding class, I have been able to watch the farm go from an empty field to sprouts of green waiting to be harvested and sold to Dining Services and other vendors as part of the food system at Miami and around Oxford!"
Advice for Students
"Sometimes it can be easy to get deterred from pursuing a major in the humanities when people are asking you, 'What are you going to do with that?' But you should go for it — these classes will help you theorize and think through problems. They actually make it much easier to answer that question, since they will help you articulate and conceptualize big ideas.
"It's really important to study things like sociology or history or American studies. Never be discouraged by the different route you may be taking, because it's absolutely more beneficial in the long run.
"As for research, don't be intimidated by it! Research had not been on my list of things I thought I would be doing as an undergrad, but when the opportunity arrived, I said yes, and it ended up changing the trajectory of my studies at Miami. Just because it's not in your original plan doesn't make it something you shouldn't do. It can absolutely change and improve your path in a way that you never imagined!"
[September 2016]