Fernanda Victoria-Bojalil (Class of 2013)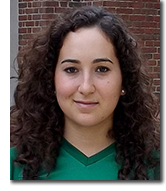 senior double major in Latin American, Latino/a & Caribbean Studies and International Studies
from Mason, OH (formerly Puebla, Mexico)
worked as a writer and editor for Corre la Voz, the LAS newsletter
interned with the non-profit organization Social Entrepreneur Corps in Lima, Peru to help impoverished neighborhoods become sustainable
Why Miami?
"I actually transferred to Miami from the University of Dayton and graduated in December 2013 as a fifth-year student. I started at the Middletown campus and then shifted to Oxford between my sophomore and junior years.
"I wasn't sure if I wanted to keep up with my career path in international studies and was still confused when I came to Oxford. This changed when I met with Melanie Ziegler, the acting director of the International Studies program—thanks to the passion that she demonstrated for international studies, I fell in love with her program right away and knew it was right for me. She also loves Latin America as well, and being originally from Mexico this really motivated me to keep going.
"Professor Ziegler helped me realize that, because it's so incredibly broad, I could do anything I wanted with international studies. My Latin American concentration put me in touch with professors like Walt Vanderbush, Elena Albarrán, and José Amador de Jesús in the Latin American, Latino/a and Caribbean Studies (LAS) program. Their courses made me realize that I wanted to be a full-fledged LAS major as well!"
Developing a Passion for International Studies and Latin America
"At first I was worried that adding another major would make it difficult for me to graduate on time, but Professor Vanderbush convinced me that the LAS requirements often coincided with those for international studies. That's how I became a double major. Transferring from Miami's Middletown campus to Oxford meant I had to commute 45 minutes everyday, but this turned out to be the best choice I could make—it's been totally worth it!
"As an LAS student I was invited to be a writer for Corre la Voz, a newsletter that comes out every month for the LAS program to keep faculty members and students informed of program events, news, and so on—not only here in Oxford but in different parts of the country as well. I covered Salsa Night, various lectures, and other events related to Latin American culture. I also interviewed LAS students who had gone on study abroad trips and done all kinds of research. These interviews gave me knowledge about all kinds of opportunities, and that led me to get involved with Miami's Center for Social Entrepreneurship.
"The center was where I developed my passion for both international studies and my cultural background in Latin America. Brian Bergman, the assistant director at the center, was a great mentor for me. He gave me a lot of guidance about giving back to the community, and that led me to my internship experience in Peru."
Empowering the Urban Poor in Lima, Peru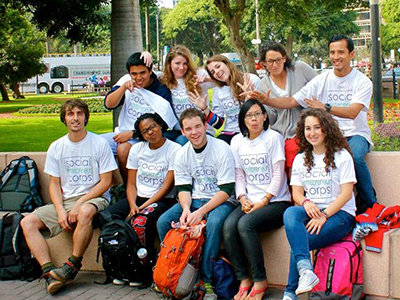 The Social Entrepreneur Corps ham it up a little.
"While at the Center for Social Entrepreneurship, I found out about the opportunity to have a month-long internship in Lima, Peru, with a non-profit organization called the Social Entrepreneur Corps. Even with a double major I was still having a hard time understanding what I wanted to do, since international studies is so broad, but working for a non-profit sounded like a great chance to meet people with passions similar to my own.
"The Social Entrepreneur Corps was created by volunteers from the Peace Corps in Guatemala, and it spread to Nicaragua, Ecuador, Peru, Haiti, the Dominican Republic, and South Africa. The program in Peru was a pilot program, meaning that we started from scratch in an urban area—the first time for this organization, which previously had been based in rural locations. We went to a poor area of Lima and did market research on local organizations with whom we could develop partnerships. We recruited entrepreneurs from the slums—typically women in their twenties and older—and trained them on specific products to sell, such as water filters, eyeglasses, solo lamps, and wood stoves—things that would help them make a profit. Eventually, the goal is to make those local communities sustainable—to leave them with a business model that will help them sustain themselves and continue to grow.
"It was an amazing life experience that gave me the tools and resources to give back to local communities. I'd love to go back to Lima to do more fieldwork, because out in the field is where you truly understand how to help—and that month went by very quickly. We realized that it takes time to work effectively in these urban areas, where people are more active and have many things to do—sometimes it was hard to keep up with everything! The local women were often mothers, so they had a passion for their neighborhoods and for their children—and this translated into helping to nurture and develop their communities. It was their amazing passion that actually helped us find better ways to be a good resource for them.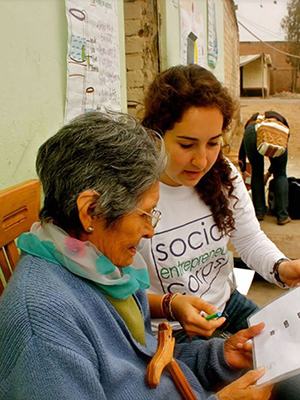 Social Entrepreneur Corps member Fernanda Victoria-Bojalil works with a woman in Lima, Peru.
"Coming from Puebla, Mexico, I'm really used to big cities. I love to see movement and diversity, and Lima was diverse in everything. I felt a personal connection in Lima, and I'd like to stay there for about six months or a year and then go to grad school to focus on the public health sector. Of all the products that we sold in Peru, eyeglasses were the most popular. If people can see, then they can read, they can go to school, they can work. Water filters were also in high demand. I want to find a way to make these things more accessible to people.
"Culturally, Peruvians and Mexicans are very similar. There's a connection between us since a long time ago—and we have a lot of similar food. We both use tons of different types of chili peppers! I stayed with a host family, and it was also good to see how they have close ties with their families as I do. Latin Americans tend to have very warm relationships with extended family members, whether it's your grandmother, your aunt, your cousin—they are all the same.
"Ultimately, I'd like to go back to Mexico to implement the sustainability model I learned in Lima, but if you told me that I had to live in Peru, I would definitely do so without hesitation!"
Advice to Students
"I've always felt that if you're not passionate for what you do, then why do it? Don't be afraid of going out of your comfort zone in order to find your passion. Get involved and never restrict yourself from doing things that you want to do. Go do it and if you want to go abroad, go. If you want to do a program in Peru for one month, go. It may be an economic sacrifice, but scholarships are always available.
"Study abroad is one of the things I would recommend the most because it gives you a broader perspective of things. You realize that your country is not the only country in the world. Everything is connected, and what affects me affects you and all of us. Go out and do something different!"
[September 2013]