Katie Booher (Class of 2009)


During my first WMS class, I knew I had found a place that would accept me and that I could learn and be challenged every time I walked into class.


Our original conversation with Katie was conducted in February 2009.

Update: October 2009
Where Are You Now?
"I am in graduate school at the University of North Carolina at Greensboro and am in a Master of Arts program in Women and Gender Studies [WGS] with a concentration in gender and community leadership.
"Ever since I took the family poverty class my first semester senior year at Miami, I knew I wanted to work with poverty policy in America. I want to make sure women and kids who are struggling can get themselves out of poverty rather than be forced to remain there because of the rules and laws currently in place in America.
"The gender and community leadership track at Greensboro gives me hands-on experience that I can apply to the real world when I graduate in (hopefully) 2011. I'll be taking grant writing, non-profit management, community building and other career focused courses alongside my WGS theory to help me put that theory in to practice.
"The program I am requires an internship and a final project rather than a thesis to graduate which I think is good because it will help me make connections to the community early so I will have a foot in the door when it's time to start applying for jobs after graduation."
Are there any differences between grad school and undergrad?
"The first is the amount of time required. The feminist theory class I'm in now has me reading between 3 and 5 articles of dense theory a week which usually does take me all week to get through.
"The second is the independent nature of grad school. My theory class meets once a week and I'm expected to have the reading done. Unless I need something and go to my professor to ask for help, I'm on my own using only the other students in the class as resources. I have also had to create a schedule for myself so I take the time to actually do the readings and engage with the material rather than skim them like I did in undergrad.
"The third is the intimidation factor. In my theory class we have students like me just starting their master's program like me but we also have students about to complete their PhDs taking this class for fun. I have had to learn to get over my fear of saying something silly in class and have had to learn to speak up and realize my contribution is just as valuable as everyone else's.
"I will say one of my favorite things about grad school is that I am finally able to focus on what I want to study rather than taking courses just to fill 'Miami Plan' requirements. Grad school is this amazing opportunity to spend the next two years devoted to something I am really interested in and then to take what I'm learning and apply it to the larger world."
Original Conversation: February 2009
Why did you choose Women's Studies?
"Originally I was a Journalism major but I needed a second major and Women's Studies sounded interesting. Turns out I like it more than journalism and am applying to graduate school for a master's of arts in Women and Gender Studies."
How have WMS classes impacted your overall Miami experience?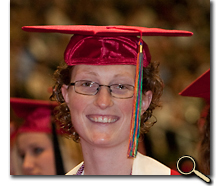 "If it wasn't for my WMS major, I probably would have tried to transfer out of Miami. I'm not a traditional student in that I did 3 years in the military before coming to college, so I didn't feel like I fit in anywhere specifically at Miami.
"During my first WMS class, I knew I had found a place that would accept me and that I could learn and be challenged every time I walked into class. I've never been happy just accepting the status quo and the professors in WMS get that; there's always talk about change, and pushing boundaries and limits, seeing how far one person can go to change the world.
"Because we're such a small major, a lot of our classes are cross-listed with other majors and that was cool too because I learned how I could take all the theory I was learning and apply it to the 'real world' once I graduate."
Are there particular classes, encounters, experiences as part of your WMS major that have enhanced your leadership, interpersonal relations, and/or career-related skills?
"Family Poverty [WMS 362]: I had spent all summer as a pool manager in a pretty rough area of Winston-Salem, NC, and this class helped me put the (feminist) theory behind what I had learned first hand about poverty during my time at the pool. From that class, I realize I want to work with women and children in poverty—not to change them but to fix the inequalities in America that cause them to be in poverty in the first place.
"Intro to Women's Studies [WMS 201]: This was my first WMS class and we took an international (and inter-sectional) approach to WMS. This class started me down the path of understanding how certain factors—race, class, gender, sexuality, country of origin, nationality etc.—change someone's lived experience. The class helped me think more inclusively when I do things now, and when I am faced with a problem, I consciously think about how my solution might affect others."
Would you recommend WMS to your peers? If so, why?
"Absolutely! WMS gives students another way of looking at the world. It exposes them to people and places and situations they may not encounter as a business or accounting major and it forces them to expand their attitudes and shift their perceptions.
"I would also recommend it as a second major (or minor) for people going into any sort of 'non-people' field (like business) because WMS teaches students to look at problems from a minority perspective and consider the implications their job may have on those minority populations in America and around the globe.
"Anytime anyone can consider an outsider perspective and seek to include that voice in decision-making processes it's a good thing. That's what WMS teaches students to do—become more conscious of other people and actively engage in dialogue with them."
[February 2009]