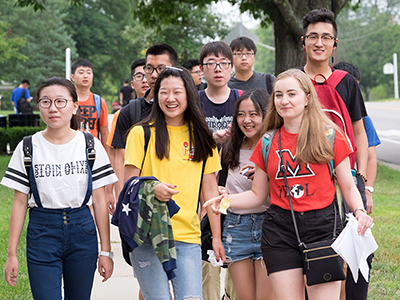 New international students take a tour of campus.
The Asian/Asian American Studies Program at Miami prepares students to become informed and engaged global citizens of the twenty-first century by offering transnational and intercultural perspectives on important issues affecting and connecting Asians and Asian Americans.
Through interdisciplinary curriculum as well as campus and community advocacy, it investigates the political, economic, socio-cultural, historical, ethno-linguistic, artistic, educational, and religious practices that Asian nations and Asian American communities in the United States and in the diaspora engage and embody.
Joining with cognate programs, centers, and departments on campuses, Asian/Asian American Studies promotes innovative modes of thinking and acting that re-imagine the existing relationships regarding "Asia" and "Asian America" and provides a course of study that turns divisions and conflicts into productive ways of engaging with sameness and difference in our increasingly interdependent world.