Global Human Rights & Justice Concentration Requirement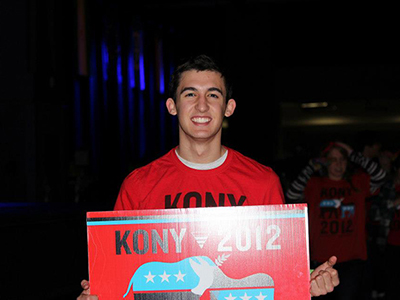 ITS student Domenic Fish holds a KONY 2012 poster designed to bring attention to war crime atrocities.
Global Human Rights & Justice is a functional concentration that meets the concentration requirement for the ITS major.
Take these 2 mandatory courses:
SJS/SOC 165 - Introduction to Social Justice Studies (3 hours)
SJS/SOC 323 - Social Justice and Change (3 hours, prerequisite SJS/SOC 165)
Take remaining 6 semester hours, representing at least 2 different disciplines, from the following courses.
Courses for Global Human Rights and Justice Concentration
Course
Title
Hours
ATH 358
Travelers, Migrants, and Refugees: Transnational Migration and Diasporic Communities
3
ATH 428
Anthropology of Women's Health
3
ATH 448
Developing Solutions in Global Health
3
BWS/HST/LAS 243
History of the Atlantic Slave Trade, 1400s to 1800s
3
GEO/WGS 436
Women, Gender, and the Environment
3
GEO 475
Global Periphery's Urbanization
3
GEO 476
Global Poverty
3
GTY 260
Global Aging
3
HST/LAS 319
Revolution in Latin America
3
POL 381
Global Governance
3
POL 382
International Law
3
POL/WGS 346
Global Gender Politics
3
SJS 470
Social/Political Activism
3
SJS 487
Globalization, Social Justice, and Human Rights
3
SOC 305
Introduction to the Sociology of Globalization
3
SOC 490
Current Issues in Sociology
(if topic is relevant)
1-3
SOC/WGS 203
Sociology of Gender
3