Lauren Stone (Class of 2012)
senior major in International Studies (with Middle East concentration)
minors in Middle East & Islamic Studies; Aerospace Studies
studied Amman, Jordan (University of Jordan) and St. Andrews, Scotland (University of St. Andrews)
interned in Washington, DC (Summer 2011)

I chose Miami University, because of its prestige and notable study abroad program. Choosing Miami was one of the best decisions I've ever made, and it has truly helped pave the way for reaching my goals after graduation. The support I've received from my professors, and my advisor has been instrumental in my success. It's amazing how much I've accomplished over the past 3 years here, and my senior year will be no different. The opportunities at Miami are endless, and I would encourage everyone to take advantage of everything this great university has to offer.

"Hi, my name is Lauren. Miami University has been my home now for almost four years. It's hard to believe that I'm graduating in the spring, and it will be difficult to say good-bye to professors, friends, and to this gorgeous campus. Although Miami has an intimate campus, it's still big enough that there is always the opportunity to meet new people.
"Before I applied to Miami, I had no doubt that majoring in International Studies would be a perfect major for me. I traveled around the world with my family from a young age and my early exposure to societies outside the United States, along with my interest in politics and history, greatly influenced my decision to major in International Studies."
Study Abroad in Jordan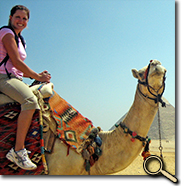 "During my freshman year at Miami, I took Arabic 101 and 102. Although it was challenging, I wanted to continue studying the language, and my professor encouraged me to participate in Miami's study abroad program in Amman, Jordan. In the summer of 2009, I took 2 semesters of Arabic in 10 weeks at the University of Jordan. It was one of the most memorable things I've ever done, and it was also the most rewarding. On the weekends, our group traveled throughout Jordan and to countries such as Israel, Syria, and Egypt. Not only was I able to apply the language outside the classroom, I was also able to gain firsthand knowledge about Islam and the many cultures within the Middle East."

Study Abroad in Scotland
"I studied abroad for a second time during the fall of my junior year at the University of St. Andrews, in Scotland. The honors-level courses that I took were extremely challenging, but my professors at Miami from previous International Studies courses had prepared me to approach these challenges with confidence. During my stay at St. Andrews, I met students from all over the world including: Sweden, Norway, China, Belgium, Morocco, Canada, Italy, Slovakia, Spain, and Saudi Arabia."
Summer Internship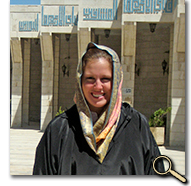 "This past summer, I completed an internship at the Jewish Policy Center in Washington, DC. My internship gave me the opportunity to conduct daily blogs on current issues in the Middle East, conduct research on Israel, Gaza, and Hamas, while seeing the Jewish perspective on security in the Middle East. I shared an apartment with a student from Saudi Arabia who was a devout Muslim. My summer was full of learning experiences. Living in the city was a new challenge for me as well, because I've always lived in a suburban area. It was a great way to leave my comfort zone and learn the ropes of living in a big city.
"The knowledge that I have acquired at Miami University through my major, two minors, study abroad experiences and my internship, should enable me to obtain a job that can utilize my skills after I graduate."
[October 2011]