Madison Reiser (Class of 2014)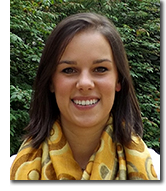 senior double major in International Studies and Social Justice Studies
minor in Latin American, Latino/a, and Caribbean studies
from Troy, OH
President of the Net Impact student organization
participated in a study abroad program in Ecuador as well as the Inside Washington program in DC
"Liberal arts is a huge benefit because you can't have people going into different careers, even in the business world, without having any idea about what's happening outside the United States or in the environment. That's absolutely critical."
Why Miami?
"Half of my family came to Miami and I, being a rebellious teenager, said I would never come here. I applied to many other schools, but probably after my 17th tour of the Oxford campus, I knew this was where I was going to be. The International Studies (ITS) program really stood out for me, along with study abroad and global studies, so those were the winning factors for me.
"I started in the Honors Program, tried out different classes and organizations, and joined the Gamma Phi Beta sorority. I also joined the organization I am now the president of, Net Impact, which is a business organization that focuses on environmental and social responsibility. All this happened during my freshman year here, and I loved it—I'd do it all over again every year for the rest of my life!
"By my junior year, I had already chosen a major in international studies and had been through many different options of double majors and co-majors, having taken a lot of different classes to figure out what worked best for me. The social justice studies major is fairly new, and I realized it was exactly what I'd been looking for. It really coincides well with international studies."
Best Miami Experiences
"It's been really great to dip my toes into so many different areas throughout campus, and each summer I've had different internships through Miami. The summer after my freshman year I went abroad to Ecuador with the social entrepreneur core program through the entrepreneurship office. The summer after my sophomore year I took part in the 10-week urban leadership internship program through the Honors Program. And last summer I did the Inside Washington program in DC.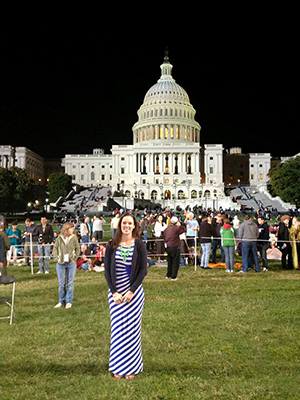 Madison Reiser poses in front of the US Capitol in Washington, DC.
"Inside Washington is a 10-week program, with the first 3 weeks being an intensive speaker series. Our group got to meet with 65 politicians, journalists, and other insiders all around Washington, ranging from Speaker John Boehner and former Speaker Nancy Pelosi to Senator Rand Paul and even people who run Super PACs and the Heritage Foundation. It was a very diverse selection from the whole political spectrum, and that was very beneficial for us.
"For the remaining 7 weeks we each had a different internship somewhere in Washington, all in different places. I worked for Congressman Tim Walz from Minnesota's first congressional district. My roommate worked for Al Arabiya News, and another member of our group was assigned to Meet the Press. All of these were pretty high-profile internships, and it was an awesome experience.
"Throughout my classes and internships I've become close to several of my professors, who've been very interested in helping me and promoting my education and future. Two that really stand out for me are Charlie Stevens, who is my advisor in international studies, and Lee Harrington, who I had for my Introduction to Social Justice Studies course.
"Professor Stevens has always been there to help me maneuver through the Miami requirements, and he made it possible to tailor some of my classes to my post-grad career goals. Professor Harrington also made herself available to me and continued to challenge me through classes, my independent study, and my career search. Finding professors who not only support me, but also push me to work harder and be better, has been one of the best experiences that I could have during my time at Miami.
"All in all, I've done a number of very different things here at Miami, all across the spectrum, giving me a very well-rounded resume that will help me after I graduate in May. I have experience in the government, the inner city, museums, abroad, in Spanish, and even in consulting for small businesses. And along with the work I've been doing with Net Impact, no matter where I go, there will always be something I can offer. Having these well-rounded experiences at Miami, especially in the College of Arts and Science, is what will benefit me when I'm looking for a job or applying to grad school."
Study Abroad Program in Ecuador
"My experience going to Ecuador the summer after my freshman year was very multi-faceted, and everything we did there was in Spanish. We visited small businesses in remote rural communities to work with shopkeepers on marketing their services. One of the big things in Latin America, especially in Ecuador, that is culturally different from here is that it's not traditional to greet customers. People will just keep doing whatever they're doing like it's no big deal, but we were in a lot of big tourist areas where we felt we could offer some suggestions on customer service for Americans and other foreigners.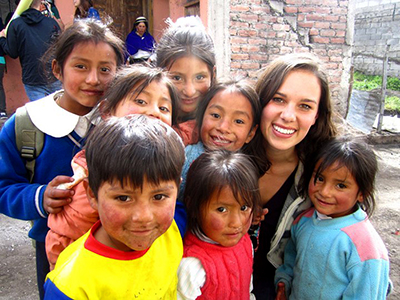 Madison Reister poses with Ecuadoran children.
"For the entrepreneurship portion of this trip, we worked with women in these small communities who needed extra income and wanted to learn skills in entrepreneurship. We brought in products like eyeglasses, water filters, seeds, and irrigation systems to areas that didn't have access to these kinds of goods, and the women entrepreneurs set up campaigns to sell the goods. They got a portion of the money that they made, and whatever goods they didn't sell would go back to the American company that was working with them. These women gained important business skills, and I loved being a part of that, especially since I had never done anything with business or entrepreneurship.
"That summer in Ecuador definitely changed my life. I was still very young and new to these kinds of experiences, and although I'd been abroad before, I didn't have a lot of experience in business, nor did I have much experience using my Spanish. I was very intimidated at first, keeping quiet a lot of the time while I was there, but in hindsight I realize I had a some good ideas I should have shared. One of the big things I learned from that experience was to show a little more confidence in my ideas, even when I don't have experience in a certain area. Now I'm no longer as afraid to say, 'I don't know much about this, but I think this might be a good idea.'
"I've also realized that a lot of the challenges and problems faced by other nations are also faced here in the U.S. I would love to work on a global scale, but I'm also interested in working in my own community as well."
Miami and the Liberal Arts
"When I was looking at colleges I eliminated any that didn't have a liberal arts feel. Taking these classes at Miami, such as my intro to social justice class or my environmental biology class, I feel they're something that everyone should have a little bit of experience in.
"I look at some of my friends, especially those in the business school, who haven't dabbled into different academic interests. When they take a sociology or sustainability class or something similar, they often talk to me and say, 'You know, this is actually pretty interesting. I've never really thought about this before.' Liberal arts is a huge benefit because you can't have people going into different careers, even in the business world, without having any idea about what's happening outside the United States or in the environment. That's absolutely critical."
Advice to Students
"All Miami students should consider minors or majors, even double majors, within the College of Arts and Science. It looks really good to employers when a finance major has a minor in Latin American studies, or an engineer has experience speaking a different language or something like that. A lot of my friends from outside the CAS have picked up these minors or focuses in different areas, making them not only more marketable to employers, but also helping them be a greater benefit to our society and country.
"I know a lot of students may not find the Miami Plan of taking lots of different classes—especially those in the liberal arts—to be extremely beneficial. I would just tell them to really take advantage of those few classes outside of their major, because they can spark an interest they didn't know they had, or they could at least look really good on a resume.
"Speaking from my experiences with Net Impact, I definitely recommend trying out a ton of the student organizations here on campus. At the end of the day, however, make sure you choose one organization that you really care about. It doesn't matter what it is—it can be related with your major or not. Commit to that one organization, because it really teaches responsibility and how to function in the real world.
"Without these experiences, I would never have gained confidence to try new things. It's very nerve-racking the first day you walk into anywhere, period, but it always gets better and it's always worth it in some way. Whether you loved it or hated it, something is eventually going to come out that will be a huge lesson for you. That's what I have come to understand over my past 4 years at Miami."
[September 2013]