Sarah Christin Mueller (Class of 2014)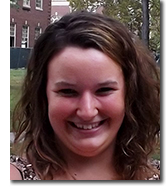 senior double major in International Studies and French
minor in Political Science
from Berlin, Germany
2013 College of Arts and Science Dean's Scholar
President of Miami University International Student Organization
"I think liberal arts students are very much able to take this variety of perspectives and put them together in order to form your own goals and shape your own lifestyle and political thinking. It helps you to understand what you can apply not only in class but also in life."
Why Miami?
"I guess there are 2 different reasons why I chose Miami. The first is that my grandparents lived in the U.S. for 10 years, so I'm used to traveling a lot and coming over to the States. It was always a childhood dream of mine to study in the States eventually. And the second reason was my love of field hockey—I've played field hockey since I was 7, so I created this online website with an agency in Germany and got recruited from the Miami coach, and that's how I came here.
"I was actually not able to visit as a prospective student, because our final years in high school are the most intense. Although I wasn't able to come and look at Miami in person, I got a lot of nice impressions of what life here is like from pictures and all that. It was more like a virtual impression. I'd been to the U.S. probably like 25 times already, but it was my first time to Oxford, Ohio.
"As a freshman, the first friends I made were through field hockey. We traveled a lot—we even went all the way to San Francisco! And during that first year I got to know the faculty in my major, my advisors, and other students in my residence hall. It was a very positive experience. At the end of freshman year I got involved in the International Student Organization, and it grew from there."
Best Things About Miami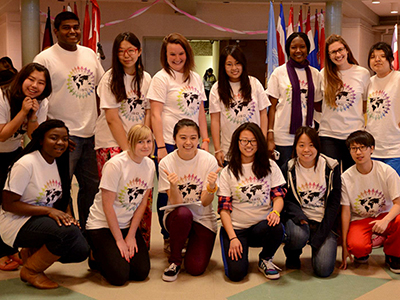 Executive Board, Miami University International Student Organization
"What I probably like most about Miami is the variety of ways you can be involved on campus and off campus. You can really find the community that fits you best—for me it was the International Student Organization and the field hockey team, of course. And I really like how closely you can work with faculty here. You can just come in and meet them one-on-one or work with them on projects, and I thought that was a very enriching experience.
"There are a couple of things that really stick out. One of them is my undergraduate research I did over the summer in Berlin's Stasi Archives [the vast collection of information and photos once gathered by the secret police of communist East Germany], under the mentorship of Dr. Karen Dawisha in the Department of Political Science. This project is related to my being named one of the College of Arts and Sciences Dean's Scholars earlier this year, and I'm working on what is now a 120-page research paper that I'll be presenting at the Undergraduate Research Conference next April and also for the Dean's Scholars poster presentation.
"My paper is about German-Russian relations since 1985, especially focusing on the years when [current Russian President] Vladimir Putin was stationed in Germany from 1985 to 1990. I was actually able to go into the Stasi Archives in Berlin and look at the documents and see what he was involved in and what letters he sent back and forth. It was just very interesting to see how the whole system of the German Democratic Republic actually worked, how the Stasi worked, and how they cooperated with the KGB. The documents are in German, so I also have to do some translation into English.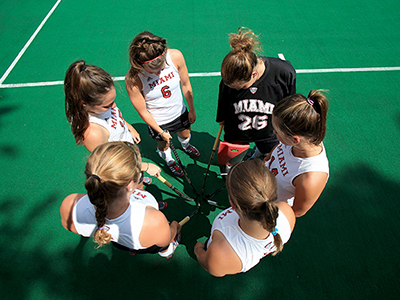 Miami University Field Hockey Team
"The other notable thing for me at Miami is the leadership opportunities I've gotten involved in, especially with the International Student Organization. I started off as a new member, became vice president for two years, and now I'm the current president, so I've kind of built up my way there. On the field hockey team it's kind of the same thing. I started off as just the starting goalie, but now I'm kind of like a captain, although we don't really have a captain. And our team actually won the MAC [Mid-American Conference] championship last year for the first time in Miami field hockey history!"
International Studies and Liberal Arts at Miami
"I think liberal arts students are very much able to take this variety of perspectives and put them together in order to form your own goals and shape your own lifestyle and political thinking. It helps you to understand what you can apply not only in class but also in life.
"The International Studies Program has a whole variety of different classes you can take, offering different perspectives from both domestic and international students as well as faculty, so it really gives me a wide variety of impressions to help me come up with my own perspective and political thinking. Even before coming to Miami I already knew that I was interested in international studies. It fit my goals better than any other major, so I was actually happy that I could start with that. I'm very interested in eventually working for the United Nations.
"I also started off with a minor in French, but since I had so much time left and I really enjoyed the French classes here I picked it up as my second major. It actually goes along really well together with International Studies because, well, French is a diplomatic language!"
Life as an International Student
"The International Student Organization gives me the opportunity to really work on myself. I started here kind of timid, following others, but now I've become somewhat of a role model for some people and I'm trying to leave a legacy behind so others can build on that. In the International Student Organization we really try to bridge the gap between the American and international students and apply everything we international students feel is missing or needs to be addressed, such as the relationship between international and American students and also making the experiences of international students at Miami more enjoyable.
"Miami really attracts more and more international students because there are so many opportunities here, so many great faculty, and so much we can all learn from each other. International students bring so many different perspectives from all the different countries, so having them in the classroom is really enriching and gives all of us a wider perspective. The international student population is definitely going to keep growing, and I just hope they're going to be more and more involved and more and more present."
Advice to Students
"All Miami students should, from the beginning, try to be very much involved on campus. There are so many different organizations you can find your passion for, giving you the opportunity to actually use all the things you've learned in class, apply them there, and build on your leadership skills. At the same time, I would suggest to do as many internships as possible, because they help you apply what you learned in class and know whether this is the field you really want to work for.
"Don't wait until your senior year to figure everything out. It's not too early to start freshman year and meet with a lot of faculty, see different people, pay attention to different things, and actually read your emails—you get a lot of advertisements for programs and research opportunities that way. It really helps to go to the events that are held on campus—Career Fair, Mega Fair, all these different opportunities to help you make the most of your Miami experience."
[September 2013]