All first-semester students in the xdMFA travel to Miami University's main campus in Oxford, Ohio for a long weekend of learning and fun. This four-day event includes design and research-intensive sessions, workshops, project work, and close interaction with program faculty. Oxford Weekend is a chance for the incoming cohort of learners to get to know one another as well as program faculty while also exploring Miami's beautiful campus, the town of Oxford, and the surrounding region.
Highlights of this kick-off weekend include:
several meals with faculty
the "Experience Experience" Project
a chance to see a Miami Football game
time to check out local restaurants and parks
the xdMFA Launch Ceremony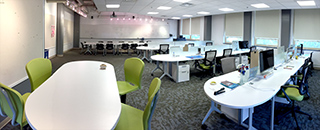 The xdMFA Graduate Studio in Hiestand Hall
There's nothing like the shared experience of being in the same place at the same time. Oxford Weekend is when each cohort of students establishes their foundation for the xdMFA.
Oxford Weekend Schedule
Wednesday

| Time | Event | Duration |
| --- | --- | --- |
| All Day | Arrival | |
| 7 p.m. | Introduction Meeting: Welcome to the xdMFA | 1 hr |
| 8 p.m. | Dinner in Oxford | 2 hrs |
Thursday

| Time | Event | Duration |
| --- | --- | --- |
| Morning | Design Workshop | 4 hrs |
| Lunch | Working Lunch in the xdMFA Graduate Studio | 1 hr |
| Afternoon | Research Workshop | 4 hrs |
| Dinner | Dinner in Oxford | 1 hr |
| Evening | The "Experience Experience" Project | Night |
Friday

| Time | Event | Duration |
| --- | --- | --- |
| Breakfast | Design Faculty Breakfast | 1 hr |
| Morning | "Experience Experience" Project Review | 2 hrs |
| Morning | Theory and Ethics Workshop | 2 hrs |
| Lunch | Design Faculty Lunch | 1 hr |
| Afternoon | Design Charrette | 4 hrs |
| Evening | Explore Cincinnati Area Free Time and Project Work | Overnight |
Saturday

| Time | Event | Duration |
| --- | --- | --- |
| Morning | Explore Cincinnati Area Free Time and Project Work | Morning |
| Afternoon | Exploration Reports | 3 hrs |
| Evening | xdMFA Launch Ceremony | 2 hrs |
Sunday

| Time | Event | Duration |
| --- | --- | --- |
| All Day | Depart | |