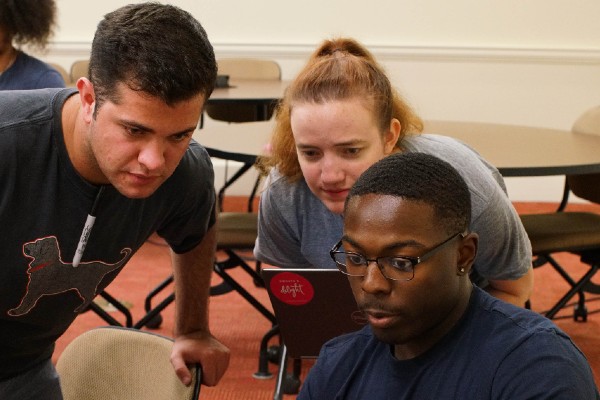 Startup and Venture Capital
Startup entrepreneurship and venture capital is all about overcoming challenges and solving problems. Startup businesses operate with limited resources and capacity. At the Department of Entrepreneurship, we teach students by immersing them in experiences like this to better understand how to add value and make a difference in those communities. Whether you start a new venture, you constantly seek opportunities, or you want to add value in a fast-paced high-impact environment, the Department of Entrepreneurship works to build and train the growing startup workforce. Our approach to startup entrepreneurship at Miami is real-world where students roll up their sleeves and start doing! We work alongside successful entrepreneurs locally, nationally, and around the world, and learn by doing.
Training An Entrepreneurial Workforce
To be a successful employee in a rapidly growing company where pace, ambiguity, and the ability to figure things out on the fly are at a premium; to think more innovatively and apply entrepreneurial processes to identify and take advantage of opportunities; and to start new business ventures either as side hustles or scalable organizations
Real-World Projects, Immersive Ecosystem Experiences, and Practice-Based Learning
Altman Internship Program
Startup Weekend
RedHawk Launch Accelerator
Immersive, Real-World Learning Opportunities
Throughout the program, students will complete a minimum of 5 real-world client engagements as a consultant, intern at funded, rapidly growing companies.
Altman Summer Internship Program
Altman Summer Scholars Internship Program at Miami University prepares the next generation of entrepreneurs, innovators, and startup employees.
---
Business Model Road Test Pitch Competition
Held at the end of the Fall and Spring semesters, the Business Model Road Test Pitch Competition gives undergraduates completing the Institute's introductory-level Business Model Development course the opportunity to pitch early-stage business ideas for which they have developed and road-tested viable business models. Teams pitch to 15-20 investors, incubator/accelerator staff, startup founders, and ecosystem builders in a Demo Day-style format. Students often cite this as their first real entrepreneurial experience and a benchmark for reflecting on their personal growth through the rest of the entrepreneurship program and beyond.
---
New Venture Capstone and RedHawk Venture Pitch Competition
With a cross-discipline focus that engages undergraduates from majors across campus, The Department of Entrepreneurship employs a practice-based, immersive approach to entrepreneurial education that requires students to apply the knowledge they accumulate in the classroom through specific curricular and co-curricular programs that require practice.
---
RedHawk Launch Accelerator
The Redhawk Launch Accelerator is the John. W. Altman Institute for Entrepreneurship's seed stage startup accelerator for all Miami University student-led startups with high growth potential.
---
Techstars Startup Weekend Miami
Sponsored by Techstars®, the largest accelerator network in the world, Startup Weekend Miami is a 48-hour weekend event, offered during Fall Semester, which groups of student-founders, developers, managers, marketing experts, engineers, and more pitch ideas for new startup companies, form teams around those ideas, and work to develop a working prototype, demo, or presentation by Sunday afternoon. Miami University is the only university in the nation that integrates Startup Weekend into its core curriculum.
---
Venture Capital Immersion Program and The Venture Capital Investment Competition (VCIC)
The Miami University Venture Capital Immersion program takes a practice-based, immersive approach to educate students about venture capital and early-stage investments.
Department of Entrepreneurship
800 E. High Street
Suite 2078
Oxford, OH 45056