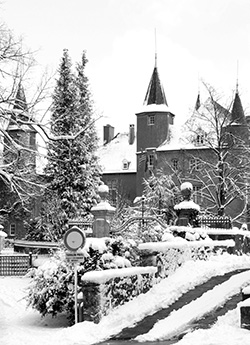 MUDEC History and John Dolibois
The Search for the Ideal Location
The countries and sites that were initially considered included Japan, Switzerland, France, Austria, and Luxembourg. An exploratory group was appointed by President Phillip Shriver to visit potential sites in Europe along the line of French and German cultural and linguistic transition. The members of that group were Professor Warren L. Mason of the Department of Government (now Political Science), who served as chair, John E. Dolibois, Vice President for Development and Alumni Affairs, Robert F. Etheridge, Vice President of Student Affairs, and Professor Dwight L. Smith of the History Department. They set out with an unusual goal: to find a location that would foster and support an educational center abroad independent of other universities, a location where our center would stand out and enjoy a high degree of support from the local community and its leaders. It was Dolibois who first suggested his native Luxembourg and was to be very instrumental in establishing the Miami University European Center (MUEC) as well as cultivating access to every segment of Luxembourg society on behalf of Miami.
1968: Inauguration of Miami University European Center (MUEC) in Luxembourg Ville, Centre Settegast at 24, rue du Curé.
1972: MUEC moves to the 9, rue Goethe, in Luxembourg City. Creation of the Student Activity Coordinator position. Creation of the Library in a separate location. More than 550 students have been enrolled.
1975: Creation of Miami faculty positions at MUEC.
1978: His Royal Highness Grand Duke Jean attends the convocation for the 10th anniversary of the Center.
1979: Creation of the student teaching program at area international schools and schools of the Department of Defense.
1980: Introduction of the study tour as part of the curriculum of the Center.
1982: MUEC moves to the 45A, avenue Monterey in Luxembourg City.
1988: The Trustees of Miami University change the name of the Center from the Miami University European Center (MUEC) to the Miami University John E. Dolibois European Center (MUDEC) to honor Miami Vice President and US Ambassador Dolibois for his outstanding service to the university, the Center, and the United States.
1993: MUDEC establishes a cooperative agreement with the Luxembourgish University Center.
1996: 5,000 students have been in enrollment at Miami University Center.
1997: MUDEC moves in the South of Luxembourg to the 15th century castle of Differdange. Miami Business School establishes a summer program in Luxembourg.
2007: Introduction of a second "mini" study tour in the curriculum of the Center.
2008: MUDEC establishes a cooperative agreement with the University of Luxembourg.
2011: First Alumni Reunion at MUDEC. 9,578 students have been enrolled since 1968.
2012: 10,000 students have been enrolled since 1968.
2013: 45th Anniversary of the Center.
2018: Over 700 alumni returned to Luxembourg to celebrate the 50th Anniversary of the Center.
2020: Luxembourg Digital Innovation internship program launches.
John E. Dolibois
MUDEC proudly takes its name from John E. Dolibois, former U.S. ambassador to Luxembourg and last American survivor of a team that interrogated top-ranking Nazis for the Nuremberg Trials.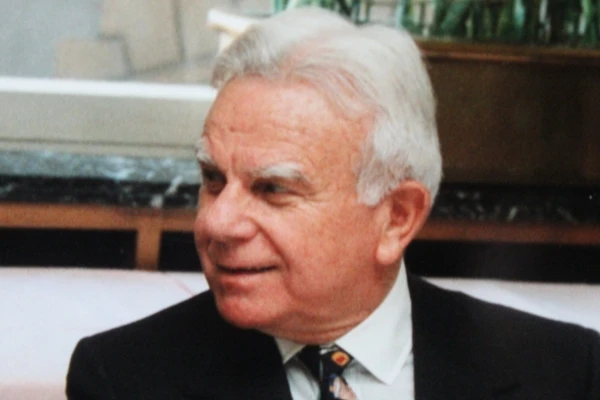 From Luxembourg to Ohio
Miami University's vice president emeritus for university relations, Dolibois (pronounced DOLL-uh-boy) was born Dec. 4, 1918, in Luxembourg. In 1931 at the age of 12, he immigrated with his father to the United States on July 4, joining John's sister, Marie, who was living in Akron.
He graduated from Akron North High School as president and valedictorian of his senior class and earned a four-year scholarship to Miami University.
He became involved in Boy Scouts as soon as he arrived in America and credited the Scouts for helping him adjust to a "foreign" environment. An Eagle Scout, he organized Oxford's first official Boy Scout troop as an undergraduate in 1938.
He majored in psychology at Miami, graduating with honors in 1942. While at Miami, he was president of the alpha chapter of Beta Theta Pi and a member of several honoraries including Phi Beta Kappa. He became a U.S. citizen his junior year in 1941 and married Winifred "Winnie" Englehart (Miami '42) during their senior year at Miami.
Wartime Service
He took a job at Procter & Gamble as an industrial engineer. When drafted later in 1942, he pointed out that he was fluent in German. He was eventually commissioned a lieutenant in the cavalry and transferred to a military intelligence center in Camp Ritchie, Maryland.
In March 1945 Dolibois became a member of the five-member Army Intelligence team that interrogated the highest-ranking Nazi war criminals after the fall of the Third Reich, leading up to the Nuremberg War Crimes Trials. This included Hermann Goering, credited as the architect of the Nazi industrial machine and second in command under Adolf Hitler.
After six months of interaction, he knew some of Hitler's most trusted and senior-deputies well. When the defendants went to Nuremberg, Dolibois followed, interpreting their responses to Rorschach inkblot tests given by an Army psychiatrist.
"One of Miami's finest alumni"
After the war, Dolibois, who left the Army as a captain, returned to his job at Procter & Gamble until May 1, 1947, when he became Miami University's first full-time alumni secretary. He later became the first director of alumni affairs and development and, in 1966, first vice president for development and alumni affairs. In July 1981 he was named vice president for university relations, overseeing the news and publication offices as well as public relations, development and alumni programs.
"John Dolibois was one of Miami's finest alumni," said Miami President David Hodge. "He is the classic immigrant success story who served his adopted country with distinction in a unique role in the Nuremberg trials and later as ambassador to Luxembourg. A man of deep humanity, he was a master storyteller who had an incredible memory to draw from. He was passionate about Miami, serving the university in a formal role and for many years afterward as one of our most ardent ambassadors. We are deeply saddened by his passing, yet filled with the joy of the friendship we enjoyed. Truly a remarkable human being."
Among many accomplishments at Miami, he helped establish a study abroad program in Luxembourg in 1968. The Luxembourg center was renamed the Miami University John E. Dolibois European Center in 1987.
He organized the university's first fundraising campaign, for $14 million, from 1978-1981, which helped raise funds to build the university's art museum, Marcum conference center and Yager football stadium and to increase the number of scholarships.
After 34 years at his alma mater, he retired so that he could represent the United States as ambassador to the Grand Duchy of Luxembourg 1981-1985. In June 1981 he told the Associated Press that his nomination was the capstone of his career.
During his ambassadorial tenure, the 999-square-mile country of 365,000 was visited by Vice President George Bush, Defense Secretary Caspar Weinberger, Secretary of State George Schulz and Gen. Alexander Haig. In October 2003, the U.S. Senate passed a resolution naming the American embassy residence in Luxembourg the Dolibois House.
He and wife Winnie returned to Oxford in 1985 to retire. Until his death, Dolibois was a frequent speaker to students and other groups about his experiences surrounding the Nuremberg Trials.
1971 (March 31): In recognition of his military service and his work in international education, including the establishment of Miami's European center, the Government of the Grand Duchy of Luxembourg decorated him as Officer in the Grand Ducal Order of the Crown of Oak.
1972: John Dolibois was honored with the Silver Beaver Award, Scouting's highest award for service to boyhood, in 1957. He was named a Distinguished Eagle Scout in 1972.
1976: He received Luxembourg's decoration of Commander in the Order of Merit, recognizing his work on behalf of international goodwill and his services to international education as a member of the 12-person Board of Foreign Scholarships, which administers the Fulbright Exchange program.
1977: John was awarded Miami's Benjamin Harrison Medallion. Named for the 1852 Miami graduate who became U.S. president, the medallion is presented to faculty and staff who have made outstanding national contributions to education.
1984: Received an honorary degree from Miami University.
1987: The Grand Duke of Luxembourg awarded him the Cross of the Grand Ducal Order of the Crown of Oak, Luxembourg's highest decoration.
1997 (November 6): Inducted into the Ohio Veterans Hall of Fame.
2002: He was awarded the first Michael J. Colligan History Prize at Miami University Hamilton for making the appreciation and study of history accessible and enriching for the community. Also that year, Miami University Hamilton inaugurated the John E. Dolibois History Prize.