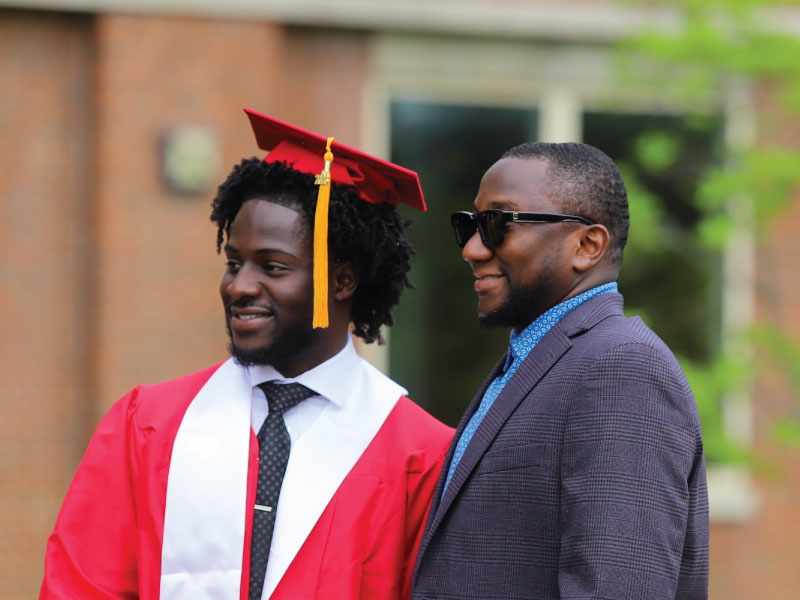 Parent and Family Resources
Welcome to the Miami Family!
We are dedicated to your student's success and to creating a smooth transition to Miami. Parent and Family Orientation is an important part of this transition.
Below, you'll find videos and information about important requirements, resources, and opportunities at Miami. Explore each section to gain a deep understanding of the Miami Experience. We recommend that you review content in the order listed. You're able to access this information often and at your own pace. We highly encourage you to explore sections in the order they appear below.
Attend a Parent & Family Info Night
Join Regional Dean of Students Pete Haverkos, Ph.D., for an information session about how to best support your student as they start at Miami University Regionals. Topics will include: the adjusting to college (for students & families), majors and academics, and vital supports for your student. There will also be time for questions & answers. All in-person dates will also have a virtual option.
Resources
On-Demand Webinars
We have created a series of videos supplement your student's orientation through a parental and supportive lens. You're able to watch and re-watch those at your own pace.
View all videos.
Information for Specific Populations (e.g., Honors, Athletes, First-generation)
Miami's Approach to a Liberal Arts Education
A traditional strength of Miami University is its emphasis on liberal education. Miami was founded on the belief that a liberal education provides the best possible framework for life in a changing world. The emphasis on liberal studies continues today and is referred to as the Miami Plan for Liberal Education, or the Global Miami Plan.
What is a liberal education?
Engaging in a liberal education has nothing to do with a particular political view; it means having a broad foundation of knowledge. Here, it means Miami requires all students to take classes outside of their major.
A liberal education complements specialized studies in your student's major and provides a broadened context for exploring social, academic, political, and professional choices. It will help your student understand human society by giving them the tools to ask questions, examine assumptions, exchange views with others, and become a better global citizen.
Learn more about the Miami Plan on the Liberal Education website.
List of Miami Majors
Miami Regionals students are able to complete majors across the university (some may have additional admission requirements.
Math Placement
The Tutoring and Learning Center will contact a student directly if the university needs additional information to best help you choose appropriate classes for you. If you have questions about this process, please contact them directly at 513-785-3139.
Campus Services
This section contains information about the essential services available at Miami:
On-campus housing
Dining at Miami
Academic support
Tuition, financial aid, and student records
Student Health and Student Counseling
Services for students with disabilities
Campus retail, including textbooks and laptops
IT support and benefits
Access the Campus Services page.
Campus Life
Connecting with other Miamians and opportunities on campus complement your student's classroom learning. This is what makes the Miami Experience so special and sets our students up for success after graduation. This section has information about ways students make deeper connections and make the most of their Miami experience. This section includes information about:
Involvement through organizations, leadership development, and community service
Career development resources and opportunities
Resources and connections for students commuting from home
Students have information about connecting with their Regional Orientation Leader (ROL) in their orientation Canvas site.
Access the Campus Life page.
Student Expectations and Campus Policies
Our student expectations and campus policies help create and maintain a safe and respectful Miami community where everyone can succeed. It is important for new students to understand and uphold campus policies, and understand their accountability. The Miami Policy Library includes information about:
Academic Requirements
Community Standards
Title IX and Sexual Misconduct
Academic Integrity
Supporting your Miami Student
How does all of this information apply to your student, the person you know better than anyone else? First, learn about supporting your student through four transition issues commonly experienced during the first year of college.
Then, make sure you're connected with additional resources specifically for parents and family members, outlined below:
Regional Office of Student Activities and Orientation
Hamilton Campus, Schwarm 120 and 122
Middletown Campus, Johnston Hall 129