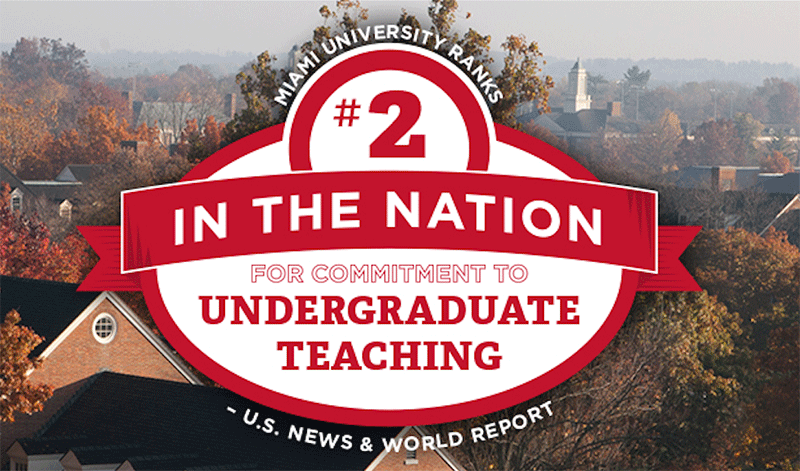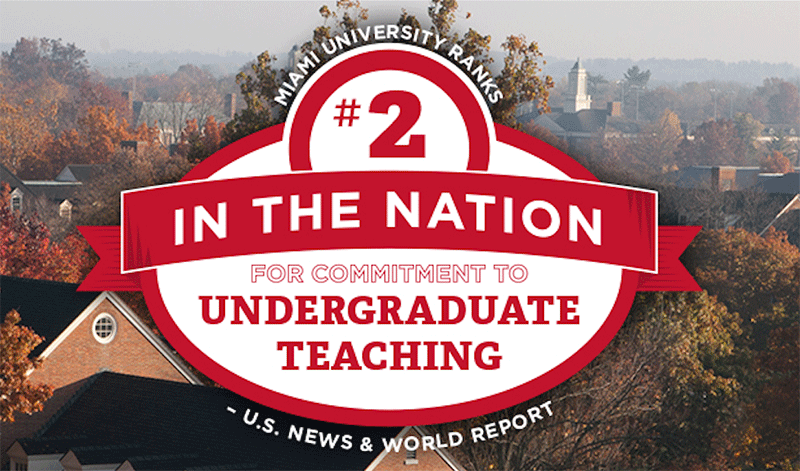 Miami ranks No. 2 in nation for its commitment to undergraduate teaching
Sep 13, 2016
Outstanding faculty commitment at Miami recognized with No. 1 public university ranking
Award-winning faculty
Learn more about some of our award-winning faculty nominated by Miami students:
Associated Student Government Outstanding Professor of the Year
Alumni Association Effective Educator Award
by Carole Johnson, university news and communications
It's official. U.S. News & World Report ranks Miami University the top public university in the nation for its faculty members' outstanding commitment to undergraduate teaching. 
Miami is No. 2 on the specialty list following only Princeton (a private university) with Yale at No. 3 and Brown at No. 4 in this specialty list in U.S. News' Best Colleges rankings released today.
For the past seven years, Miami has ranked in the top five by U.S. News & World Report's list of universities with "unusually strong commitment to undergraduate teaching."
"Miami faculty put their hearts and souls into teaching – it's where we truly excel.  We hear it every day from our students and graduates of every campus, that how professors teach and mentor is what makes Miami such a special place to learn," said Miami President Gregory Crawford. "This consistent recognition year after year is testament to their passion, commitment and genuine compassion for our students, and being here and seeing it on a daily basis is truly inspiring."
Miami also moved up and onto the "Top 30 Public National Universities" list. Overall, Miami ranks 79th among both public and private institutions in U.S. News' ranking of "Best National Universities." U.S. News ranked Miami 31st in the category of "Best Undergraduate Engineering Schools" and 48th in the category of "Best in Undergraduate Business."
Miami's seven divisions provide students the opportunities to obtain a well-rounded liberal arts education within their majors for degrees that are highly respected and sought after among potential employers. Miami's dedication to teaching shows in many ways: The faculty-to-student ratio is 17:1, and faculty and experienced instructors teach 94 percent of undergraduate credit hours. 
Faculty mentor students in tackling world problems
Miami faculty engage and mentor students by taking theory from the classroom and applying solutions to complex problems.
Students are cracking codes in neuroscience and tracking how Middle Eastern women are portrayed in today's media. During the spring semester, 16 students designed sun shelters, greenhouses, playgrounds and other comforts in hope of making life a little easier for Syrians living in a refugee camp in Jordan.
Miami faculty inspire students
There are countless student tales of how Miami professors inspire them. For example, Darrel Davis, an associate professor of educational psychology, does more than lecture in class; according to students and his colleagues, he does it in a "contagious way." Davis, associate professor of educational psychology, received the 2016 E. Phillips Knox Distinguished Teaching Award.
"The energy in the classroom noticeably increases once the lectures starts. Yes — the lecture. Although it doesn't stay a lecture for long — he wants his students to think, and discussions and questioning are both central to his teaching style," award nominees said.
A class with Dmitriy Garmatyuk,  associate professor in electrical and computer engineering, inspired then-undecided freshman Tyler Maschino toward a path in which he performed research, interned, and earned a combined bachelor of science and master of science degree in electrical engineering in five years. Maschino graduated in May having a position with a global company.
Miami faculty go above and beyond
To bring more academic options to their students, Miami Regionals faculty put in extra hours over extra weeks and months to develop six new bachelor's degrees and a new master's degree this year that can be completed entirely within the convenience of the regional campuses.
Miami's academic plan allows students the ability to explore and find their paths. It's the faculty that encourage their creativity.
Last spring, the Miami student body honored Jim Friedman of the business school for his innovative approach to teaching. Friedman teaches creativity, in very creative ways, according to his students.
Amber Hallman was part of Friedman's study away course in entrepreneurial consulting in San Francisco last year. "He has a way of getting up in our heads," she said.