Graduate Achievement Award
Erika A. Uzmann, Art, "Cow Brooches"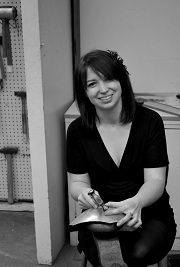 Erika A. Uzmann, a MFA student in the Department of Art, has been awarded a Graduate Achievement Award int eh amount of $200 in recognition of her work "Cow Brooches" which was selected to appear in "Art Your Food," an international art competition and exhibition in New York City.  The competition, sponsored by the International MIgration Arts Festival, invited artists from around the world to submit works based on the theme "Food and Migration."  Uzmann's work was among the ten pieces in the Visual Arts category selected for display at La Mama Theater in May 2011.  Uzmann's success in such a highly competitive juried selection content honors her creative research and artistic development.
Upon graduation from Miami, Uzmann plans to remain active in the metalsmithing field as a designer.  She would like to use this medium as a channel to educate others on the causes she is passionate about.