Dean's Advisory Board (DAB)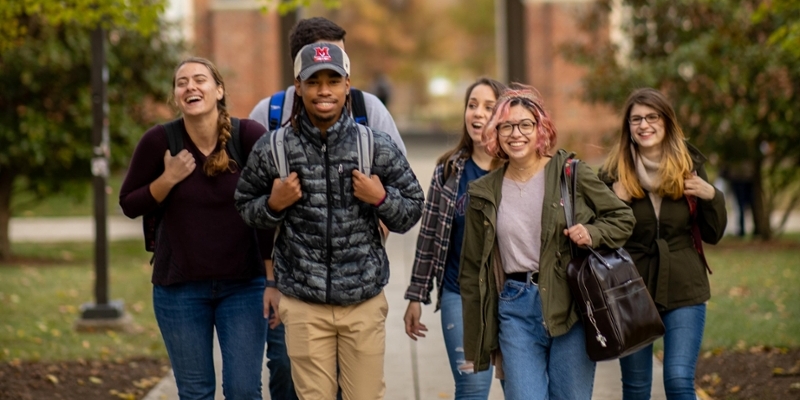 DAB creates an opportunity for students to influence positive change on campus, celebrate student accomplishments, and help the Office of the Dean of Students set priorities and create initiatives. DAB is composed of student leader representatives (Associated Student Government, Tri-Council, Diversity Affairs Council, and Residence Hall Association) and at-large members who apply as individuals.
The board gives strategic direction to the Office of the Dean of Students and can help actualize the changes students want to see on campus. Additionally, the board assists in the Love & Honor Story Project, an initiative that highlights and celebrates student leaders who exemplify Miami values and the Code of Love & Honor.
Applications for DAB are now open! We are seeking students who are excited about bringing passion, love, and honor to the committee and to the broader campus community. All Miami students are welcome to apply. Applications will close on April 21 at 11:59 p.m. Students will be notified about their status by May 1, 2023.
2022-2023 Members
Samantha Federici
First-year, Kinesiology, Nutrition, and Health and Pre-Medicine 
Why DAB: On DAB, I am able to implement the changes people need on campus and empower them to utilize available resources.
Ryan Parker
Sophomore, Political Science and Strategic Communications
Why DAB: I love being able to advocate for my peers and DAB gives me the avenue to do that. 
Meghana Sugoor
Sophomore, Biology and Premedical Studies 
Why DAB: I joined DAB to be an advocate for the student body and help create change on Miami's campus!
John Michael Dancy
Senior, Finance/Accounting
Why DAB: As a senior who has experience in a wide range of fields, I joined DAB to impact future decisions on the university as a whole. 
Leanne Thomas
Senior, East Asian Languages and Cultures and Pre-medicine 
Why DAB: I chose DAB as I believed it to be an excellent opportunity to give representation to the perspective of off-campus students.
Jackson Hartman
Sophomore, Finance
Why DAB: I joined DAB to have the opportunity to work with other passionate students to make the Miami community the best it can be!
Jackson Cool
First-year, Integrated Social Studies Education
Why DAB: I joined DAB simply because I am extremely proud to be a Redhawk and I want to make sure that every student's voice here is heard at Miami University.
Faith Tanis
Junior, Nursing
Why DAB: I wanted to get involved with DAB because I wanted to make a difference on campus and I love being a part of a process that makes me feel like my voice is being heard.
Elijah Gahn
Junior, Biology/Medical Sociology
Why DAB: Being in such a large institution can make it appear that our problems are insignificant, but I feel DAB allows students to address their concerns in a way that makes them feel acknowledged and valued.
Chloe Thach
Junior, Biology, Public Health, Neuroscience, Individualized Studies
Why DAB: As an Asian American woman and first-generation college student, I want to uplift student voices on campus that would otherwise be marginalized.
Brittney Rivelli
Senior, Marketing Major, Sports Management Minor
Why DAB: I am committed to being a voice for student-athletes and sharing the unique experiences and challenges that they are faced with.
Abby Baumann
Sophomore, Integrated English Language Arts Education
Why DAB: I really wanted to be the voice of my fellow students to share their opinions and thoughts.
Alexa Spoerle
Junior, Psychology, English Literature, and Political Science
Why DAB: I joined DAB because I wanted to represent Miami students, as well as be a part of creating positive change on campus. 
Charles Ellis
Sophomore,
Mechanical Engineering
Why DAB: I really want to make an impact on my community. DAB gives me the opportunity to share my ideas and visions and hear other people's visions and goals as well.
Valeri Hernandez Godinez
Sophomore,
Major: English/Minor: Social Justice Studies
Why DAB: Advocating for the communities I'm a part of has always been important to me. DAB gives me the opportunity to voice the concerns of the students at Miami.
---
"As Dean, I have frequent conversations with students who share their interests and concerns. The board is a consistent way for me to stay connected to students and let them guide our initiatives and priorities. It really is my way of keeping the pulse on student and campus life."
-Dr. Kimberly Moore, Dean of Students