Campus Activities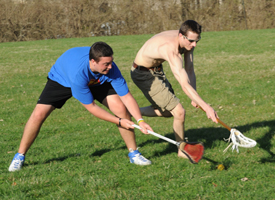 Activities on campus are intentionally designed to educate the campus community about the Miami Tribe, its history, culture, language, and contemporary conditions and issues. The resulting programs and activities are based on a desire to understand the past while building a future together. Dispelling stereotypes about Native Americans is one of the major educational by-products of this ongoing relationship.
Sponsored activities have included special visits from Miami Tribe officials and guests, dance demonstrations, Native films, lectures, and Miami Tribe cultural activities including storytelling, playing of traditional games (like lacrosse game pictured), and enjoying traditional foods.
Many programs have been presented by Miami Tribe members. Other programs have invited outside speakers or guests to present on a variety of educational topics. In one instance, the Miami Tribe organized the joint visit of three tribal chiefs, all whose tribes had lived in the Ohio/Indiana area before the forced removals of the 1800s. Together they were able to share different tribal perspectives and cultural activities.
Rationale for Educational Programming
The first on-campus activities that focused on educating about the Miami Tribe occurred in the fall of 1991. They were a direct result of a trip to Miami, Oklahoma the previous May by Dr. Myrtis Powell (VP for Student Affairs 1989–2002). Dr. Powell was familiar with the Miami Tribe and Chief Leonard from the years she served as Executive Assistant to Miami University President Paul Pearson. Dr. Powell brought back information from her trip that helped chart a very different path for the future relationship.
While in Oklahoma, there was time for pointed discussions with Chief Leonard and other Tribal representatives, including Sharon Burkybile, the person who was appointed as the Tribe liaison to Miami University in 1975. Her son, Scott, participated as well. Scott was one of the first Tribe students to enroll at Miami University in 1991 and was the first undergraduate degree recipient in 1995.
The Tribe expressed a wish to strengthen the relationship with Miami University and Chief Leonard offered his assistance in creating viable options to accomplish that goal. Several ideas emerged as strategies to build stronger connections.
Invite Miami University students and faculty to visit Oklahoma to experience contemporary Native American life first-hand.
Educate Miami University students, either in written form or via programs, about the contemporary Miami Tribe—people who are not warriors or do not appear in regalia and feathers and ride horses in daily life.
Find a place on campus to display information about the history of the Miami Tribe, significant Native artifacts, and Miami University's connection with the Tribe.
Chief Leonard agreed to help locate appropriate items for a display and Dr. Powell returned with the first item he donated, a print of the John Fitzgibbon commissioned painting of the 1846 forced removal of the Miami Tribe.
Sharon Burkybile offered to donate her buckskin dress to Miami University sometime in the future. (The donation actually occurred in August 1991 to honor her son Scott enrolling at Miami University that fall.)
Chief Leonard agreed to explore the possibility of arranging for a group of dancers and performers to come to campus for a special program.
The Miami Connection

When Dr. Powell returned to campus she initiated an effort to produce a written piece about Miami Tribe history. President Emeritus Dr. Phillip R. Shriver was the perfect choice to create this piece because of his academic expertise in Ohio history, the activities of Native people in this area of the country, and his long standing relationship with the Miami Tribe.
The resulting brochure, The Miami Connection [PDF] was printed and distributed to all students, faculty, and staff in fall 1991. It continued to be printed and distributed for several years and was included with Summer Orientation materials being sent to incoming students beginning in 1993-94.