Welcome • Aya • ًأَهْلاً وْسَهْلا • 欢迎 • 歡迎 • Bienvenue • Willkommen • ברוך הבא • स्वागत • Benvenuto • ようこそ • 환영합니다 • Salve • Bem-Vindo • Добро пожаловать • Bienvenido
---
welkom • i mirëpritur • أهلا بك • ողջույն • xoş • ongietorri • дабро запрашаем • স্বাগত • dobrodošli • добре дошли • benvinguda • welcome • olandiridwa • 欢迎 • 歡迎 • Dobrodošli • Vítejte • Velkommen • Welkom • bonvenon • Tere tulemast • maligayang pagdating • Tervetuloa • Bienvenue • Benvido • მისასალმებელი • herzlich willkommen • καλως ΗΡΘΑΤΕ • સ્વાગત • akeyi • barka • ברוך הבא • स्वागत हे • Zoo siab txais tos • Üdvözöljük • velkominn • welcome • SELAMAT DATANG • fáilte • benvenuto • ようこそ • sambutan • ಸ್ವಾಗತಾರ್ಹ • Қош келдіңіздер • ស្វាគមន៍ • 환영 • ຍິນດີຕ້ອນຮັບ • gratissimum • gaidīts • laukiamas • добредојден • tonga soa • selamat datang • സ്വാഗതം • merħba • nau mai • आपले स्वागत आहे • тавтай морилно уу • ကြိုဆို • स्वागत • Velkommen • خوش آمدی • Witamy • bem vinda • Bine ati venit • добро пожаловать • Добродошли • amohelehile • පිළිගැනීමේ • vitajte • dobrodošli • soo dhaweyn • Bienvenido • karibu • Välkommen • хуш омадед • வரவேற்பு • స్వాగత • ยินดีต้อนรับ • Hoşgeldiniz • ласкаво просимо • خوش آمدید • Xush kelibsiz • Chào mừng • croeso • באַגריסן • welcome • wamukelekile
Learn more about the ILRC by watching our promo clip!
Click the image below to watch our clip: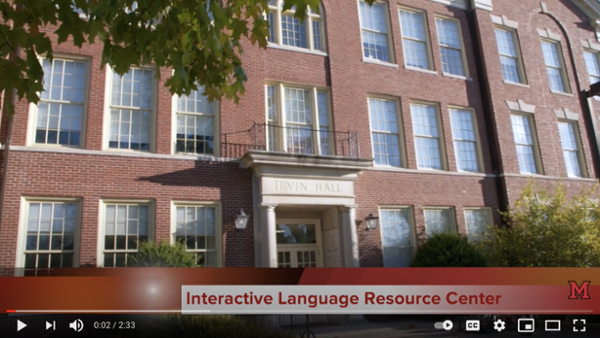 Hours for Summer Session
By Appointment.
Contact us at ilrc@miamioh.edu or (513) 529-2510 to set up an appointment.
Language Proficiency Testing
Beginning December 1st, 2016, the Interactive Language Resource Center is now an official testing center for Language Technologies International, the exclusive licensee of ACTFL (American Council on the Teaching of Foreign Languages) tests in speaking, listening, reading, and writing. The Director of the ILRC can proctor exams for your foreign language certification and licensure, proficiency evaluation, and language comprehension assessments. Visit the TESTING section of our site to learn more information and to register for an ACTFL exam.
The ILRC is testing out Duolingo For Schools to see if it is something that you would like to use on a regular basis.
Duolingo is a popular language-learning platform and the most downloaded education app in the world, with more than 300 million users. The company's mission is to make education free, fun, and accessible to all. Duolingo is designed to feel like a game and scientifically proven to be effective.
To access Duolingo For Schools, please fill out a request form and instructions will be sent to your Miami University email address.
Transparent Language via the Lane Public Libraries
Log in to Transparent Language through the Lane Libraries!
Transparent Language boasts 132+ different languages in a self-paced environment. Click on the logo to begin, scroll down to the Transparent Language logo on the Lane Public Library page, enter your Lane Public Library card number, and access online interactive language learning.