With over 75,000 living alumni, the College of Arts and Science represents Miami University's largest division on campus. Our alumni live throughout the country and around the world, holding prominent positions in science and technology, healthcare, journalism and the media, business, government and public administration, the military, academia, athletics, the arts, and much more. We sincerely thank you for staying connected as a Miamian and for helping to advance the mission of the College and Miami University.
Alumni Advisory Board
Our Alumni Advisory Board was formed in 2002 to provide advice, counsel, and assistance to the leadership of the college. Members offer their expertise, experience and wisdom to enhance the quality of our programs and to enrich the quality of teaching and research.
Miami's Alumni Association
The Miami University Alumni Association honors Miami's heritage and fosters lifelong connections among alumni, students, faculty, staff, and friends of the university. Find a classmate, update your address, get involved, learn more about events such as Homecoming, and more!
Miami Alumni Connect
Join more than 4,500 Miami alumni worldwide on Miami Alumni Connect, which enables you to get involved in conversations about college, careers, networking, living in a new city, and more. Our unique online community can make a positive impact on your life and career.
Miamian Magazine
Miami University's alumni magazine highlights alumni, student, faculty, and staff involvement with the university, updating readers on campus news and events, arts, university sports, and alumni news. Miamian is the university's communication link among alumni and close friends to the university.
Giving Opportunities
Learn the many ways that you can help our students by contacting:
Evan Lichtenstein, Senior Director of Development
College of Arts and Science
Division of University Advancement
725 East Chestnut Street
Oxford, OH 45056
(513) 529-1263
lichteec@MiamiOH.edu
Alumni Spotlight: Josh Jacob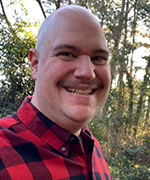 "My education at Miami was a good stepping stone…I gained problem-solving and critical thinking skills from the liberal arts."